TrekkieRob
is creating Trek Book Club on twitter
Select a membership level
Trek Book Club Crewman - $1
$1 will grant you the rank of Trek Book Club crewman and the eternal thanks of @TrekBookClub and @TrekkieRob. You will also receive all Trek Book Club branded gifts and rewards (e.g. badges, stickers, magnets, bookmarks etc) as and when they are ordered/announced
Trek Book Club Ensign - $2
$2 will grant you the rank of Trek Book Club Ensign and get you a massive thanks from @TrekBookClub and @TrekkieRob on twitter during each Trek Book Club session.  You will also receive all Trek Book Club branded gifts and rewards (e.g. badges, stickers, magnets, bookmarks etc) as and when they are ordered/announced 
Trek Book Club Lieutenant - $3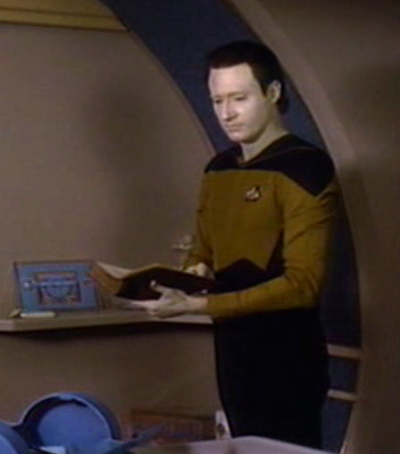 $3 will grant you the rank of Trek Book Club Lieutenant, get you a massive thanks from @TrekBookClub and @TrekkieRob on twitter during each Trek Book Club session and get you listed on the Trek Book Club twitter page as a patron and a Trek Book Club Lieutenant.  You will also receive all Trek Book Club branded gifts and rewards (e.g. badges, stickers, magnets, bookmarks etc) as and when they are ordered/announced 
About
Hi, my name is Rob Chapman (@TrekkieRob in the twitterverse). I'm a massive Star Trek fan and have been ever since I was about 12.

I love watching trek on TV and can't get enough of the trek movies but there's one aspect of Star Trek that I've never really explored - Star Trek novels. With that in mind I came up with the idea of creating a 'Trek Book Club' (@TrekBookClub in the twittersphere) - a sort of virtual book club where trekkies, trekkers, nerds, geeks and book worms can get together on twitter to discuss Star Trek novels and literature in general. The idea is that we select a book (sometimes this is by a public vote and sometimes a dictatorial decision from yours truly) we read it separately and then come together on a set weekend to discuss the book. We discuss anything and everything about the book ranging from what we liked, what we didn't like, why, our favourite characters, scenes we thought were controversial etc etc. 

If you think this might be interesting then join in by looking for @TrekBookClub on twitter and taking part in our discussions! Also, feel free to spread the word!

If you take part in Trek Book Club, would like to show your appreciation for it and the work and effort that is involved in creating and running Trek Book Club or would like to encourage Trek Book Club to continue then please feel free to contribute a small amount (or a large amount!) as a Trek Book Club patron! I would be incredibly grateful! There are a whole range of perks, rewards and benefits to being a Trek Book Club patreon supporter including (but not limited to) patron exclusive badges, magnets, stickers, bookmarks, prizes, getting a shout out from us on twitter, having your own designated space/profile on the Trek Book Club website (www.trekbookclub.com), getting to choose which books we read, getting to put a book to a public vote, chance to come on the Trek Book Club roundtables etc.

$150
-
reached!
per month
When we reach $150 per month I will purchase some of the following depending on price (all patreon supporters will get something but the higher your tier/rank the more you get and the more expensive items you get):

🖖🏻 Trek Book Club t-shirts/hoodies
🖖🏻 Trek Book Club notebooks
🖖🏻 Trek Book Club pins
🖖🏻 Trek Book Club pens
1 of 1
Become a patron to
Unlock 68 exclusive posts
Connect via private message
Recent posts by TrekkieRob