Jamie Sabriel Flez
is creating strategy games for diverse audiences!
Select a membership level
Supporter!
For the price of a cup of tea a month, you get access to the print-and-play files for the
Fight Sequence
 Academy Decks
[the introductory decks with more streamlined mechanics]
,
and see the progress I'm making via my production diary!
Get Fight Sequence Academy Deck print-and-play files
Get access to my Patreon-exclusive production diary, with art and other cool sneak-peek stuff
Playtester!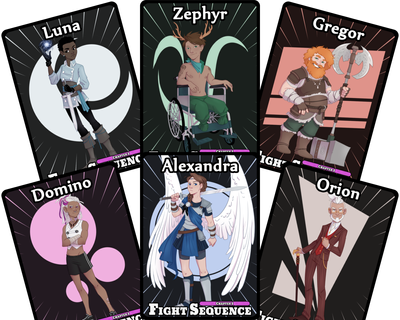 Get access to the Tabletop Simulator workshop files and ALL print-and-play versions of
Fight Sequence
 so you can play any character at home - perfect while we're all stuck indoors!
[Updated monthly as cards get balanced and more art assets come in!]

Become my friend on Steam so you can access the Fight Sequence Tabletop Simulator workshop files
Access to ALL print-and-play decks so you can play any character in development
Previous tier's benefits!
Includes Discord benefits
Rainbow!
Limited (19 of 20 remaining)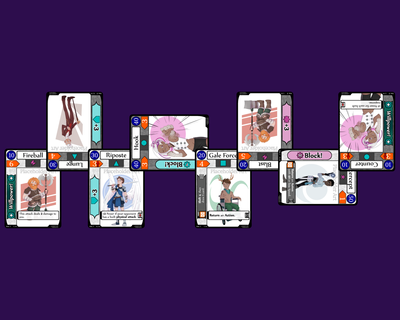 Get monthly invites to 
Fight Sequence
 1-on-1 playtesting sessions with the designer and test the latest version of the game before anyone else! Perfect for people who want to provide direct input into the development of the characters :)
Monthly 90-minute playtesting session with Jamie, scheduled whenever you want, within reason
Firsthand look at the latest development updates
A fancy blue Discord role
All previous benefits!
Includes Discord benefits
About
I still remember the first game I ever designed. I was 4 years old, and had just finished watching my parents beat Super Mario Brothers 3. Eager to recreate the game in a way my tiny child hands could interact with, I grabbed a stack of construction paper, colored markers, and Legos, and set to work making a board game that emulated the experience of Mario's adventures through the game. I drew world maps, made HP bars and powerups out of toys and scavenged pieces from other games, and turned a column of card-sized slips of paper into an elaborate retelling of the magic of hitting a brick with Mario's head and seeing what pops out.
It was not even a little bit balanced or fun for my siblings to play, but the mere process of
creating
it kept me enthralled for the entire summer leading up to entering public school. It was a reward unto itself, and planted the seed for what I would eventually recognize is my
dream job
.
Fast forward to 2015, where we find me feeling rather despondent about life in general, after a string of awful jobs that I didn't fit into due to being on the autism spectrum and various stressful life stuff. I was looking for a creative outlet to help me get back on my feet emotionally, and what I found was that the seed planted so long ago had grown into a massive redwood.
I dove back into game design with zeal, and promptly made several garbage prototypes in a row. Like before, not exactly fun to play, but I learned a TON from each. With each new thing I learned, my desire to make games only amplified. I felt restored; THIS is what I wanted to be doing! THIS should be my job! I just needed to find a game that was worth taking all the way to publication to start me on track.
That moment came in 2018, a few months into my latest prototype,
Fight Sequence
. With a few dozen playtests under my belt and some encouraging words from friends, it clicked - this is a game that would make a great first game due to it having such an easy component count, it's easily expandable, it can help me further my social mission of making the gaming community more diverse and inclusive, and best of all: other people
actually enjoy playing it!


I now have a little over two years of designing and developing
Fight Sequence
under my belt, and we're in the home stretch now! It's coming to Kickstarter soon, but I need some help getting it there. The thing about getting a game to Kickstarter is that there are a lot of small expenses that really add up; getting physical prototypes, game reviews, advertising, and so on. Not only that, but even with a successful campaign it'll take time before my game becomes a sustainable business. I figured setting up a Patreon would help me get closer to achieving my goal of making game design my full-time job a little faster, especially now that we're in the middle of an economy crash and job shortage.
Any little contribution helps, even if it's just pointing your friends at my website to sign up for the mailing list! I'm looking forward to making
Fight Sequence
as awesome as I possibly can, and it all starts here! :)
Here are some handy links!
The Triple Rainbow Games site:
https://www.triplerainbow.games/
The Fight Sequence page:
https://fightsequence.com
Join the Discord server:
https://discord.gg/8Vxn8d9
Thanks for reading!
<3,
Jamie
$126.91 of $200
per month
Getting to $200 a month ensures I can cover all the basic business expenses, like website hosing and G Suite. That helps a ton, and frees up time and brain-space to give back to the community more and create more behind-the-scenes goodies for the production diary!


1 of 3
Become a patron to
Unlock 11 exclusive posts
Connect via private message
Recent posts by Jamie Sabriel Flez
How it works
Get started in 2 minutes