TROM is a project that aims to showcase in detail the root causes of most of today's problems and proposes realistic solutions to solve those problems. But it is also about challenging people's values, explaining in simple language how the world works, and providing free and good quality educational materials/tools for everyone.

WEBSITE: tromsite.com
What are we doing with the Patreon money? Read this Patreon post - https://www.patreon.com/posts/7635411

OUR TOOLS:
01. The Documentary:
The TROM documentary is trying to present, in a simplistic way, the world in which we, human beings, live. We try to present the world that was discovered so far through the lenses of science: from the evolution of everything (including us) to the monetary system (the game we currently play), to a different kind of world that we could build for the benefit of us all, then back to Earth. We are trying to present alternative solutions to current problems and take into account the future, which promises to be more than interesting. An informative documentary, perhaps shocking and disturbing to many, depending on how you digest the information. The documentary is divided into chapters and sub-chapters due to the documentary's excessive length (14 hours) and all the parts are connected so we recommend that you see them in order.
02. The Book:
Here's the thing: we all pretty much agree that the following are huge issues today: poverty, famine, crime, violence, wars, poor education, pollution, climate change, overpopulation, terrorism, social classes, corruption and bribery, water scarcity, environmental destruction, abuse of animals (including humans), slavery and coercion, and so much more. Well, what if I told you that behind all of these, there is only one primary cause? One! Hard to believe? Well, that's what we are going to show, and if that's true, then tackling that single core problem will solve or greatly diminish all of those issues. With this book, we will try to present how the world that we experience today evolved (with its jobs, money, companies, products, property, government, laws, etc.) as well as how it currently operates (distribution, management of resources, values, etc.). We will look at how money was invented, the role it serves, and what we can truly do to evolve into a world devoid of today's major problems.
03. The Books:
We have many books/articles discussing many topics in great detail: from how we can automate the entire world to getting rid of boring and submissive jobs, to books on human behavior (genes and genders, the cultural concepts of beauty or morality and reason, and so forth); we have books on artificial intelligence, language, the misconceptions of evolution, books about planet Earth, cooperation, waste, corruption and prisons, technology, planned obsolescence, about how people can work without the need for money or any kind of trade, or how education could look like in a saner future. All of our books are compatible with all devices and available for download as PDF. On top of all that, all of our books are very well sourced and you can find plenty of links to read more about any of the 'claims' we present - plus, since our books are digital they are full of videos or audio files to make the subjects more easy to comprehend.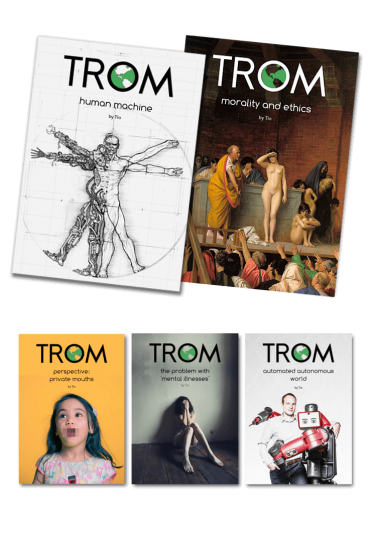 04. The Audio/Video:
We understand that people may rather watch a video nowadays or listen to audiobooks than reading, so we are working on making videos and audiobooks out of all of our ebooks. This will be a years-long journey due to the large volume of content that we have - but this can only be a good thing! We have materials for many years to come to create many documentary long videos and huge audiobooks. The videos and audio materials may slightly differ from the ebooks they are based upon because we may add new short fragments of videos or audio files to these new media formats that you will not find in the ebooks. The opposite is also true and TROM ebooks will always be more detailed because we include full videos in our ebooks, or links to external sources, but we are striving to make the audio and video materials cope with that complexity as much as we can.
05. The Quiz
We created a great quiz from all of our books and articles to either make those with short attention span engage with the content, or those who already read the books to test their accumulated knowledge. Either way the quiz is a fun and engaging way to learn more about TROM, or the world in general. We have four categories right now: science, technology, human behavior, and the monetary system. For every quiz we do not only provide the correct answers, but also details as to why that answer is the correct one, plus links to our books so that people do not only play the quiz, but have the opportunity to engage beyond it. The quiz system is smart so it will remember which quiz you played, therefore it won't show it to you again until you finish up playing all of the quizzes. We are constantly adding new quizzes from our newer books, so check the quiz regularly.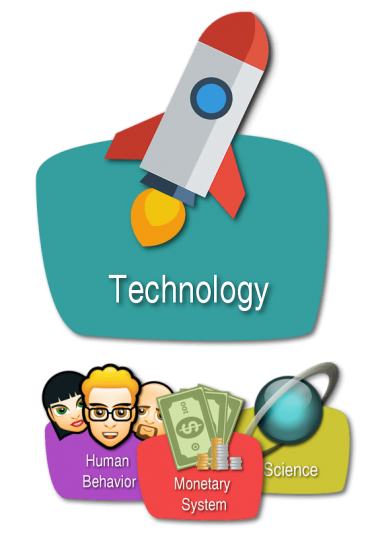 06. The Goodies
We have created two wonderful tools that we hope everyone will use on a daily basis. One is our "Curated News" - an automated news system curating from hundreds of sources (facebook, RSS, twitter, and more). It filters the click bait titles, the BS (bad science) articles, and provides good quality news (something that you can rarely find nowadays). The "Curated Videos" are based on the same system curating from almost 100 youtube channels, users, or playlists, to bring forward the most educational and interesting videos out there. Both of these systems can keep you sane on a daily basis :). You can easily bookmark them or "add them to desktop" (or home screen) from your browser's menu, so they act like apps/programs that you can leave open and refresh from time to time to see what new goodies are in the world. Enjoy!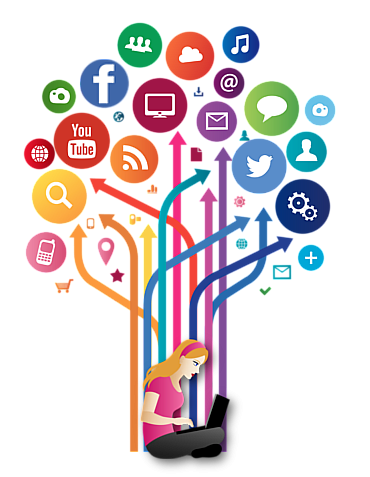 If you have any questions for us please use our FAQ page - 
https://www.tromsite.com/faq/