Twisted Copper
is creating Badass Copper Wire Monsters, Digital Prints, and Photo Comics
Select a membership level
Twisted Patron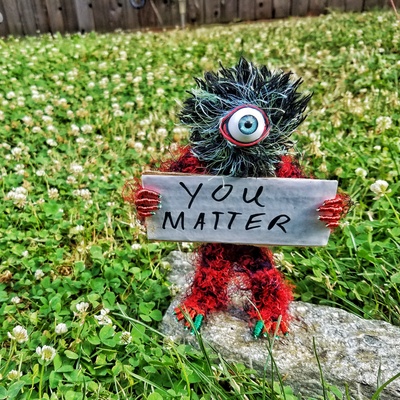 You can't buy a lot for a dollar these days, but every little bit helps. For people who want to help support my wire creature obsession, but don't have a lot of extra cash. 
 This tier gets you:
Patreon exclusive shout out -  You'll get a shout out from a monster or two, saying how awesome you are, which will also be immortalized on social media (Facebook, Instagram, Twitter). All your friends/family/enemies/frenemies/followers will know how awesome you are and it'll make you feel good!
Patreon exclusive behind the scenes photos/videos -  You'll get to see my process and other random things that won't be posted on Instagram, only on Patreon. These could be anything from older sculptures and scrapped pieces to random photos from my journey through life.
Patreon exclusive community creature creation - sometimes I have a difficult time deciding what to make next... do I want to make a new cyclops or do I want to make something completely different? Should it have tentacles or a tail? Both? Do I want to add fur? What type/color fur? Do I want to rework an older sculpture and make it more badass? There are countless options that I have to choose from and that can be quite difficult for me sometimes. Maybe you can help me decide! When working on certain sculptures, I'll let y'all cast a vote and you can be part of the creative process! 
*Every tier gets this stuff!* 
Twisted Subscriber
For people who want to help support my wire creature obsession but also want a little more in return. 

In addition to a monster shout out and behind the scenes posts and community creature creations like the lower tier, you also get bonus Patreon content exclusively for paid subscribers! 
This tier gets you:  

Patreon exclusive art in depth  - I'll have some (live?) Q & A sessions about my work where talk about the inspiration/creative process behind specific pieces. Learn more about the methods of my madness!
Patreon exclusive photos/videos of works in progress - You'll get to see even more photos and videos of me creating creatures, starting from spools of wire and evolving into badass monsters! See how the magic happens! 
Twisted Customer
For people who want to support my wire creature obsession and think they might want to buy a creature or two in the future.
You'll still get everything in the lower tiers, but you'll also get early access to new Etsy listings, sales, and discount codes!
This tier gets you:  
Patreon exclusive Etsy early access - whenever I add a new creature to my Etsy shop or have a sale, I'll post the listing here first before advertising on social media. Be the first to purchase a new creature before the general public and get a discount too! What a deal! 
Patreon exclusive Etsy discount code - you'll get a discount code for 10% off on most items in my Etsy shop, plus free domestic shipping! No expiration date - use them any time! 
About
~I live for making the world a stranger place... from more whimsical and odd, to more creepy and disturbing.~
Greetings, fellow internet traveler!
If you like original art that is not made anywhere else in the world, then you've come to the right place! My name is
Daniel Muir
and I make
monsters
out of copper wire and other recycled/repurposed materials. As a self-taught wire sculptor, I am constantly challenging myself to learn new techniques in order to make my creations more badass over time. I've been making
strange creatures
out of copper wire and recycled/repurposed materials for
over a decade
now. Each one of them are unique and designed to bend and pose, arms, legs, fingers, toes, tentacles, and tails. I have spent literally thousands of hours honing my craft and I'm not about to stop now -
I can't stop now. I'm in too deep
!
I have no shortage of imagination or materials. The major hurdle in sculpting these creatures is
time
. I never have enough of it. Sometimes at when I'm at a
vending gig
, people will be looking at my
tables covered in dozens of wire monsters
and comment that I have too much time on my hands.
This couldn't be further from the truth.
There are very few things I create that take "just a few hours," especially when I only have a few hours per day (and only on some days), to work on anything at all. A
simple piece
can take 4-6 hours during any given week, while larger,
more complex pieces
can take weeks or even
months
to complete. And sometimes I'll decide I'm unhappy with a piece and unwrap it completely and re-work it into something even better, adding yet more time to an already time-consuming process.
Also,
it's just me
. I don't have any partners or helpers to lighten my work load. Procuring materials, doing prep work, sculpting the creatures,
taking photos for posterity
,
listing pieces on Etsy
,
marketing on social media
, and everything that comes with vending at events (travel, set up, talking to people all day, tear down, repeat )... it's a lot of work that I mostly don't get paid for. Which kinda sucks.
Creating these creatures is my passion and I would love to do it for a living, but I live in the real world and understand that I need financial help in order to make this a reality.

Here's Where You Come In
As a patron, you'll be helping me create
more wire creatures
. These can take
a long time
to make, and not everybody can afford to pay for them. Your contribution would help me focus more on making art and eventually quitting the ol' day job, getting my own studio, and cranking out
monsters
until my hands are gnarled and useless and I die of old age surrounded by scrap wire and doll parts. Well, that's one long term goal anyway.
In addition to helping me create
new and better monsters
more often, you're also helping me with basic living expenses my day job doesn't always cover and my art rarely does. Artists have eat and pay for shelter too, and unfortunately we can't always do it by
selling our art
. I have bills and student loans that won't stop anytime soon. My car is old and falling apart. I like fine scotch and the world is nuts. I need new shoes. Did I mention I have bills and student loans that won't stop anytime soon? I did? Well, that's because these things weigh heavily on my mind, as I'm sure most people understand.
You can help make my dream a reality, get some bonus content, behind the scenes access, and even be part of the creative process along the way!
What You Get
You will get stuff in return as well! Including, but not limited to:
A monster with a tiny sign will tell everyone on social media how awesome you are!

Bonus behind the scenes content!
The ability to vote on what I might create next!
In depth artist commentary
Discount codes for my Etsy shop!
Early access to new sculptures!
Maybe even a mystery sculpture in the mail once I figure out logistics...
Other content/stuff I haven't thought of yet!
More and better content/stuff once I can afford it!
That's it for now... I'm sure the rewards will change over time, but until then, I'm out of ideas.
To see more examples of my work, check out some of the following links:
Etsy shop -
https://www.etsy.com/shop/TwistedCopper
Website -
https://twisted-copper.squarespace.com/
Instagram -
https://instagram.com/twisted_copper
How I Got Started (a somewhat brief history)
When I reach $500 per month, I'll start offering more tier rewards. I think it would be fun to have pictures of my monsters (or other art) printed on T-shirts, coffee mugs, or tote bags for mid-tier members; or offer some limited edition prints for higher tier members. Obviously, this is not set in stone, but it's a starting point.

1 of 4
By becoming a patron, you'll instantly unlock access to 54 exclusive posts
By becoming a patron, you'll instantly unlock access to 54 exclusive posts
Recent posts by Twisted Copper