Two Broke Watch Snobs
is creating podcasts
Select a membership level
Long Live Wrist Watch Bar Talk!
Benefits:
Access to messages and updates on Patreon
Our horological love and adoration
PLEASE NOTE: this tier may be phased out after July since most people are contributing more than $1 as is.
Contributing $1 means you're basically a TBWS badass in our eyes. You're telling us that you believe in the work we're doing and we want you to know we're going to work our assess off to make TBWS the best we can possibly make it. New episodes every week, more awesome content on the site, and, well, more horology shenanigans - thank you!
TBWS Audio Wrist Check Shoutout!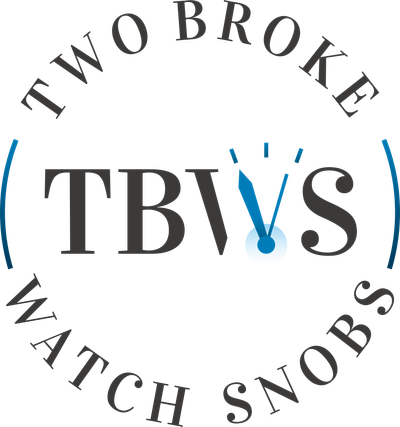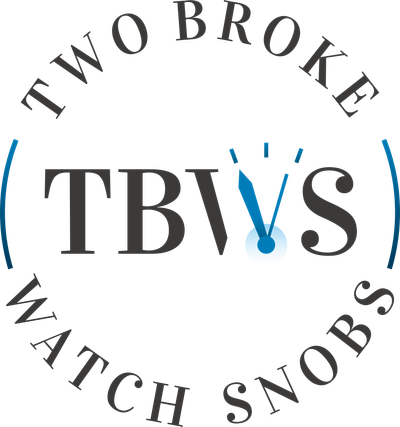 Benefits
:
Shout-out during the TBWS Audio Wrist Check
All previous tier benefits
Ever wanted to get in on the TBWS Audio Wrist Check fun? This is the tier for you. Choose this reward to have Mike and Kaz give you and your watch of choice a dedicated call-out during the TBWS Audio Wrist Check. Aside from breaking into our homes and actually being physically in the room with us, this is the coolest way to get in on our Wrist Checks. You'll also get all previous benefits listed in the rewards tier before this.
"Before the Clap"
Benefits
:
Access to "Before the Clap"
All previous tier benefits
Just what the hell do Mike and Kaz talk about before hitting play? "Before the Clap" is a weekly backstage glimpse into the 15 - 20 minutes before Mike and Kaz record TBWS Episodes; pre-talk planning, pre-air jitters, and more horological tomfoolery a la TBWS.
Oh, and the name "Before the Clap" is a reference to how Mike and Kaz clap just before starting the show to sync up their. Any double entendres you perceive are on you... You'll also get all previous benefits listed in the reward tiers before this.
About Two Broke Watch Snobs
Wristwatch Bar-Talk... 
The Dream is Real!

Who would have thought so many folks would love listening to two friends shooting the shit and talking watches?

Well, that's what the Two Broke Watch Snobs podcast is all about - a weekly, super casual conversation about horology and watch collecting (that may or may not involve alcohol). Watch collecting is supposed to be fun! So where the hell did all this haut-horologerie, nose-thumbing watch collecting come from? When did brands overcharging for pieces become normal?

The Two Broke Watch Snobs podcast is dedicated to bringing watch collecting back down to Earth for all of us broke-as-hell regular human beings (you know, the ones who don't ritualistically bathe in Ra's al Ghul-esque Lazarus pits full of Hublots...I'm looking at you Jean Claude Biver!).

Totally check out the show at: http://twobrokewatchsnobs.com/podcast/
New episodes go up every Monday!


Where Does My Contribution Go?
So, there's two facets to where your contribution goes: (1) operating cost; and (2) the "dream-for-a-better-horology-tomorrow."


1. Operating Cost:

These consist of the following:

Watch Giveaways (woo!)
Traveling for Press Coverage
Photography
SoundCloud Membership
Audio Processing Software and Recording Equipment
Hosting & Domain Registration
Our Time

Watch Giveaways:

So we like to reward our awesome listeners anyway we can, because without you guys and all your input and awesome ideas, we wouldn't be around! So pretty early on we gravitated towards the idea of doing watch giveaways. We've already done one for our 1k Instagram Follower Milestone and we plan on doing them for all types of other achievements as well! 

Traveling for Press Coverage:

As the show and site grow we want to be able to offer you guys our Broke Watch Snob opinion on really cool horology events that happen around the world. This year we're planning to go to Wind Up NYC and next year we'd love to expand our coverage to other events as well and offer our audience a real-world perspective from these events.


Photography
:
We honestly bust our asses with our photography. We're always shooting everyday, always thinking of new composition ideas, props - everything. We feel that watch photography is a super integral part of our operating cost, which includes equipment and software. And we'd love to work towards upgrading our equipment as we grow in order to get the best possible shots for you guys.

SoundCloud Pro Membership:

SoundCloud is where we publish and host the show for all to enjoy! So far, we're pretty happy there and we'd like to continue utilizing it as we grow. The annual membership for our SoundCloud Pro membership is $135/year.

Audio Processing Software and Recording Equipment:

At this point in time, we're fairly happy with where the audio quality of the show is - but it can always improve. As we grow we'd love to offer you guys a better quality show by giving you better quality audio - that means upgrading our software (currently we use Reaper / Logic Pro / Garage Band) and recording equipment (currently recording on $50 Blue Snowball iCE Condenser Mics).

Hosting & Domain Registration:

Our website hosting and domain registration is currently set to renew every 3 years at $200. But we're looking to update the hosting in order to speed up the user experience on the site and accommodate increased site traffic. So that $200 every 3 years figure will most likely go up depending on available options.

Our Time:

Ok, here's the truth - we're connected to our listeners 24/7. If you DM us on Instagram at 3 AM wondering if a Poljot 3133 you see on eBay is real you're going to basically hear back from us immediately. We answer every email; we respond to every DM; we make sure to acknowledge every shot we're tagged in on Instagram - we are always looking to make sure you (our listeners!) are valued. So it's with great pride and pleasure that we offer our time to you directly and to the production of the show and the site. 

So in order to ensure we're always in a place to be offering our time towards the show and to our listeners we're factoring in our time as an operating cost. 


2. The "Dream-For-A-Better-
Horology-Tomorrow" :
Here's the thing. We're doing this for you - the #watchfam! At first we were happy to conduct ourselves in a vacuum, but then people started listening. They started writing in, sharing their stories, asking for recommendations, lamenting about the current state of horology. Basically, you all became a normal fixture in our everyday life - and that's incredible! Now when we jump on a phone call to figure out how to grow TBWS, we only ever think about how our next moves will benefit you guys - the listeners.
Being in this close contact with our audience has also shown us something else - we're not alone out there in our horology disillusionment. We weren't the only ones who felt like they were on the outside looking in when the rest of the watch collecting world was talking about $35,000 watches like it was totally normal. We weren't alone in feeling like the more well-known and larger watch blogs were only catering to the 1% of watch collectors. You guys felt that too! 
That's why we feel like with your support we're in a position to offer people a watch podcast and blog that covers accessible watches and encourages thoughtful watch collecting instead of luxury dong-measuring. We want TBWS to be a community where a Seiko SNK will give you all the enjoyment you could possibly need, because that's how you've individually chosen to practice your horology passion.
Your contribution will act as your vote and your voice in taking a stance on making horology fun and personal again!
If you have any additional questions about contributions or if you just want to hit us up, totally feel free to email us directly at 
[email protected]
!
Thanks, guys!
-Mike & Kaz
If you love Two Broke Watch Snobs, then we belong to you. We don't want to be funded by brands - we don't want to belong to anyone else except you. Because awesome watch folks like yourself are the reason why TBWS is the way it is. Please consider becoming a Patron of the Two Broke Watch Snobs today and help bring the dream of Wristwatch Bar-Talk to everyone out there.
2 of 2
By becoming a patron, you'll instantly unlock access to 22 exclusive posts
By becoming a patron, you'll instantly unlock access to 22 exclusive posts
Recent posts by Two Broke Watch Snobs
How it works
Get started in 2 minutes