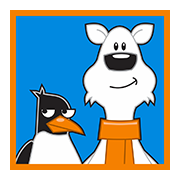 Wally & Osborne
is a comic about a lovable polar bear named Wally who winds up in Antarctica where he befriends a quirky Adelie penguin named Osborne. It's quite fun and silly, yet endearing, as well as a comic that takes some opportunity to raise awareness and knowledge of Antarctica and its creatures (polar bears too!). In my accompanying blog posts you'll find a mixture of fun facts and life experiences. I'm a nerd and love some learning with my entertainment so I try to provide you with a bit of edutainment too. Mostly though, Wally & Osborne are here to add fun to my life as well as my readers.
I create comics for myself, but also ones that my kids and friends of all ages can enjoy with me. I enjoy my current profession as a freelance Web designer, working out of a home office where I'm able to be with my family while I work, but ultimately I'd love for all of my creative work energy to be spent creating Wally & Osborne. I want to see it have daily updates and I want more time to interact with my readers and the rest of my time with my family and exploring and enjoying this planet we all live upon.
Every dollar you pledge helps... it buys me that much more time to spend on this comic. Help me bridge the gap between generations and bring smiles and laughs to all people young and old. Help me share awesome and important subjects. I hope you can be part of this dream with me.
Thank You!