Uncle Mud
is creating Shared Resources for Building Mud Houses and Rocket Mass Heaters
Select a membership level
The Uncle Mud Family Potluck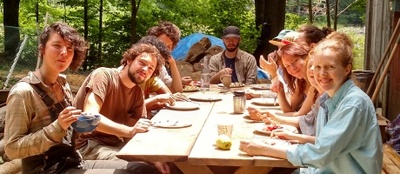 $1 or more per month--Bring what you can:  As someone who brought a dish to pass you get access to "The Full Feed" including video of our tours and projects, conversations with our heroines and heroes, demos and lectures on how-to and how-it-works, plus regular email based Q&A sessions and a 5% discount on all Uncle Mud products and workshops. We want everyone to come so we set the price to  $1, cheaper than a bottle of plain yellow mustard and just as tasty. But if you can bring something more than the minimum (like your own home made brownies, or Aunt Irma's Potato Salad, or say $5 per month) you could be randomly selected for a "Door Prize". 
The Mud Party
When the Uncle Mud Family wants to get things done we have a party. Whether we are building a cob pizza oven or plastering a straw bale wall our parties involve food, mud and YOU. Your $10 gets you IN the party with live interactive video feeds (where available) so you can join us with questions or get a closeup of something in a tour or workshop or lecture. You will also have access to a private Facebook group where we support YOUR projects. This level also includes a 10% discount on all Uncle Mud products and most workshops. Of course you will also be invited to the Potluck (see above) and we will make a fuss over you like you brought a tasty main dish.
Uncle Mud Family Therapy
Mud Family Therapy includes all of the above plus priority email access to Uncle Mud. We also get personal with regular online small group "Mud Family Therapy" meetings where we can talk about your projects or how weird your mom is for not liking the mud house you are building. And even though Mud Family Therapy is not a replacement for medical or psychiatric treatment it is a lot more fun. Plus you get full access to our growing library of support documents and a 20% discount on all Uncle Mud products and most workshops. 
About
Welcome to the Uncle Mud Family. We build Stuff out of mud and trash. Useful Fun, Wild, Creative Stuff. But Stuff is the least of it, almost a side effect. We build ourselves and each other. We build confidence and resilience. We share designs and hands-on learning experiences and reports on what works and what doesn't. Our first rocket heater let us walk away from a propane bill that was sometimes $900 per month and now we are sharing that knowledge. We want you to join the party.
What's In It For You?By pledging even $2 you gain access to our growing collection of articles, videos, photos and "Cheat Sheets" for Uncle Mud projects designed with DIY in mind, from our Cottage Rocket Heaters to straw and clay buildings to composting toilets, as well as reports from the field as we visit the extended Mud Family to help with their projects from greenhouse heaters to tree houses to earthen plasters to underground houses built from local materials. You will get first dibs and discounts on our plans, books, and dozens of workshops, lectures, mud parties and other paid and free events each year. Higher level Patrons get bigger discounts on our offerings, priority email access to Uncle Mud plus exclusive free access to regular online Q&A sessions, in-person Mud Family Meetups and our private Facebook group where you can share pictures and video and get expert advice on your own projects. Sponsors get promotion of their (related) products and events. Long term Patrons celebrate their Patronniversary with "cake" in the form of a free ebook. Our highest level Patronages include one-on-one consulting time with Uncle Mud on their ongoing projects.
But Wait, There's More: Your support helps us continue to develop and share mud and rocket and other important DIY technologies where it really makes a difference. We are constantly responding to requests to come teach in places where conventional buildings materials are impossibly expensive and in marginalized communities where our Cottage Rockets can help reduce the number of people who freeze to death each year. We provide technical support for folks transitioning from cooking over an open fire to super efficient and clean rocket cookers and water heaters. We show folks how to build their own safe inexpensive composting toilets to save water and produce valuable fertilizer. We do what we can and you can help us do more.
--Mud (aka Chris McClellan)

By becoming a patron, you'll instantly unlock access to 2 exclusive posts
By becoming a patron, you'll instantly unlock access to 2 exclusive posts
Recent posts by Uncle Mud