Unwoman
is creating cello-filled original & cover songs
Select a membership level
The songs. Just the songs.
Download of amazing new cover or original song, 1-3 per month
The right to vote
Vote on which songs I cover, every other month! Anyone can nominate, but you can be the one to make the final decision -- many votes are quite close!

Honored guests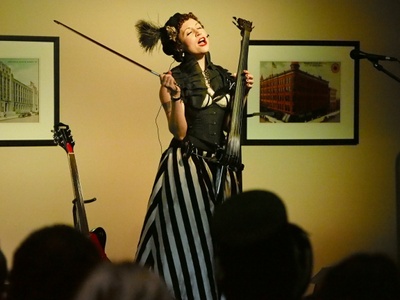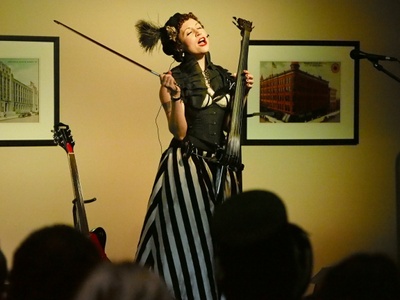 Guest list for Unwoman shows wherever possible. Includes streaming shows. (Doesn't apply to shows Unwoman where is opening act, or conventions). Includes downloads and the right to vote! Patrons with $120 lifetime support at this level can request a custom songpoem.

About Unwoman
(photo is by Industrial Eye Photography)


WHAT YOU GET WHEN YOU PLEDGE:• Access to dozens of songs
I've already made for backers, including
Uncovered Volumes 4 & 5
AND
the NOT EVEN YET RELEASED
Of My Own Space and Time I Am Queen
(preview those at those links, then pledge here to get free downloads in your "thank you" message!)
• 1-3 totally new songs (some covers, some originals) per month, $1 pledge per song & feel free to limit to paying for just 1 per month (check out "Posts" link above for a few examples that are public; most are exclusive)
• The knowledge that you're supporting a completely independent musician and prevent her from needing a day job
• A 25% discount off ALL physical merch on my bandcamp
• Ability to comment in a community of fellow fans
• And for $2 pledge, the right to vote and/or nominate cover songs! I record a vote-winning cover song every other month.
May 2018:
I started this Patreon page in January 2015 as a way to keep myself making music during a long (18 months, which are thankfully finally over) period of writer's block. I had written well over 100 songs before that point, and I was used to producing things all the time. Cover songs are really fun and have always been opportunities for me to stretch my production and performance skills, so this was a great choice to keep me making things and sharing them with supportive fans. And now that I'm writing originals again, about every other month there's one or more of those. Producing and being funded for three songs a month (especially if I get a few more backers) also ensures that I don't have to work a full-time day job, and can instead use my time to make MORE music for everyone! (The third monthly song was added recently to help pay rent... it's often a more quickly produced number and folks are welcome to not pay for it by limiting their monthly $ to me, and still get to listen to it.)
Patreon backers (and bandcamp subscribers, a yearly subscription with similar overall costs and rewards) received free downloads of every official release that comes out, before the public, in addition to the monthly tracks, because I don't believe in charging my fans twice for the same material.
I'm really proud of everything I've done!
--
And here is the original pitch I posted when I first started this Patreon:
Hello dear music lovers!
Many of you have supported me through my kickstarter campaigns and other album releases. Thank you so much for that! Since I started crowdfunding in 2009 I've funded & completed three full-length original albums, two covers albums & an EP, and various other projects, many of which can be seen at
my bandcamp page
.
I'm trying something a bit different as I experiment with a song-based approach. There are several reasons for that: one, it would represent a steadier monthly income rather than waiting for large projects, and I'm not traveling as much as previous years, for personal reasons; two, I've often felt that individual songs get lost in the middle of an album, and this will give each one its own little fanfare.
So, my first plan is to make cover songs, focusing on cheesy songs (both cheesy-good and cheesy-bad) -- 1 or 2 a month -- and release them (exclusively) to supporters for $1 apiece. Do you remember 
my cover of Careless Whisper
? It'll be like that. Some will be all just cello & voice, some will be fully produced. At the end of a year or so of this I'll collect the best into a CD -- but until that point, my patrons and bandcamp subscribers (
if you prefer an annual subscription to Patreon's model, please subscribe on Bandcamp instead
-- you'll get the same stuff, possibly more, for $20 a year) will be the only ones with access to them.
The first song, just released exclusively for patrons and bandcamp subscribers, January 12 2015, is Peter Gabriel's "In Your Eyes" -- a song that people have *loved* my live versions of. The beginning is cut off, but 
here is a rough idea
-- you'll see the studio version under "Creations" once you've become a patron. Enjoy!
$854.76 of $1,000
per Song
I will feel like a total boss bitch if I hit four digits!

1 of 1
Become a patron to
Unlock 192 exclusive posts
Connect via private message
How it works
Get started in 2 minutes