JennyJungle
is creating extreme sport / downhill skateboarding videos around the world
Select a membership level
KITTENs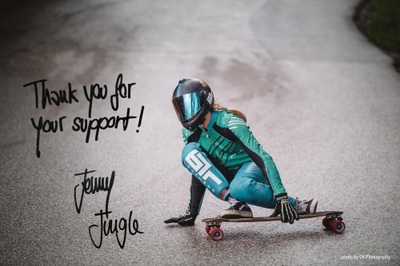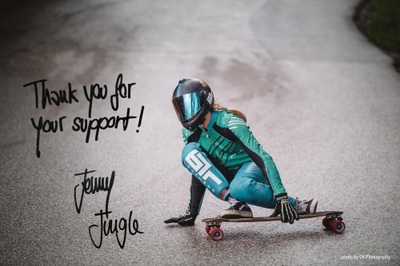 - Access to videos every month
- Signed postcard of me racing
- JennyJungle´s artwork Postcard (mountains and moons design)
Kittens RULE !
- Access to premium episodes every month
- Signed poster of me racing
- JennyJungle´s artwork Postcard 
The cats MEWOW !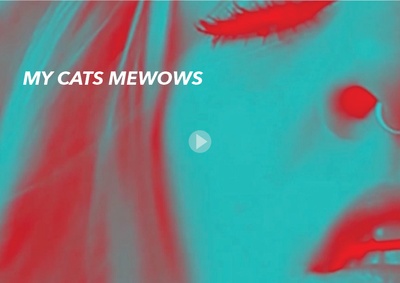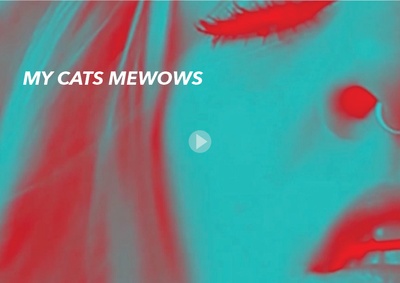 - Access to premium episodes every month
- JennyJungle´s artwork postcards
- your name will appear in the credits at the end of my videos 
About JennyJungle
I am a downhill skater, artist, designer and adventurer. I travel extensively; absorb myself in new environments and the world we live in is my muse.
Aside from the obvious thrill and adrenaline from my excursions, I recognise how lucky I am to be part of the skateboarding community - seeing other adventurers at events and participating in these often crazy and creative environments gives me a sense of boundless freedom; there are no limits.

I've decided to focus on female boarders; our community fighters. It is intimidating as hell to skateboard downhill at that speed and try new tricks in front of a strongly male dominated sport . . This channel I hope will inspire other women and encourage inclusivity and equality in society world wide.
In my master thesis and short films I produce, I demonstrate how adrenaline can relieve mental and physical issues including depression and anxiety. This means you can use adrenaline to your advantage, accessing high and low levels of emotions as needed and adrenaline is the tool of resolve.

After many freelance design jobs including London Fashion Week production designer, Leathers suit company´s (BTR ) designer for tailored downhill race suits, festival screen, printing and bar work, various video edits and productions, creative directing of a motorsport and lifestyle magazine, I am now focussing on my own creative projects and the phenomenal sport that is Downhill Longboarding. I want to inspire more women to skate with us.
I know it can increase your focus, develop your confidence and create an overwhelming sense of team spirit. Being accepted and appreciated socially is a huge step in the fight against severe despondencies.

My life is about adrenaline and adventures. I love to be playful and explorative, am a free thinker whose style, stories and and sophistication are (almost) worth a mint.
Therefore, what I can offer you is an opportunity of excitement, thrill seeking and recognition. I want you to know you can bring these elements into YOUR life and make every video YOU watch an adventure that will enlighten YOU with happiness, love and education.
I am looking for YOU to support my passion for adrenaline and adventures.
YOU to like my videos of the worldwide adventures on my skateboard.
YOU, who has great taste and YOU who values nature, action, design, art, food, clothing and style..

YOU who understands sportsmanship.
I can entertain YOU, show YOU the world I see as a skater of the mountains - I can be YOUR friend, YOUR ambassador and public relations specialist to promote YOUR business, brand or persona; with YOUR support we can afford the equipment, race fees, accommodations, flights,.. and especially to be able to skateboard down more hills and race more races all around the world as part of this womens community that I wholeheartedly would love to share with you.
YOU would be a direct and vital contributor to this project, designed to lift and elevate the lives of women around the world.



per video upload, which will go to travel expenses, racing gear and racing fees...

1 of 1
By becoming a patron, you'll instantly unlock access to 6 exclusive posts
By becoming a patron, you'll instantly unlock access to 6 exclusive posts
Recent posts by JennyJungle
How it works
Get started in 2 minutes