The Patriola
is creating Political Cartoons, Cartoons, Illustrations, Graphics
Select a membership level
Bronze Patriola Membership
Grants access to Patreon-only exclusive digital political cartoons that have been drawn and colored with a digital pen.
Silver Patriola Membership
This includes everything in the Bronze Patriola Membership, plus access to pencil drawings and memes & Patreon-Exclusive art content.
Gold Patriola Membership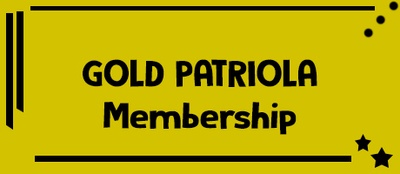 This includes everything in the Bronze & Silver Patriola Memberships, plus access to my Patreon-exclusive ebook "45 MAGA Cartoons: Volume 1" in PDF format. This PDF shows my first 45 political cartoons from newest to oldest. You will also receive ALL access to ALL political art I create, including Gold-Member Patreon-exclusive content and my entire GIF collection!
About
Hello patriots!
I'm a conservative cartoon artist who draws digital political illustrations with a twist. If you'd like to help support me as an artist, please sign up for membership access to see all my digital cartoons, memes, and more! A cartoon takes between 6-14 hours to draw, usually. They are illustrated using Adobe Photoshop CC (all the way, baby!), and you can see all my newest cartoons for free at
ThePatriola.com
. Please pledge $1 for access to all my cartoons!
For only $1 you get access to ALL my cartoons
. This $1 offer is an introductory price for all my early bird supporters!
For $5 you ALSO ge
t access to
my collection of memes, drawings, and photo manipulations
I've made. These vary from positive Trump accomplishments, dark humor/mocking Deep State, educational images, and candidate promotion during Midterm 2018 election.
For $8 you ALSO get
access to my
entire collection of candidate/election GIFs and funny animations
I've made PLUS an exclusive Patreon-only
e-book called "45 MAGA Cartoons"
which shows my first 45 cartoons in PDF format. Conservative political cartoons, memes, drawings, GIFs, AND an ebook.
Want a custom?
Would you want to see yourself in a conservative political cartoon? Perhaps a family member? Maybe you want to see Senator Schumer being made fun of some more or maybe you want to promote a candidate prior to an election? Maybe something new is going on and you have an opinion that can only be expressed as a cartoon.... what kind of cartoon do you want to see? Is there a Republican in office who is sticking it to a certain Democrat? Maybe someone in the political arena is relatively unknown and deserves some credit and you have an idea to show it? Let me illustrate it for you! Who knows, it could go viral!
I draw conservative political cartoons NOT general cartoons
, so if you have an idea, try to think of what kind of cartoon you'd like to see in conservative POLITICS! The more MAGA the better! And I have a pretty twisted sense of humor, so hit me up if you have a wild idea. My prices are reasonable.
For $90
, patriots receive Platinum Patriola Membership. This includes everything in the Bronze, Silver, and Gold Patriola Membership PLUS you'll get the opportunity to choose who and what I draw in an upcoming "easy" cartoon, as long as it is MAGA and can be completed within an 6 hours! Who knows, your idea could come to life and go viral! Limited membership.
For $240
, patriots receive Diamond Patriola Membership. This includes everything in the Bronze, Silver, Gold Membership (not Platinum) PLUS you'll get the opportunity to choose what I draw in an upcoming VERY-DETAILED cartoon, as long as it is MAGA and can be completed within 16 hours! A 16 hour cartoon is EXTREMELY detailed and can be far more complicated than a 6-hour cartoon. Limited membership.
If you have a MONTHLY Platinum or Diamond Patriola Membership, then you get a NEW custom conservative political cartoon EVERY month! Your voice can bring change on social media, through a new cartoon. Your idea can be reposted and retweeted all over the internet.
I'll draw pretty much anything custom as long as it is political, conservative, supports America First, won't get me banned. I will NOT draw cartoons that make the president or his agenda look bad. I do have some limits, so please have some second-choice and third-choice ideas! I'm reasonable. While I can't guarantee that all my cartoons will hit the bullseye every time, I do try. No alterations to the cartoon after it is made, because I post it to my site, Patreon, and social media after it's finished. Please take a look at the art I've already made so you can see my style and what is possible. Thank you for supporting a fellow patriot as I draw art for you. I look forward to drawing your ideas!
Let's Make America Great Again!
Kind regards,
The Patriola (Isabella)
@starryneutrons on Twitter
I'll release 10 behind-the-scenes images of how I make the cartoons every week.

1 of 3
By becoming a patron, you'll instantly unlock access to 465 exclusive posts
By becoming a patron, you'll instantly unlock access to 465 exclusive posts
Recent posts by The Patriola