Premier Virtual Wrestling
Premier Virtual Wrestling
Select a membership level
2 Lifetime Tickets


Tired of buying a ticket every week to see the action? Well here is your chance to have lifetime access to Premier Wrestling for ONLY $3 a month. Come support your favorite wrestler every week without any hassle!
Gold - Partnership Package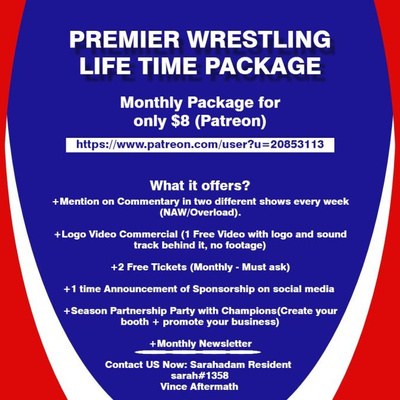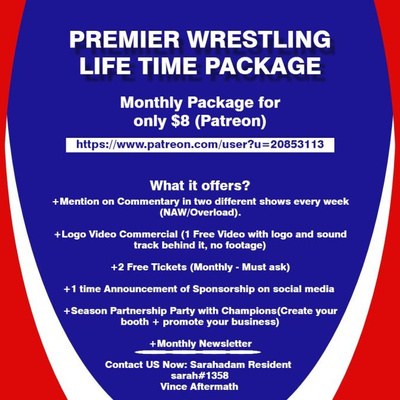 +Mention on Commentary in two different shows every week (NAW/Overload).
+Logo Video Commercial (1 Free Video with logo and sound track behind it, no footage)
+2 Free Tickets (Monthly - Must ask)
+1 time Announcement of Sponsorship on social media
+Season Partnership Party with Champions(Create your booth + promote your business)
+Monthly Newsletter


About Premier Virtual Wrestling
Goals
Once Premier Wrestling reaches this goal we will be able to provide top notch entertainment for our fans and be able to put more funding into marketing which in turn helps our partners. Premier Wrestling's vision is to help companies grow because when they are growing we are growing. If our staff had the option of make a living off being a virtual performer they would and we wanna make that possible. We need your help!

1 of 1