Joanna NicciTina Free
is creating a community and culture of buttkicking.
Select a membership level
Buttkicker!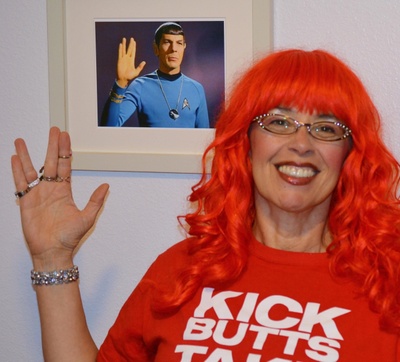 Thank You!  At this tier* of $1 per month, you are a part of what sustains and drives the mission of Buttkicking for All (who want it).

From online support to face-to-face events and more, your contribution of $12/year helps make all of these things possible.  
*NOTE: Effective February 1st, 2020, this level does not include most of the subsequent podcasts.  
So, maybe you don't want too much content or email coming your way.  You simply want to be able to say: I support this mission. I'm part of this Team. 
Or, you may be contributing for the sake of reciprocity.
Or you're in for the daily dose of love and light.
If that sounds like you, this level is for you.

And, fellow Buttkicker: if YOU are also a Patreon creator who somehow loves on the planet and/or our fellow Earthlings, please let me know and I'll gladly support YOUR creating as well.  Together we are powerful.  May we ALL live long and prosper, together.
Thank you.
Level Five Buttkicker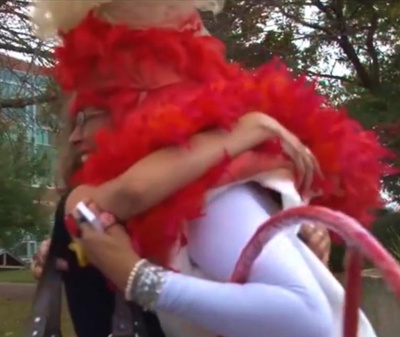 This tier includes access to ALL podcasts and posts!
At this level of support and engagement, you're saying, "I believe in you, in this, and in the power of us."  
Like Dana, you want to see this buttkicking thing GROW far beyond what NicciTina could do alone and with her own life savings.  
You're here to make an even bigger difference. It's like you're taking Nicci Tina out to coffee once a month, giving her a big hug and saying, "Thanks for what you're doing, you big butt you.  Keep doing it."
Thank you.
Level Twenty Buttkicker
At this tier, you could be referred to not only as a patron of the art and science of buttkicking, but as a foundational benefactor. 
In addition to the benefits at the $1 and $5 tiers, there is THIS: for every six months of your support at this level, you can gift an hour of conversation with NicciTina to yourself or to someone else you know and love.  This hour could be devoted to brainstorming ideas for your vision, or strategizing your buttkicking strategy in a private session.  Your choice.

Thank you.
About
Hi, Joanna NicciTina Free here.
Glad you're here, too.
Why join Team Buttkicker? 
The Patrons of
Kick Butts Take Names
(also known as beloved Buttkickers, and
Team Buttkicker
) receive certain benefits that you'll see in the various levels of support. Those benefits are growing as our community and collaboration grows.
The biggest benefit
each patron receives -
in addition to
knowing you're
personally
making a difference for people who need more support/information/love to kick tobacco and nicotine -
is knowing that YOU are being held every single day in love and in light
.
Because this community is still quite small (
we've been here for just a few months, at this writing
) I personally take time
every day
, seven days a week when I pray and meditate, to consider what I know about each of you and
I hold you in love and light with a vision of YOUR best life.
So, just as I start my communication with each budding buttkicker with a vision of that person joyfully free of tobacco/smoke/nicotine,
I envision you living your own best life
.
That said, if you'd like me to be clearer about what YOUR best life looks like for you, please DO let me know.
What exactly are patrons funding?



Everything I do I do with your support
.
The primary place I connect with people who want to kick smoke, vapor or nicotine in any form (or help others kick it) is
through my Facebook page
.
Most days, I'm on there responding to questions and cheering on people who are struggling and/or succeeding in their quest for freedom, and transforming their lives
.  In the past, my focus was just tobacco, though now with the recent news on the impact of e-cigarettes, I'm also connecting with an increasingly number of people who want to kick vapor, too.
Another thing I do is put heads together with other healthcare providers about how to more effectively talk with their patients about tobacco and nicotine
.  My work in this capacity has been endorsed by many notables in the field of healthcare, including
a former US Surgeon General and NIH trailblazer
.
I speak at healthcare conferences and in other settings where there's little to no funding for buttkicking education. As support grows here, I'll be able to show up for more of those talks and conferences, improving engagement and outcomes in those vital conversations, too.
I'm also writing
the 3rd edition of this book
and seeking a literary agent, editor and publisher instead of self-editing and self-publishing.  The book will be much stronger with a whole team of us bringing it into the world.
And there are the logo
t-shirts
I'm able to create for you and other buttkickers with the support of other talented creators.
And there are
videos
, including
Tap Yourself Free
, and there's other collaboration, like the (
awkward
;) (fun!)
stand-up comedy
with David Granirer's organization,
Stand Up for Mental Health
.
And, I'm currently learning about podcasting because I'm getting a surprising number of requests for that.  This community is where I'll test that out, and launch it - with all of you, because I know you're supportive of the work I do
, just as you know I'm also supportive of YOU.



Holiday 2019 Update:

There are now more than 20 podcasts for patrons, thanks to YOUR support! 



mid January 2020 Update

:

There are now nearly 30 FREE podcasts for people kicking tobacco and nicotine, thanks to the support of Team Buttkicker!
With each action you see me taking, with each and every step, this Team can TRULY say, "
I helped make that happen." 

You showing up for this mission means I'm able to show up for a LOT more people, every day.
Together - with my actions and antics,
and
with your support - WE can start leveling the playing field and - maybe one day -
make access to buttkicking and freedom from tobacco and nicotine as available as tobacco and nicotine
.
(Just imagine that... I do, every day.)

Thank You, Team Buttkicker!
And if you're new here, we'd

love

for you join us.


Together, We Are Powerful.
By becoming a patron, you'll instantly unlock access to 51 exclusive posts
By becoming a patron, you'll instantly unlock access to 51 exclusive posts
Recent posts by Joanna NicciTina Free