Joanna NicciTina Free
is creating a community and culture of buttkicking.
Select a membership level
Buttkicker!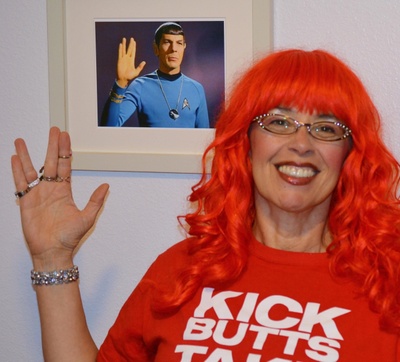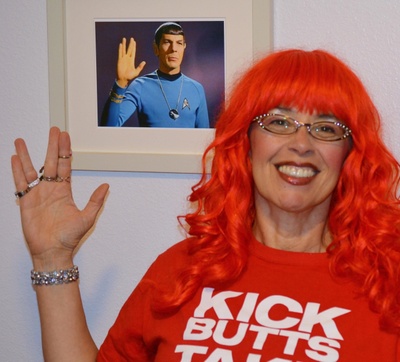 Thank You!  
At this tier of $1/month, you are a part of what sustains the mission of Buttkicking for All (who want it). 
As a member of Team Buttkicker, you are improving access to care and a GREAT MANY other things (as detailed in the introduction).
From online support to free calls and more, your contribution of $12/year helps make ALL of these things possible.  
 
NOTE: this level does not include all of the content/posts.  So, maybe you don't want too much content or email coming your way, still you want to be able to say:  I support this mission.
I'm part of Team Buttkicker!

Or you may be contributing for the sake of reciprocity (we fund other Patreon creators who fund us at this level).
Or you're in for the daily dose of love and light.
If any of that sounds like you, then this level is for you.

Together we are powerful.  
May we ALL Live Long and Prosper, together.

Level Five Buttkicker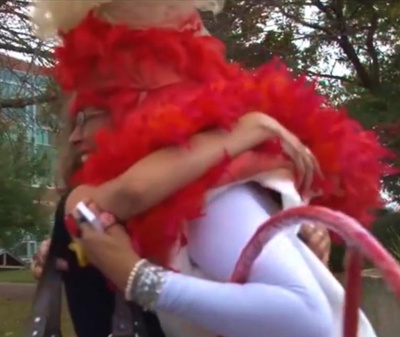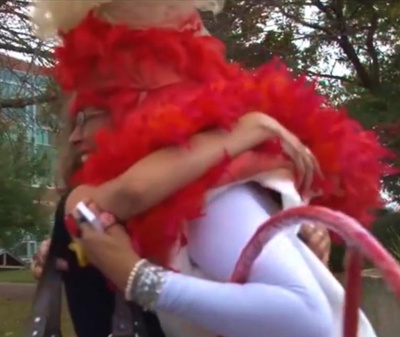 This tier includes access to ALL content and posts!
At this level of support and engagement, you're saying, "I believe in you, in this, and in the power of us."  
Like Dana, you want to see this buttkicking thing GROW far beyond what NicciTina could do alone and with her own life savings. 
You're here to make an even bigger difference. It's like you're taking Nicci Tina out to coffee once a month, giving her a big hug and saying, "Thanks for what you're doing, you big butt you...  Keep doing it."

Together we are powerful.
Thank you.

Level Twenty Buttkicker
At this tier, you could be referred to not only as a patron of the art and science of buttkicking, but as a foundational benefactor. 
In addition to the benefits at the $1 and $5 tiers, there is THIS: for every six months of your support at this level, you can gift an hour of conversation with NicciTina to yourself or to someone else you know and love.  
This hour could be devoted to brainstorming ideas for your mission, or strategizing your own buttkicking vision.
Or I'll just spend it thinking about how great you are.
Your choice. 

Together we are powerful.
Thank you.

About Joanna NicciTina Free
Hi, Joanna NicciTina Free here. 
So GLAD that YOU are here, too

! 
WELCOME to the Home of TEAM BUTTKICKER

.

People come to this page for many reasons.  I'm looking forward to hearing your story, what's brought you here.   As briefly as possible, here's mine:

I smoked.  I kicked.  It was HELL.
I became a BUTTKICKER so that
no one has to kick the way I did.

Now I LOVE what I do. I'm GOOD at it.
I'm AWFUL at charging for it.
I want to give it away for FREE...
and that is not sustainable.


At some point in the 30 years of doing this buttkicking thing, I realized: although I'm glad to help anyone who wants to kick smoking
(and now, vapor)
, or to talk with anyone who wants to help another do the same, I'm THRILLED to help people kick who have determination but inadequate support to get and stay free.

My specialty is working with people who are/have been hardcore, "dedicated" smokers, as I was, and pretty sure they can't kick, because they've tried (and tried) and pretty much gave up. 
When I can say,

Yes. You. F%*&ing. Can

.

and then they experience that... that's Heaven, in my world.

I also LOVE to connect with family members, other loved ones, and healthcare providers on the front lines who show up for these same people, too.
The funding from TEAM BUTTKICKER through this Patreon platform allows me to serve without having to ask those I serve to pay me.  This means I can serve freely: ANYONE, in ANY country, in ALL walks of life. That is my JOY and, I believe, my gift. Each one of us has a gift, y'know... Buttkicking is mine.
PATREON
and

TEAM BUTTKICKER
help me bring
BUTTKICKING
to the
W

O

RLD

and all work
needs support to sustain and GROW

.
Q:
WHAT DO YOU DO WITH
THIS SUPPORT ?
I guide and support people to kick butts
and transform their lives.
I used to do that in one-on-one conversations, in small, face-to-face groups, as well as in books, videos, conferences, events, and in surprising ways, like parades, streetwalking and standup comedy.

If someone says, I want to kick, but I haven't been able to, I join with them in joining their desire with their desired outcome: FREEDOM.  Together, we get RESULTS. 

I HAVE 100% FAITH in BUTTKICKERS and THE PROCESS, and I don't give up.  That's what we do when we love someone, right?  I LOVE Buttkickers.

My dear friend, the neuroscientist Mark Brady, who knows me quite well - he calls me Tenacious J.  In other circles, I'm Joanna the Amazon. (That's my warrior name; if you don't have one yet, let's find yours;)

For the next thirty years, I want to bring this tenacity, this clarity, this know-how, can-do and love to a LOT more people who want to save and transform their lives, as I did

.
hosting FREE calls for Buttkickers
(one for patrons only - more for the rest of the planet)

completing the 3rd edition: Kick Butts Take Names
(this one will be leaner, tighter... edited!)
getting the word out about these things and more
(and buying some ads to do so)
We've also got LOTS of posts and recordings, a WEALTH of INFORMATION already on this page for people who are kicking and transforming their lives. 

Having funding means I can create these, share them and take the time to connect with people who are looking for us.  I've got a whole list of things I want to do going forward. I want to train others to do what I do.  I'd also like a video team again, and be able to pay them well for their good work.
Q:
OK, last question... NOT TO SOUND CRASS but... WHAT'S IN IT FOR ME?  WHY WOULD I JOIN TEAM BUTTKICKER IF I DON'T SMOKE or VAPE and WANT to STOP... or LOVE SOMEONE ELSE WHO DOES... or WORK IN HEALTHCARE
?
Well, for starters: it feels good. 
You're going to make a difference; I'm going to adore you.



Every member of this community is in my heart and thoughts every day.  I make a point of it.




And, it's funny you'd ask: looking at the list of patrons one day, I realized that almost half of the beloved, amazing people who funded this work in our first year together had never smoked. Some loved someone who died prematurely of tobacco-related illness; one lost both parents very young due to smoking.
What most of the members of TEAM BUTTKICKER tell me is that they belong here because they like the way I do what I do: no fear tactics, no shoulds or shame; bringing lots of guidance and support, tapping into the power of BOTH art and science. They see me making a difference, and they want to cheer that on and see it continue – that's why they give.
I thought they'd want all kinds of perks and presents - they didn't. They wanted to make a difference, too, and to let me know they believe in me, like I believe in the people I serve. No matter HOW long it takes someone to kick, I'm committed and I don't lost faith, ever.  It's kind of an obsession for me, this mission, changing the way the world sees and responds to tobacco, one buttkicker at a time.
I'd do this with or without financial support, but I can do a LOT more with your support.

And, each time someone finds their way to this support, we're leveling the playing field.  We're reducing the inequities in healthcare, giving everyone a fair shot at having this freedom.


We're providing access to care - ACCESS TO CARE - don't you think EVERYONE on the planet ought to have that? We do!

We're helping to clean up the planet – the air, the soil and groundwater (the smoke is toxic, true - tho' tobacco production and the discarded butts are also super polluting.)

We're decreasing the likelihood that another kid will start smoking, because children of buttkickers and/or non-smoking parents are less likely to smoke.

We're reducing the cost of healthcare overall; when we're smokers we tend to get sick more often and stay sick longer than people who don't smoke or vape, and we're less likely to have comprehensive health insurance that pays to help us kick.  More and more employers won't hire smokers (for lots of logical but painful reasons) making it harder to find a job with those benefits. 

Getting FREE opens up A WHOLE NEW WORLD for you. Buttkicking has a positive ~ ripple ~ effect on the whole planet.  Many of us also became more planet- and health-conscious after we kicked.

No matter who you are, you're likely to benefit from what we're doing here, as Team Buttkicker.  

And, each member of TEAM BUTTKICKER
at every level of contribution contributes not only in financial support to grow this community. but to this transformative buttkicking work I'm able to do every day. 

So, thanks for asking! 



We'd love for you to join us, and join us in making a difference.



Together we are powerful

.

 

Joanna NicciTina Free
By becoming a patron, you'll instantly unlock access to 65 exclusive posts
By becoming a patron, you'll instantly unlock access to 65 exclusive posts
Recent posts by Joanna NicciTina Free
How it works
Get started in 2 minutes