Titan-Forge Miniatures
is creating most unique 3D printable models - RPG, Board & Tabletop Games
Select a membership level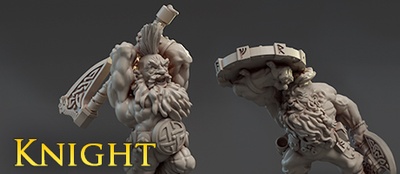 First Knight
Limited (0 remaining)
Help us grow our Patreon by being among the first to join!

Receive everything from the Paladin tier (Welcome Package, Monthly Releases, access to Polls, Lives and Work in Progress); but for a slightly better price.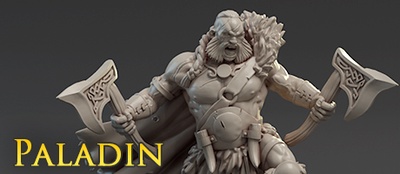 Paladin
Become the patron of the highest quality 3D printable miniatures. 

Get a new mega-value set of STLs each month! This Decemeber the set consists of:
3x Hero Miniature (on foot)
1x Hero Miniature (big or mounted)
1x Special "WOW" Miniature
2x Big Infantry Miniature
Set of Bases (current month themed)
Scenery Elements (current month themed)
 Additionally : 
Access to the evergrowing "Welcome Package".
Access to the polls - you will decide what we scuplt next! 
Access to our community group.
Access to special W.I.P. updates, artist insights, streams, giveaways and more!
About Titan-Forge Miniatures
Become a Patron! Become a Tabletop Legend!
By joining our Patreon you are guaranteed to receive a fresh package of printable STL models each month. For every purpose you can imagine! We are experienced and recognized miniature sculptors that work out of passion. You can learn more about us and our work below but first...
Your rewards are here!
Become a Patron now to instantly receive the Welcome Package and the current Monthly Release! 
Stay with us for more Monthly Releases. Every 30 days you will receive a new mega-value set. This December the set contains a mix of Dragon Empire models, you can check it 
here
.
Every month you can expect a new set with a similar or bigger value. Initially we will mix brand new models with the most popular choices from our store. For future releases we want your needs and ideas to be the biggest factor in the design process. Share them with us!
Only this month!

We are celebrating reaching 100 Patrons! If you decide to become one today, you will additionally receive a huge
Collosal Zeppelin
model! Join us from the start, gather all special rewards!
Welcome Package
By becoming a Patron you immediately receive an acces to the evergrowing Welcome Package! Currently this set includes :
Lord of Fury, Big Deamon model
Classic Barbarian Hero model
Daruma "Earth Monk" model
Iro and Kez, Dwarf Slayers models
Set of Mystic bases (43 pieces)




Why are we here?
We believe that the future will be printed at home and in 3D. We are very excited about the current accessibility of the printing equipment. From the very beginning we have been working with STL models. That's why we know how to transfer our ideas straight into your reality. Together we can pioneer the next big technological revolution in how the things are made, traded, and invented.
It also has always been a challenge for us to find the right scale for our miniatures. We were asked to cast them in multiple sizes to satisfy various needs. With the rise of home 3D printing you have control over your projects.
We want to share our STL designs with you to contribute towards creating epic settings, wargaming battles and RPG campaigns. Our goal and dream is to be a part of a community that will lead us to new grounds and new amazing designs.
Why us?
Because we make fantastic models. We want them to grab attention and animate imagination. Over the years we have created countless designs and improved our technique. We believe that every miniature has a character that needs to be captured in their pose, details and expression. 
For years we have been not only designing miniatures but also casting them. We put a lot of thought and expertise into making the models actually printable. 
Terms and Conditions
The STL files provided by Titan Forge are for personal, non-commercial use only! By purchasing, downloading, accessing or using our STL you agree to the terms and conditions and are bound by its provisions. If you do not accept or agree with these terms, do not download the content we provide. Most important parts of the agreement are listed below. We advise to read the 
full document that can be found here
.
Titan Forge is the owner of the STL files. The STL files are a copyrighted work belonging to Titan Forge.

Titan Forge grants you a non-transferable, non-exclusive license to use the files.

The license allows you to print the STL files for personal, non-commercial use only.

You may not sell, share, distribute, rent or transfer the STL files or the materials that you manufacture.

You can resize or cut the contents of the files for personal use. You may not otherwise modify, duplicate, create derivative works of, disassemble, reverse compile or reverse engineer any part. The STL files may not be copied, reproduced, distributed, republished, or displayed.

Any theft, redistribution, resale, imitation, licensing, leasing, or claimed ownership of Titan Forge's copyrighted brand and materials will be considered a breach of this contract, an infringement of copyright law, and dealt with accordingly in keeping with Polish Copyright and Related Rights Act 1994.
Who are we?
We are Sławek Kościukiewicz and Daniel Wysocki. Titan Forge was established 10 years ago and now our models can be found on tabletops all over the world. We are dedicated to designing whole themed armies.
We have run many successful Kickstarter and Indiegogo campaigns. Our miniatures are used in several board games. You can meet us in person on multiple fairs and online streams. If you want to see our full offer visit titan-forge.com
Recent posts by Titan-Forge Miniatures
By becoming a patron, you'll instantly unlock access to 5 exclusive posts
By becoming a patron, you'll instantly unlock access to 5 exclusive posts