Nancy E Polo
is creating illustrated art and writing/journalism
Select a membership level
Official Patron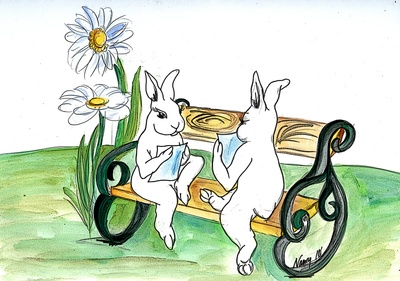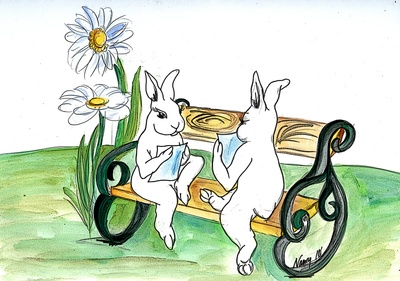 Monthly progress reports on what has inspired me to create the next scene in Bunny's life.
Why is she usually wearing an apron?
What happened at the grocery store this week that made me paint Bunny as a clown?
Thank you for tuning in!
Help me create Bunny's Book!
Voting power on what happens next. I give you a situation and you tell me how you think Bunny might react.
Work-in-progress sketches that are not published anywhere else
Coloring pages for you to download and create your own work inspired by Bunny.
Video and Written Tutorials on Painting Techniques
And everything in the previous tier
VIP Patron
Thank you for your generous support!
One-time 8"x12" print of your choice
And everything in the previous tiers
About Nancy E Polo
" />I am an artist who lives and works on an animal farm. My paycheck comes from selling our food in the DC Metropolitan Area, and our farm store. Painting is my emotional paycheck. I'd like that to change. I paint landscapes to capture beauty. I paint portraits to capture amazing people. I paint Bunny and her surreal world to make dreams happen. Other artists, writers, musicians, farmers and independent entrepreneurs, who dance in an ever-shifting world that hurtles toward the unknown, are my inspiration. My artwork pays homage to our collective and constant ingenuity.
" />As an Art Historian I was trained to treat art as a mystery. I uncovered clues about the work, the artist and the time period, but I also revealed what was hidden in myself. As humans we walk around gazing outward, but enacting from a center we can't always observe. The reflective power of art helps us understand from where our actions come. I've charted patterns by tracing marks with my pencil and paintbrush over and over again. My paintings connect to a greater understanding. Bunny brings those mysteries closer to the surface. Because her world is ruled by my dreams and imagination, I am able to bypass the confinement of the REAL world. I work and walk toward what is possible, and away from what can't be.
" />I want to make a book of paintings about Bunny to help others trace the patterns in their lives. With simple questions about what they see in the work, the paintings can reflect some hidden habit or an explanation for emotions that are difficult to bear. What also may be revealed are hidden strengths. The mirror art holds up for each individual shines light uniquely. No one sees the 
same truth. Our eyes may see the same colors and shapes, but the sensory map held within is connected to deep memories buried across a path that only one person traveled. We can never fully repeat the trajectory of any other being, but the gravity of basic human needs gives shape to most of our orbits. Hunger, Love, Sadness, Joy and Laughter are just a few of the essential needs that have shaped my path. 
" />As I create more Bunny paintings to process an ever shifting universe, I want to share that journey with people invested in my creativity. Artists can be shamans, griots and guides for those who are open to the process. It's not escape, but a way forward when things get murky. With a small monthly donation ($1-$5), my patrons will have access to the process that leads to finished work, as well as an archive of other work that has been created in the last ten years. My daily experiences, thought ramblings and sketches may uncover more. Watching details build is understanding the ingredients before they are blended. Those ingredients are the things we share as human beings. For me watching another person create has been the greatest gift of being alive. I want to share that. The funds I receive on Patreon will allow me more time and resources to create.
When I reach 10 VIP patrons, I will begin creating the pages of my book with special previews for patrons.
1 of 1
Become a patron to
Get discounts to an online store
Connect via private message
Recent posts by Nancy E Polo
How it works
Get started in 2 minutes