Last Look Back Project
is creating a research study on the last hunter-gatherer cultures
Select a membership level
Hunting Dance Patron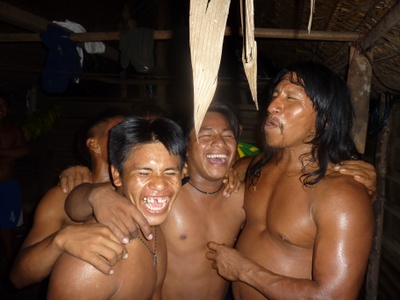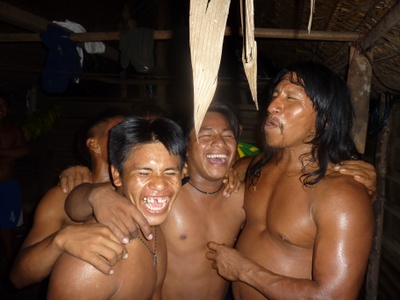 For the cost of a cup of coffee per month, you can join our Hunting Dance donation tier!
Men and women perform different traditional dances in these hunter-gatherer tribes. The men tell tales of hunting and rain forest exploits, while the women form a dancing line and talk about past leaders, history, and relationships between families.
At the Hunting Dance level, you'll be able to see private posts about how your donations are helping support research and aid among these indigenous people. 
Patron-only posts and messages
Blowgun Patron
For just $15 a month, you can upgrade to the Blowgun Patron tier and receive exclusive voting power!
Fun facts about the special blow gun warrior: To become this kind of hunter, a young boy has to grab a hummingbird out of the air. Hummingbirds are often considered evil spirits, while cockroaches (known as Yakata in Wao lanaguage) are revered as sacred.
Patron-only posts and messages
Rainforest Elite Patron
Join our top funding tier and become a Rainforest Elite! You'll receive full library access to our content and get up-to-date information on how your donations are helping to perform lifesaving aid and research in one of the last known hunter-gatherer societies.
Your generous donation will help us continue to develop close relationships with indigenous families. Dr. London is one of the few researchers trusted enough to stay with the most remote and isolated hunter-gatherer groups, as he always gives back to the community in efforts to preserve their lifestyle.This is not the type of relationship that can be built overnight.
We appreciate the rare generosity of our Rainforest Elite group!
Patron-only posts and messages
About Last Look Back Project
Last Look Back Project works to study and preserve one of the last hunter-gatherer cultures in the world: the Kichwa and Waorani cultures of Amazonian Ecuador.
We've long suspected that their natural Paleo diet is key to the good health of this indigenous peoples. With the onset of the global coronavirus pandemic, we have a unique opportunity to study something truly amazing: this particular Amazonian diet might be less susceptible to COVID-19 than modern societies.
Why? Perhaps because of their native plant fruit-based treatments, recently invented by Waorani indigenous healers. Native medicine has cured modern disease before and understanding how these fruit-based medicines work may help save lives.
We are dedicated to the preservation and support of the remaining hunter-gatherer groups and their way of life. By studying these remote communities, researchers have the rare opportunity to gather knowledge missed by other scientists.
Our Last Look Back Project researcher Juan Carlos Cuenca is leading a team of 25 medical professionals deep into the rainforest to visit these remote communities where few people ever venture.
We need your support to continue our research. Funds are needed to provide: staffing, COVID-19 testing supplies, a motorized canoe, and general research and aid.
WHO WE ARE:
The project is run by medical anthropologist Dr. Douglas London. His novel research on hunter-gatherers has been supported by Harvard Medical School and the United Nations.
Since 2010, Dr. London has lived with remote hunter-gather groups for months at a time and is known and trusted throughout this Waorani hunter-gatherer region of the Amazon rainforest.
We can't complete our research without your help. Please donate now to help us continue our studies as we search for a rare cure for COVID-19.
EMERGENCY CRISIS RESEARCH ON COVID-19  SUCCESSFUL PLANT CURES IN USE NOW  BY HUNTER-GATHERER GROUPS AGAINST PANDEMIC IN THE AMAZON - Real researcher heroes not a TV reality show. See our COVID-19 videos week to week on the Paleo Diet website.

Last Look Back teams are in the field now working with medical teams! Our present crisis research is to study the apparently effective native fruit-based treatments the Waorani hunter-gatherers and local Kichwa tribal groups have just invented for COVID 19 infections that have spread into Waorani and other indigenous communities in the Amazon. Scientific enquiry goes back to our ancestral hunter-gatherers. Our Last Look Back researcher Juan Carlos Cuenca is actually leading a team of 25 medical professionals into the rain forest to visit these remote groups and provide treatment as Last Look Back is the only outside organization familiar with all of the many villages scattered throughout this vast Amazonian region. This is not a fake reality TV show! Last Look Back team members are presenting great courage in the face of death. These are incredibly brave Last Look Back team members, real heroes with little equipment in the fight against Corina Virus. 

It would be wonderful to find a native cure against COVID-19 as there are known powerful, active anti-viral plant chemicals in the remedies! It would not be the first time Western medicine has found a cure from native treatments (over 50% of modern drug treats have a plant origin)!  The impact of corona virus appears to have been far less devastating with our Waorani and Kichwa indigenous villages than other native Amazionian groups in Brazil and elsewhere.

Most indigenous people are now taking the remedy throughout our Amazonian region. There are actually two treatments, one to prevent the disease and the other to treat severe cases where there is no hope of a clinic let alone hospital respiratory equipment. Most natives have never seen a doctor in their lives. We work with 46 remote communities communities with a combined population of more than 10,000 people. Many Friends around our team not taking the native remedies have died from COVID-19. Our team are all are taking the native treatments and have escaped death and even Western medical professionals on the team take the native treatment perhaps as an a leap of faith but also because it appears to have potential to work.
 
 There are two native plant treatments just designed by the Waorani indigenous specifically against the Corona Virus. All components are already part of their native diet. SEE the VIDEO of Last Look Back Researcher Juan Carlos Cuenca in the Amazon now on the treatments. Please also say a prayer for our researcher Juan Carlos as he ventures into dangerous situations to save lives.

For a fraction of a few days of laboratory studies on COVID19. We need $10,000 to study the natural Waorani COVID-19 treatments biochemically for possible worldwide treatment and also design a survey to map actual efficacy of native plant treatments in the populations. Again as scientists we need to be critical but in the face of emergency we need to explore every promising option. We also want to get support for the medical team to get better preventative gear against the corona virus and a better canoe and motor to get to remote indigenous people suffering with the Corona Virus. We will also provide Last Look Back volunteer team members with funding to help continue their medical support in the battle for a treatment against the coronavirus in the last frontier of our planet, the amazon rainforest.
1 of 1
Recent posts by Last Look Back Project
How it works
Get started in 2 minutes