Atma
is creating Game Music and RPGs
Select a membership level
Get access to game news & updates, and high-quality images of new heroes, enemies, and maps. Also hear select additions to the Seinfeld RPG and DreamEnders soundtracks, available here before anywhere else!
Being a $10 Patron for one month or more ensures that you'll get a digital copy of Sprunt as soon as its released. Your name or your preferred pseudonym will be in the game's Credits.
You'll also receive the rewards of all tiers below this one.
Being a $15 Patron for one month or more ensures that you'll get digital copies of both Sprunt and DreamEnders on their respective release dates. Your name or your preferred pseudonym will be in the Credits of both games.
You'll also receive the rewards of all tiers below this one.
About
When I was 15 years old, a package came for me in the mail. "
Dragon Quest III: Symphonic Suite
": an audio CD with music written by and conducted by elder video game composer
Koichi Sugiyama
 and performed live by the London Philharmonic Orchestra. Isn't this great, I thought!
Dragon Quest
, an RPG series (available in the United States, but mostly revered in Japan), had a series of albums dedicated to its music. It wasn't just a local band bringing pieces originally crafted for the Nintendo Entertainment System's sound chip to life, either -- it was the London Philharmonic! The orchestra that gave us the soundtracks for
Jesus Christ Superstar
, the
Lord of the Rings
trilogy, and that regularly performed works by Beethoven, Haydn, Brahms, and other classical masters. I brought the package downstairs, ripped open the box, crumbled open the plastic, put the CD in my stereo, and then sat down to listen. As soon as I heard the swells of the orchestra, tears filled my eyes. All of my childhood memories had been so succinctly raised to a level of beauty beyond my prior comprehension. It was then that I decided: I want to be a composer.
        To make works of art that challenge the mind and touch the heart; that's my goal, and, luckily for me and for artists like me, the tools available at one's fingertips are more potent now than ever before. This means, however, that a greater influx of artworks, music, videos, and any other thinkable media are flooding the internet at an incredible rate. It's difficult to be noticed and even more difficult to live a gainful life dedicated to one's craft. Although I had hoped to one day accompany a professional video game company in providing the soundtracks for their projects, such opportunities are fleeting, as game developers are turning to resources like licensed music and experienced film composers to guide the orchestras that triple-A releases demand. As development companies become increasingly prestigious, a new venue has stepped forward from the backdrop: independent gaming.
        I've taken it upon myself to create the games that my music craves. With tools like 
RPG Maker MV
and 
GameMaker: Studio
, it's now entirely possible for anyone with access to a computer to make entertainment available to the masses. I'm in the process of building a post-apocalyptic, cyberpunk RPG,
Sprunt
.
Sprunt


250 years in the future, only one nation remains: 
UnderGodia
. Under the despotic rule of President Jane Pope, the populace pools together all of its resources to build a tower that will reach the heavens and enable communication with the almighty. With its citizens tired, disenfranchised, and oppressed, conflict in UnderGodia escalates. The resistance is coming, and Sprunt is its leader.
Future Projects
Seinfeld RPG
The Super Mario Brothers. Sonic the Hedgehog. Charles Barkley. Each of gaming's most iconic superstars has had an RPG of their very own; isn't it Jerry Seinfeld's turn in the limelight? Join Jerry, Elaine, George, Kramer, and even Newman through the mystical world of New York, New York in this parodic look at the nature of stand-up comedy, friendship, and just what it means to be the hero of a Role-Playing Game.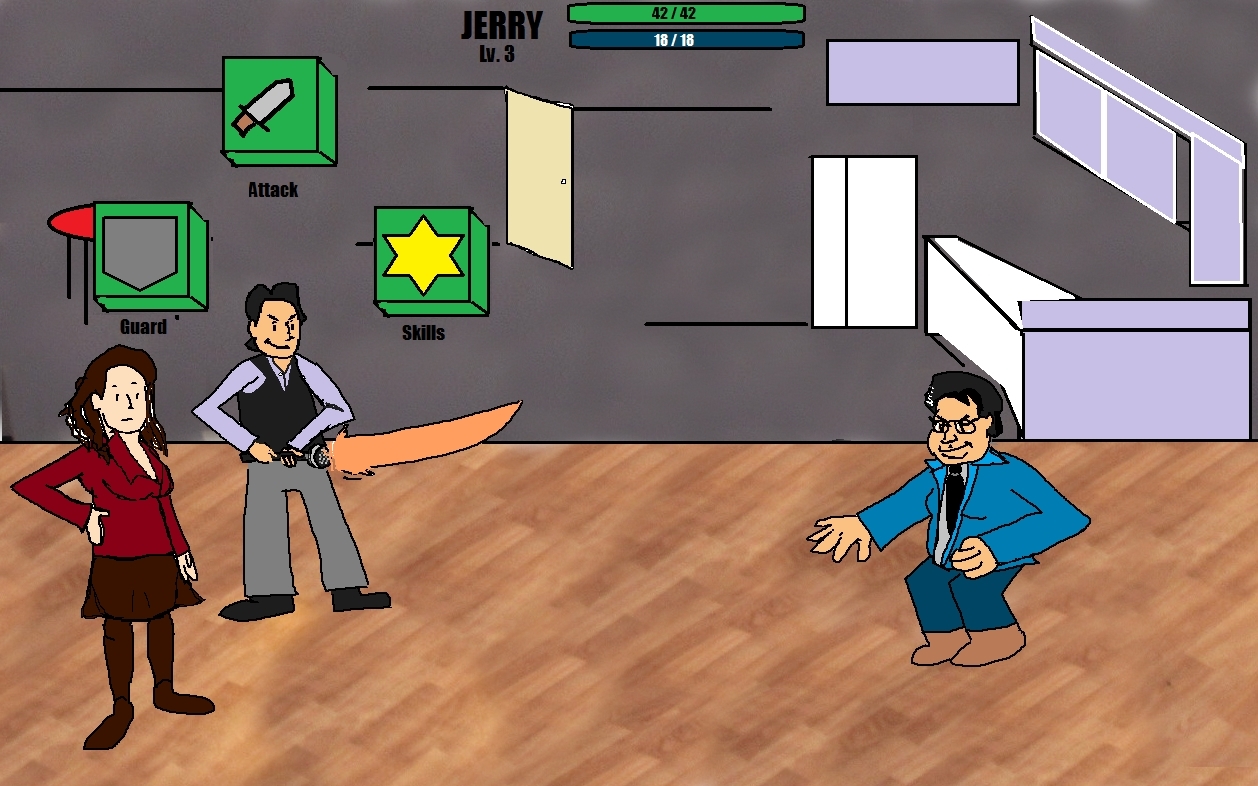 These screenshots represent conceptual art of Seinfeld RPG and do not necessarily reflect (for better or for worse) the appearance of the final product.
Listen to snippets of the soundtrack here:
https://soundcloud.com/atma505/sets/seinfeld-rpg


DreamEnders
DreamEnders is a new and surreal RPG that follows the eclectic life of Riley, a student in her last year of college who faces the odd dilemma that she can't remember anything about her childhood.  Her only gateway to the past is through her dreams, which sometimes provide insight into her hazy memories. These visions come at a cost, however; mysterious creatures and other anomalies can escape Riley's dreams and wreak havoc on the real world. Tired of her struggles and the danger that she poses to others, Riley journeys with her best friend Alice "Bits" Bentley to find the landmarks in her dreams and put an end to them once and for all.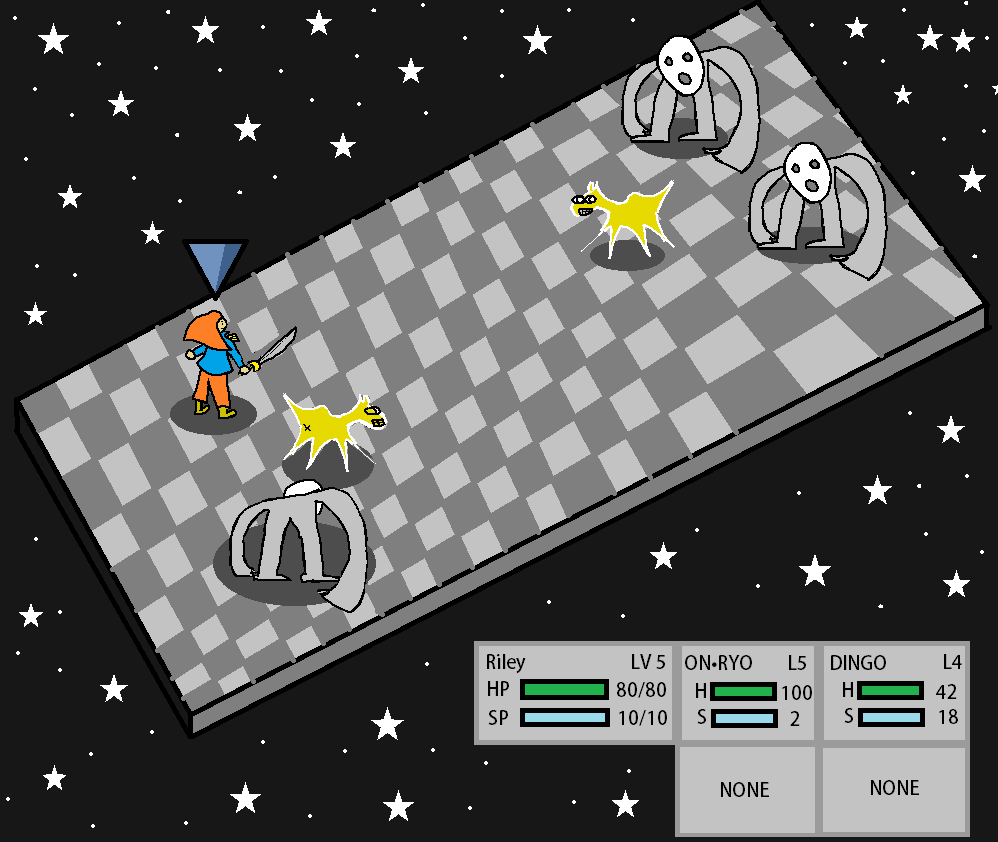 In DreamEnders, it isn't possible to survive without enlisting the help of your own inner demons. Once you have learned enough about a particular enemy, you can offer to challenge it one-on-one, and if you win the difficult duel, then it will fight in your service from that point on.
        Although making games is as rewarding as it is fun, tremendous time must be spent building all of their assets: music, background graphics, animated character graphics, filters, programming unique battle systems and attributes, so on and so forth. Working so passionately to make something truly entertaining while holding a full-time or even a part-time job is exhausting. This is why I turn to you, dear reader. Please review the benefits that come with becoming a donating Patron, and consider offering what you can to help give my projects life. Even if you don't have the capacity to donate, it can be equally as helpful to share this page with as many people who you think might be interested.
Thank you so much for reading. Happy gaming.
Sincerely,
Bradley
By becoming a patron, you'll instantly unlock access to 6 exclusive posts
By becoming a patron, you'll instantly unlock access to 6 exclusive posts