Garethan
is creating Adult 3D CG in DAZ Studio
Select a membership level
Goblin
Goblins may be little and most of them are ridiculously weak, but we all know that the sheer mass of them has overwhelmed more than one wannabe heroine.


• My thanks and I'll try to answer every question that you may have about my work.
• Enable access to polls. 
• Join Discord to get access to the Mega Links channel from where you can directly download all my previous finished sets.



Includes Discord benefits
Orc
Orcs, they stalk the lands in search for prey and unlike Goblins they keep their spoils around for a long time before they finally break them.


• Same benefits as the Goblins.
• One week early access to finished sets before they go public.

Includes Discord benefits
Demon
The Demons lure their prey with promises or trick them by appear to be harmless. Once in their clutches there is no escape and they violent their prey without mercy nor remorse.


• Same benefits as the Goblins. 
• Two weeks early access to finished sets before they go public.
• Every new month you'll receive a Mega link to download all picture which I have made during the past month, including test renders.

Includes Discord benefits
About Garethan
Hello traveler,
welcome to my humble home at Patreon. My name is Garethan and I create adult erotic/horror 3D renders in DAZ Studio.
If you already know me then you are well aware what my main focus is and how I work.
For those which are new and curious or has stumbled over my Patreon page by accident : Most of what I have created thus far is available for free at well known websites which I can not link directly here.
Except my
Deviant page
which contain somewhat save pictures and show some of my older work. I will upload newer pictures there over time. Of course you are free to drop by and ask for links to my sets there. 
You can also check there if you think about ordering a commission by me and want to know some details beforehand.
But I warn you, my main focus is on dark/horror fantasy erotic and meant for adults and adults only. 
Now, why Patreon and does it mean I'll gonna hide my stuff behind a paywall from now on and that I will work faster/more?
The answer is : NO!
My work will still be free and I'm still the erratic-working slowpoke that I have always been. I have a full time job and a family and I don't see Patreon as a substitute for a steady job.
So why should you pledge? 
If you have to ask that yourself then I have to answer with a honest : You shouldn't! Cause if you ask that question you don't know about my work or you don't enjoy it.
If you like or even enjoy my work and want to support me a bit, I'm happy about every donation topple my way. You'll also get the chance to influence on which set I should focus my time onto.
Some example pictures of my work in IRAY: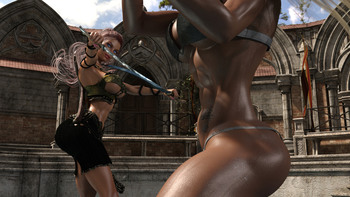 Think I have claimed enough of your time. Thanks for reading and maybe considering supporting me.
Become a patron to
Unlock 46 exclusive posts
Connect via private message
How it works
Get started in 2 minutes