Lemonfont
is creating Adult Comics
Select a membership level
Mega folder access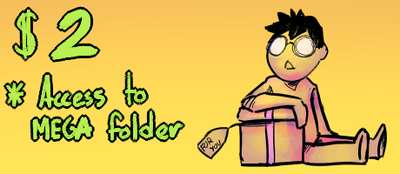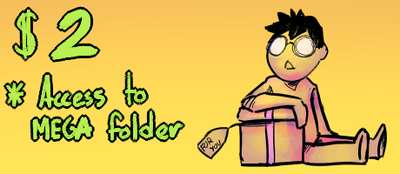 Joining this tier will give you access to all works in a handy zip folder. As of writing it's currently being compiled and it has most of my Shapeshifter stuff along with some maybe unreleased stuff.
I plan to have all my stuff (as much as i can recover) compiled into this link so it's just handy for people who like to have everything comprehensive and even stored locally.
Be sure to check here often for updates on thisx
About Lemonfont
Hi, I'm Lemonfont.
I've been drawing nsfw comics for quite a while now, bout four years at the time of writing.
I first started on Furaffinity back in august 2011 wanting to make a bit of money by drawing commissions. It was an exciting time for me and so I eventually branched off into comics. To my complete surprise, people actually wanted to read them and would eagerly await updates. This gave me the drive to continue onwards.
My big breaking point was a series called shapeshifter. A story that started off as simple porn sequence and was
ruined
expanded with in depth character progression and conflict. I felt like challenging the norm at the time and wanted to explore narrative in adult graphic novels.
Shapeshifter is still (albeit slowly) being updated today, I draw it among other series I do.
I suppose I should get to why I'm making a patreon.
I wanted to use this opportunity to thank each and every one of you. I've made so many friends doing this and genuinely feel like I've affected some people's lives. I never could imagine that simply doing what I love would not only help me out of financial troubles but would also be so satisfying.

I would love to do something like this full time and dedicate myself to providing more stories for you, but unfortunately this is real life. Until now, I've focused on having a day job in various retail stores to help pay the bills, as such, It takes up a fair bit of my time. That could potentially change if this campaign proves to be successful.
I only want to offer one thing to you, and that's just my content to continue on.
If you wish to see me produce more content, then pledge of your own volition.
Usually most nsfw artists would offer some rewards with different tiers. I however wont, or rather can't.
I can't really offer you drawings, as you will always be able to commission me when my slots are free.
I'd rather the pledges endorse me pursue my goals in narrative and the incentive should just be that.
Help keep me producing content for everyone (over the respective age limit).
I will however be immensely grateful and hopefully be able to reward you with steadier updates to my stories and hopefully more.

Thank you for reading this!
$1,261.26 of $1,500
per month
This is roughly what someone working full time earns in my country, If this is met I can dedicate myself fully to my projects and be able to provide content more regularly and consistently.
1 of 2
By becoming a patron, you'll instantly unlock access to 354 exclusive posts
By becoming a patron, you'll instantly unlock access to 354 exclusive posts
Recent posts by Lemonfont
How it works
Get started in 2 minutes