Cheers folks,
do you appreciate my work and would like to to hand me a coffee? Love the
Rattatoons?
Or wanna get the revision of a chapter of the
free Jugger book
chapter going? Enjoy watching
Uhus Jugger Tutorials
? Now there's a way to give some solid feedback!
After years of creating 
video tutorials on Jugger
, having fun drawing 
Rattatoons for Elite's Fuel Rat group
, and 
writing novels and stories
, I would like to give those who appreciate my work an opportunity to fuel it by handing me a cup of coffee or
Rat Snickers
, or even a glass of fine Islay whisky through Patreon.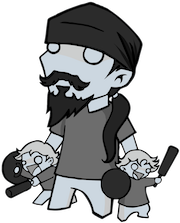 While I seem to be
pretty good at volunteering
and unpaid work, I am exceptionally bad at making money (even though I try). Yet be assured that I wouldn't keep the goodies for me but share them with my family – their support is truly essential to make my works possible. No whisky for them, mind ... alternatives ahead.
No matter what the outcome I will continue to dish out stuff – you know, the Uhu can't change his plumage more than the tiger can change it's pants –, yet the occasional coffee will give a comfortable thumb up to my free work.
Thanks in advance!
Right header part photo: Mark Hill. Jugger kids drawing: AmBi design