VAEGABOND
is creating Bicycle Touring Adventure Videos, GPX files, stories, statistics
Select a membership level
pedestrian
Welcome to our Patreon family! You just supported a cup of tea 🍵 for us to share!
🔓
Tier 1
see Patron-only posts
vote in polls
join the conversations and suggest topics for our videos or articles
additional secret rewards will be revealed throughout the year (might be also from higher tiers)
❤️Thank you for your support!❤️
Deutsche Übersetzung hier klicken
cyclist
You just supported the ingredients for one basic meal 🍴 for a grateful hungry cyclist. 🥰
🔓Tier 1 and
🔓Tier 2
early access to adventure videos
✅ watch videos before public release

early access to our blog articles
✅ read blog articles before public release
(you may want to use google auto translation)
❤️Thank you for your support!❤️
Deutsche Übersetzung hier klicken
fully loaded touring cyclist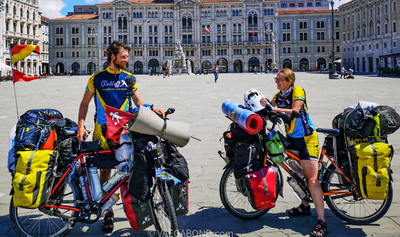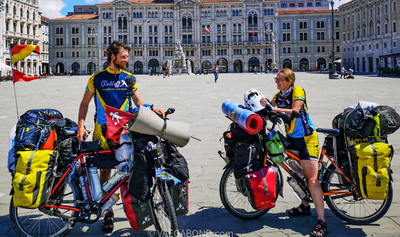 Thank you for your support! We can stay one night at a campsite🏕️ and take a shower 🚿
🔓Tier 1 + 🔓Tier 2 and
🔓Tier 3
instant access to HD wallpapers / mobile background collection.
Each month we create a new wallpaper for you based on our latest adventures.
5% discount on selected products at our shop
bonus videos like behind the scenes footage
❤️Thank you for your support!❤️
Deutsche Übersetzung hier klicken
About VAEGABOND
find the
🇬🇧
english translation
⏬
below
🇩🇪 Deutsche Übersetzung der Stufen unten oder hier
Schön, dass du zu uns gefunden hast,💗

wir sind Melli & Dani, zwei Weltreisende mit dem Fahrrad, auf dem Weg um die Welt. Wir sind für 5 Jahre unterwegs und teilen unsere Abenteuer mit dir auf Facebook, Instagram und YouTube.

Wir lieben es, inspirierende Videos zu machen und unsere Abenteuer mit dir zu teilen - aber die Realität ist, dass das Erstellen von Videos viel Mühe ist und uns sowohl Zeit als auch Geld kostet. Keine Sorge, 😇 wir werden Abenteuervideos auf YouTube, Instagram und Facebook posten, egal was passiert! Ein regelmäßiges Einkommen hilft uns jedoch sehr dabei, qualitativ bessere Inhalte sowie Untertitel oder Bücher für dich zu erstellen.



Warum Patreon?


Wir finden die Idee super, direkt von unseren Followern unterstützt zu werden. So können wir uns darauf konzentrieren, schöne und inspirierende Videos, Fotos und Geschichten zu erstellen. Der Kontakt mit dir und deine direkte Unterstützung befreit uns von der Last, uns um die Finanzierung unserer Arbeit Sorgen zu machen. Wir sind davon überzeugt, dass sich unsere Kreativität und Kreationen mit deiner Unterstützung deutlich besser entfalten.

Durch deine Unterstützung über Patreon erhalten wir regelmäßig ein Lohn für unseren Aufwand, die Mühe und Zeit. Du würdest uns die Möglichkeit geben, einen ruhigen Arbeitsplatz mit Strom und Internet zu nutzen. Tätigkeiten, wie z.B. Fotos und Videos zu sortieren, Artikel zu schreiben oder Filme zu schneiden, brauchen sehr viel Zeit. Sehr selten "finden" wir kostenlosen Strom. Dann nutzt z.B. Melli diese Zeit, um Videos zu schneiden. Das ist fast nie bequem und meist ziemlich stressig. Mit Liebe für unsere Zuschauer und Leser haben wir auf diese Art regelmäßig bis 4 Uhr morgens weiter gearbeitet, aber auf lange Sicht ist dies sehr anstrengend und nicht einfach mit unserem täglichen Leben auf dem Fahrrad kombinierbar.

Durch deine Unterstützung könnten wir es uns leisten, mehr mobiles Internet zu kaufen, mit unseren Followern in Verbindung zu bleiben und häufiger Geschichten auf Facebook und Instagram zu posten. Wir könnten auch mehr auf deine Vorschläge und Fragen eingehen oder Artikel für unsere Website produzieren.

Du würdest uns davon abhalten, bis in die Morgenstunden ohne Stuhl und Tisch, Videos zu schneiden oder gar mehrere Monate Pause vom Reisen und Posten machen zu müssen, während wir Arbeiten, um Geld zu sparen.



Was habe ich von Patreon?


Unser Ziel mit Patreon ist es, ein spezielles Forum für alle unsere engsten Follower aufzubauen, in dem wir deutlich mehr Fragen beantworten und auch mehr auf Vorschläge und Wünsche von euch eingehen können.

Wenn du unserer Patreon-Community in der ersten Stufe (pedestrian | Fußgänger) beitrittst, kannst du an Umfragen zu den Inhalten teilnehmen, die wir erstellen sollen. Wir geben dir die Möglichkeit, die zu beantwortenden Fragen und Themen auszuwählen, die in unseren Videos und Artikeln behandelt werden sollen. Wir können deutlich tiefgehendere Gespräche führen, in welche Richtung wir unsere Inhalte entwickeln sollen. Außerdem gibt es immer wieder mal Überraschungen für dich ggf. auch aus höheren Stufen.

Darüber hinaus erhalten Mitglieder der zweiten Stufe (cyclist | Radfahrer) frühzeitig Zugriff auf unsere Videos auf YouTube und unsere Blog Artikel auf VAEGABOND.com/blog

Mitglieder der dritten Stufe (fully loaded touring cyclist | voll bepackter Tourenradler) erhalten außerdem Zugriff auf zusätzliche Videos mit Pannen oder Videos "hinter den Kulissen". Weiterhin bekommst du jeden Monat ein Handy bzw. Computer Wallpaper und 5% Rabatt auf einige Artikel in userem Shop.

Gönner der vierten Stufe (bike courier | Fahrradkurrier) erhalten außerdem jeden Monat eine Postkarte mit einem gedruckten Bild von uns und einer wunderschönen Landschaft in der Gegend, in der wir uns gerade befinden sowie einige Hintergrundinfos zur Karte und einen persönlichen Gruß von uns.

Patrons der fünften Stufe (12% berserk | 12% Berserker) bekommen Zugangsrechte zu unserem Discord Channel und dürfen in jedem Live Stream teilnehmen, dort live Fragen stellen und haben jederzeit die Möglichkeit, uns via Discord in Echtzeit zu erreichen. Außerdem bekommst du 10% auf ausgewählte Produkte in unserem Shop. Als Mitglied dieser Stufe hilfst du uns besonders, vielen Dank dafür!

Vielen Dank, wir freuen uns sehr, über dein Engagement und dass du dich dafür entschieden hast, uns hier auf Patreon vorbei zu schauen. Bitte zögere nicht uns zu kontaktieren, wenn du Fragen oder Anregungen hast.
⁉️ FAQ: https://vaegabond.com/faq/

---------------------------------------------------------
[🇬🇧] ENGLISH
Hello there, thanks for your interest. 💗
We are Melli & Dani and travel around the world by bicycle. We will be cycling for 5 years and continously share our adventures with you on
Facebook
,
Instagram
and
YouTube
.
We love making
videos
and sharing our adventures with you - but the reality is that making videos is a lot of effort and it costs us both time and money. Don't worry, 😇 we'll post adventure videos on YouTube, Instagram and Facebook no matter what happens! However, a regular income helps us a lot with creating better quality content, as well as producing subtitles or writing  books for you.
Why Patreon?
We love the idea of being supported directly by our followers. So we can focus on creating more beautiful and inspiring videos, photos and stories. The contact with you and your direct support frees our mind from the burden of financing our work. We believe that our creative work will thrives with your support.
Thanks to your support through Patreon, we regularly receive compensation for our creations. You would give us the opportunity to find a quiet place with electricity and internet to work. Activities such as sorting material, writing articles, cutting videos and editting pictures take a lot of time. On the scarce moments that we "find" electricity for free, Melli uses these opportunities to cut and edit e.g. videos. This is not always very comfortable and quite stressful. With love for our followers we will continue working until 4 a.m in the morning, but on the long run this is exhausting and not easy to combine with our daily life on the bike.
With your support, we could afford to buy more mobile internet, stay connected with our followers and post more stories on Facebook and Instagram. We could also respond more to your suggestions and questions or produce articles for our website.
You would keep us from cutting videos until the early morning without a chair or table, or even taking several months off from traveling and posting while we work to save money.
What do I get from Patreon?
Our goal with Patreon is to build a special forum for all of our closest followers, in which we can answer significantly more questions and also respond more to suggestions and requests from you.
If you join our Patreon community in the first stage
(pedestrian)
, you can take part in surveys about the content we should create. We give you the opportunity to choose the questions to answer and the topics to be covered in our videos and articles. We can have much more in-depth discussions about the direction in which we should develop our content. In addition, there are always surprises for you, possibly from higher levels.
In addition, members of the second level (
cyclist
) have early access to our videos on
YouTube
and our blog articles on
VAEGABOND.com/blog
Members of the third level (
fully loaded touring cyclist
) also have access to additional videos with breakdowns or videos "behind the scenes". Furthermore you get a mobile phone or computer wallpaper every month and a 5% discount on some items in our
shop
.
Fourth level patrons
(bike courier)
also receive a postcard every month with a printed picture of us and a beautiful landscape in the area we are in, as well as some background information about the card and a personal greeting from us.
Patrons of the fifth level
(12% berserk | 12% berserk)
get access to our Discord channel and are allowed to participate in every live stream, ask live questions there and have the opportunity to contact us in real time via Discord at any time. You also get 10% off selected products in our
shop
. You just pushed us a lot with your support you berserk 💗.
Thank you so much! We are very pleased about your commitment and that you have decided to check out Patreon. Please do not hesitate to contact us if you have any questions or suggestions.
⁉️ FAQ:
https://vaegabond.com/faq/
https://youtu.be/7TvqC75K0SY
$9.06 of $182.15
per month
[🇩🇪] Monatliche Kosten zur Videoerstellung: Bei jeder Gelegenheit arbeiteten wir neben Restaurants mit kostenlosem WIFI (natürlich außerhalb) oder bei unseren Gastgebern. Aber so können wir nicht weitermachen. In Zukunft müssten wir mindestens 150 € für  Unterkünfte ausgeben, um einen angemessenen Arbeitsplatz und WIFI zu haben.
-
Deine Unterstützung sichert eine eine stabile Grundlage, auf der wir weiter arbeiten und Videos schneiden können. Vielen Dank, dass du ein Teil davon bist!

[🇬🇧] The cost for one month worth of videos: so far we used to work next to restaurants with free WIFI (outside of course) or at our hosts places. But we can´t continue like this. In the future we would have to spend around 150€ on accommodation to have a proper workspace and WIFI.
-
Your support provides a stable foundation upon which we can continue editing Videos and more. Thank you for being a part of this.

1 of 2
Become a patron to
Unlock 21 exclusive posts
Connect via private message
Recent posts by VAEGABOND
How it works
Get started in 2 minutes