Valkyrie Dimension
is creating DDR Tournaments for Women
Select a membership level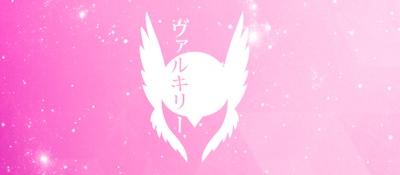 Kind Lady
"Could you be, the kind of lady that I'm seeking?"
Thank you for supporting us! This tier will get you a special shoutout on the website in our Acknowledgements section! 
Paranoia Lady
Incredible, thank you for your support! This tier will get you special access to our Patreon-only Discord channel and a special Supporter role! In this exclusive channel, you can vote for monthly tech videos from the Valkyrie leadership team, and contribute to our new Supporters Challenge in remote Valkyrie tournaments. You'll also get a special shoutout on our website, too!
Includes Discord benefits
Ladymion
Each month, you'll receive an exclusive sticker design from the Valkyrie team- and shipping is included! Once you contribute to our Ladymion tier for three or more months, you'll receive a special player profile on our website (ONLY available for tournament participants.) This tier also includes all previous benefits.
Includes Discord benefits
About Valkyrie Dimension
Hello!

If you are here, you are probably familiar with Valkyrie Dimension tournaments and community. But in case you are not - Valkyrie Dimension is a Dance Dance Revolution tournament series for women that aims to give players an environment that they can thrive in.
The tournament started in 2018 with 50 participants from around the world. Since then, we have more than tripled in size! We are proud to say that we have participants from Japan, China, the Philippines, Canada, and all around the US. As Dance Dance Revolution machines continue to be more widely available, we hope that we can continue to foster an amazing community of women DDR players. 
Our community has helped so many amazing Valkyries by giving them incentive, support, goals, and of course, friendly rivalries! Besides growing together as players, we also have formed some amazing friendships. We think that our community has become truly amazing <3
You can check out our website here: 
http://www.valkyriedimension.com/


Why Patreon?
Many people have asked how they can help support the tournament, and this seems like a simple solution! We do have an online store, but the margins on the merchandise are not significant enough to cover the costs of the tournament if we want to keep growing and providing cool prizes.
What will my money go towards?
Prizes for tournament winners and participants
We provide personalized trophies for 1st, 2nd, and 3rd place in ALL skill divisions. We also provide an additional special prize to the 1st place winners in each division. For the Fall 2019 tournament, we even created bomber jackets! We also give away unique enamel pins, patches, and stickers for completing extra challenges. 
Shipping prizes all around the world
In 2019, we had over 100 participants from around the world. Most of these participants earned a prize. Small packages within the US are cheap, but they add up very quickly. Mailing the larger packages with trophies, especially overseas, really racks up the shipping bill. Then, multiply that by two remote tournaments a year!
Website hosting
Our lovely website will tell you all about past tournaments and their winners, as well as upcoming information about new events. Of course, there is a yearly fee to host the site and keep our domain registered.
Testing new merchandise
We want to make sure that the things we put into our online store are awesome. This usually involves ordering new items to test out quality of materials, fit, and print quality. With items like enamel pins, there is an up-front cost to having them made. 
What will I get as a patron?
Please take a look at the individual tiers for the rewards. Benefits can include:+
A special role in our discord chat.
+
Access to the Patreon-only channel that will give you some sneak-peaks as to what is coming next, and input into song selection for our new monthly challenges.
+
Your name on the 
acknowledgment section of our website.
+
Patreon-only stickers
What if I want to pledge to get a sticker but I don't want to pledge that much every month?
It is perfectly OK to adjust your amount at any time! If you want a sticker for a particular month and you want to skip it the next month, there is nothing wrong with that! Please don't feel obligated to keep your amount at a certain level. We will give you a reminder to update your tiers each month as well just in case you want to change it!
Recent posts by Valkyrie Dimension
By becoming a patron, you'll instantly unlock access to 1 exclusive post
By becoming a patron, you'll instantly unlock access to 1 exclusive post