Vessna Scheff
is creating Art
Select a membership level
$1 // YOU ARE GREAT.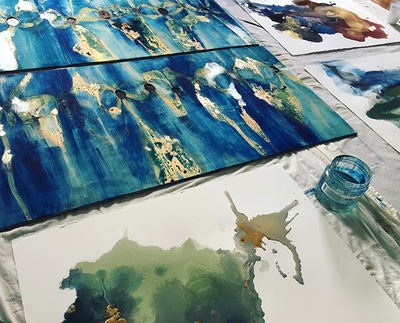 THANK YOU for supporting my art. Things I post regularly to Patreon: in progress songs, in progress watercolor paintings, time lapse videos of behind the scenes music projects and paintings, "little hellos" and "how ya doings?"
I like to make it this a space for real connection by reading/ responding to comments and hearing your thoughts, so share away! Look forward to bouncing around ideas with you.
$3 // MUSIC AND DIGITAL PAINTINGS
Instantly download my ECHOES EP and the produced single ECHOES (check out the difference when full production brings my vision to life!) & a digital wallpaper download from the music video.
$10 // PAINT & FUN FILLED MUSIC VIDEOS
Instantly download a few music & videos from traveling in Switzerland! Receive updates on new music videos that are produced and be the first to bring them home.
About
to being bold, brave & full of color
Through my art, I reclaim who I am, what I have to say, and how I want to say it. Art, has always been my space of freedom. Art allows me to be as big, loud and powerful as I want to be- to encourage others to live boldly, challenge structures, and create experiences that connect across boundaries.

Freedom in art for me involves learning to recognize disenfranchisement, detaching its weight from my shoulders, to let it be carried by collective struggle. I am inspired by stories of resilience and revolution, in particular by Malcolm X, Assata Shakur and Angela Davis. The freedom I achieve through creating comes from my passion for beauty and the power of people. Using a combination of watercolors on wood, watercolor on Yupo and Dura-lar, poetry, movement and voice, I orchestrate performances where we may challenge our fears, craft our freedom and nurture our empowerment.

My hunger for artistic development
has persisted in my current collaborations. One of my collaborators is Karina Puente, who started her own business focusing on beautiful Papel Picado installations and Window Works. Additionally, Yan Q. Huo, a Philadelphia business owner and coach guides me in business organization and exposure. It is empowering to be surrounded by women of color as we build community, break barriers and craft unique artistic futures for ourselves.
As a hard-working, scrapy creator,
I am fiercely dedicated to refining my artistic message to support self and political empowerment of people. Your support is a MAJOR contribution towards expanding my capacity, scope and reach as an artist. 
With your support, I am able to:

record, mix and master new songs 
purchase materials and equipment (a projector for live watercolor painting during shows)
continue working with my artist business coach

create more powerful, paint infused music videos 
share knowledge and teach workshops for artists and non-artists 
Your contribution puts into motion large scale, colorful and dynamic performances focused on creating safe, beautiful spaces for self development and social empowerment.  
Let's do this!
If you are in a space in life where you can contribute towards the art I create and share with the world,
jump in on a monthly Reward!
 I have put together some fun ways of saying thank you each month for your contribution. One of my favorites is the:
$3 Reward/ month which means you'll get downloads of all the music I create each month and a High- res watercolor or music video image to keep as a wallpaper for your devices. (If we're gonna look at a screen, it might as well be beautiful, naturey and inspiring, right?)
If you are more of an audio & moving visual lover, the
$10 Reward/ month
is a great place to land. I have been asked to record some of the covers I perform such as "Just Friends" by Musiq Soulchild and "Waiting in Vain" by Bob Marley. I am stoked to bring you music video covers of your favorite songs!
Recent Highlights:
- Proposed a performance and was accepted to perform at the Wharton School of Impact for a conference on mindful investing to create social change (including projected watercolor footage, performing with my bandmate Lee Clarke and dancer Kingsley Ibeneche)
- Submitted my first grant application to the William H. Johnson Prize- more of these to come
- Started painting watercolor on wood pieces which are now hanging in two cafes in the Philadelphia area (Luna Cafe and Sweetbriar Cafe)
This year I intent to:
- Show art at a gallery in NYC and perform with my performance team for the opening
- Install a 4ft by 8ft watercolor piece in a public space (Anthropologie, West Elm or a hotel)
- Record a full length album and go on a release tour
If you have connections or suggestions for how to support any of these endeavors, please drop me a line at 
[email protected]
. Thank you for being part of this adventure!
Love,
Vessna
$75 per month is a huge help in buying materials (paper, paints, brushes and strings) for on going creative projects.
The expressive and striking pieces I create aim to highlight the nuances of nature- delicate yet bold, airy and deep.
*GOAL ACCOMPLISHED* Take a look on my Instagram to see what I've been creating with your support.
2 of 10
By becoming a patron, you'll instantly unlock access to 24 exclusive posts
By becoming a patron, you'll instantly unlock access to 24 exclusive posts
Recent posts by Vessna Scheff