Vicki McLeod
is creating written works including books, magazines and blogs.
Select a membership level
Community
Thank you! We're unlocking the feed for you and giving you access to a kickass community supporting written work. We're print lovers, too. Plus, so much gratitude! Hugs, whenever I see you. 
Compatriots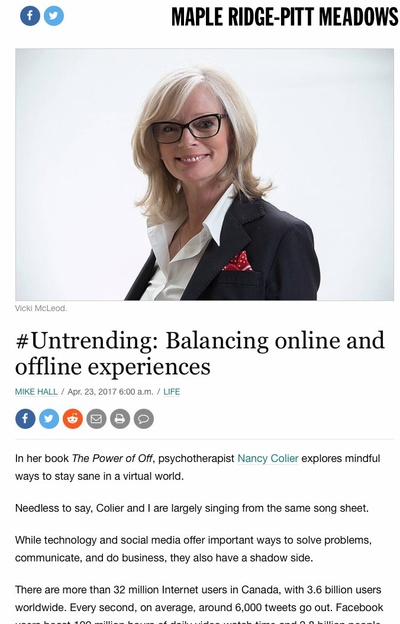 Thank you! You are keeping me in daily tea. Without it, nothing is possible. Enjoy a free back issue copy of Pause magazine (no longer in circulation but still full of juicy nuggets), an advance copy of my monthly #Untrending blog/column, advance notice of book release dates, an invitation to join my Facebook group "Big Fat Yes Club" and my absolute gratitude (plus hugs when I see you).
Co-creators
Together, making a difference! Thank you for supporting my work and such an important message about authenticity, creativity, and being human in a technical world. Based on your ongoing  patronage in co-creating this work with me, please enjoy all of the previous perks, plus:
-signed copy of #Untrending, a Field Guide to Social Media That Matters
-signed copy of Digital Legacy Plan
-signed copy of You and the Internet of Things
There is nothing more gorgeous than books! Except you, for helping to make them possible. 



About
Hi! I'm Vicki and I'm a writer. I'm the author of
You and the Internet of Things, A practical guide to understanding and integrating the IoT into your daily life
,
just released by Self-Counsel Press (April 2020) and
Digital Legacy Plan, A Guide to the Personal and Practical Elements of Your Digital Life Before Death (Self-Counsel Press) written with co-author Angela McLeod. It hit bookstores in Canada, the US, the UK, and Australia and New Zealand on March 19, 2019. I also wrote
#Untrending, A Field Guide to Social Media that Matters, How to Post, Tweet and Like Your Way to a More Meaningful Life. (Main Street 2016)
. I also have an e-book out with my friend and colleague Conny Graf Lewis. She's a decluttering and financial expert and our e-book is called
From Chaos to Peace: A Simple Program to Clear Your Clutter and Change Your Life.
Check it out on Amazon.
I'm deeply committed to redefining the way we engage with technology, calling upon us "to live well and to live awake," as my book blurbist, author Christina Crook, founder of the #JOMO movement said, along with: "With wit and wisdom,
Vicki McLeod challenges us to take the long view on our online engagements, revealing how our small acts--each of our daily choices--shape our stories and the lives of those around us.
" I believe we can engage on the Internet with integrity, authenticity and heart. We can flood our feeds with goodness. But it is going to take a big community to turn the tide.
My work in non-fiction is practical and purposeful. We can navigate the digital and technological demands of our fast-moving world by staying mindful and committed to living at the pace of our own wisdom. Thanks for being an ally on the journey!
In 2019, I completed two years as a student in the Writers Studio grad program at Simon Fraser University in Western Canada, where I workhopped a memoir/creative non-fiction/novel (yes, I am doing some genre-busting),
Ruby Tuesday
, about my 1960's childhood, specifically summers spent in a remote part of northeastern Washington State. It is a working class coming-of-age story set against the backdrop of the emerging counterculture, the Vietnam War, and the poetry of woodsmoke and warm starlit nights. I'm a recovering alcoholic with thirty years of sobriety under my belt, so the lens I am time-travelling through is a bit clearer than it once was. Still, it's a tender territory I'm visiting, sharp as a gleaming fishhook at times.
Unfolding the map of the past takes time and timing. My personal history is visiting me these days on urgent wings in dreams and fragments. I'm 40,000 words into the memoir journey, and the biggest gift of your patronage will be TIME.
The time to complete the memoir and to sustain the books, articles, and blogs I produce that support meaningful engagement in our lives, online and off.
I currently have another non-fiction book poised for release in the US in June 2010 and I write a
bi-monthly newspaper column, also called #Untrending
about how to be technically productive and privately peaceful.
I'm old enough to have lived more than half my life in the analog world, and young enough to appreciate the miracle of technology. I live at that intersection. My personal essays, blog posts, poetry, and presentations explore what it means to live here now, and
what it means to be human in a digital world.
So what will your patronage support?
The promotion of current books and the development of further proposals for 2020/21 (at $1000 per month, I'm breathing easier!)
The continued production of blogs and articles which means supporting an antidote to the hustle, boss, crush, and slay message.
My personal transition from entrepreneur to full-time writer (if we hit $2000-4000 per month, I'm there!) --which means sustaining the articles, blogs, poems, and books and the important message around our human relationship with the digital world. AND, (and this is the big one...)
The completion of my memoir, Ruby Tuesday, which is a deep creative and personal dive. Your patronage will support the ongoing creation of the manuscript and the provide the time needed for shopping it around to publishers.
Everybody, breathe. Achieving this goal means the completion of current book contract(s) and the development of two more proposals for 2019/2020. Big, fat, yes!

1 of 3
By becoming a patron, you'll instantly unlock access to 27 exclusive posts
By becoming a patron, you'll instantly unlock access to 27 exclusive posts
Recent posts by Vicki McLeod