Daphne Moon
is creating Community Transformation Opportunities
Select a membership level
Special offer until November 22nd
Become A Patron
Unlock exclusive content and join my community of patrons. Thank you!
Access to Daily Journal exercises
Connect with other patrons
Special Deals & Opportunities
Full Moon Ceremony
Join me for a full moon ceremony
Instructions to perform a personal ceremony
Plus all previous rewards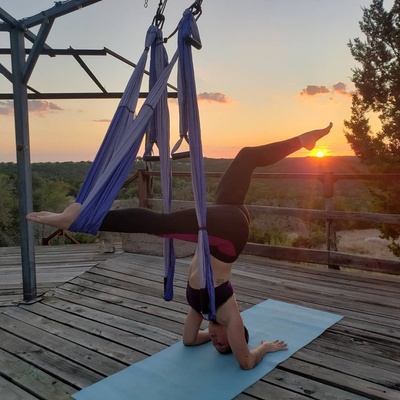 Weekly Yoga Videos
Once a week exclusive yoga videos to help ground the rest of the work into our bodies
Plus all previous rewards
About Daphne Moon
I'm on Patreon because of YOU!  I wanted to find a simple, accessible way to reach people everywhere with my message of HEALING and WHOLENESS.  Supporting me here gives you access to EXCLUSIVE and AMAZING content, and helps me get closer to my goal of creating a community of healers and teachers!
Daphne Moon is a Priestess, certified through Sisters in Celebration and is an ordained minister in the New Haven Native American Church. She has studied many forms of ceremony, ritual and circle and draws inspiration most directly from Hindu scripture, Yogic teachings, Dianic circles, and Lakota practices. Her ceremony is non-denominational allows for many levels of participation, giving each individual the opportunity to join or witness at their level of comfort and desire.


She is an E-RYT with two 200 HR certifications in Hatha & Karma Yoga and has been teaching since 2012. Her yoga journey began in 2006 following a car accident and she specializes in anatomy and alignment to allow folks with wide varieties of injury and chronic pain to practice safely. Daphne has taught children as young as 18 months old, in gyms, studios, special events and at the Texas Women's University Institute of Health Sciences Stroke Center in Dallas. Her style is nurturing and precise to ensure that everyone, no matter their experience level, can feel empowered to practice.

Her Sacred Dream is to open a self-sustaining community of spiritual guides, health and wellness practitioners and experts on sustainable food and energy production that acts as a hub of learning, growth, and green living.


Our 31 Day Journey is simple - daily journal exercises to dig into your patterns and unconscious beliefs that are holding you back and Facebook group access to get community support (including support from me!) as you move through this work.

Tier Two - Instructions for a full moon ceremony to be performed by all of us (including myself, on a LIVE video) simultaneously.

Tier Three - Weekly Shamanic Reiki to help shifts on all planes.

Tier Four - One-on-one Coaching to clear, open, and receive all that Spirit has for you through this work.

I want to offer a free 6 week class to women who receive services through the local Domestic Violence Shelter here in Dallas, as well as a children's class for their kids (at the same time, so they don't have to find childcare to come practice with us). 

1 of 4