Scout Tran
is creating mayhem.
Select a membership level
Fund All The Things
pledge any amount and then select this tier if you just want to throw money at me but aren't looking for any specific rewards.
DRAWING BOARD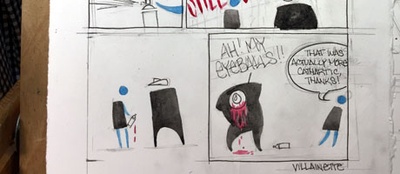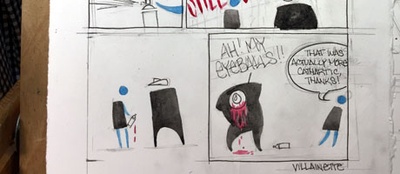 early photos of my comic strips & other illustrations — either as time lapse videos of digital work or photos of literal paper on my literal drafting board before I erase pencil lines
* only updates when i'm producing comics, which is not always
WORKSHOP CAM
intermittent work-in-progress photos & videos from my puppetry, sculpture commissions, art motorcycles, and other build projects, with diary entries about my working process & problem solving
* only updates when i'm in the workshop, which is not always
About Scout Tran
THANK YOU SO MUCH, this Patreon drives my whole life. 
Because of the stability of income from this Patreon I do nothing but work on projects, from when I paw bleary-eyed for my phone in the morning to when I pass out at 5am. I can't imagine having done any of this without you, so the deepest thanks from me and also from all my readers, collectors, collaborators and community.
OKAY BUT WTF IS GOING ON HERE

As the world is in chaos right now, and issues are very close to home for me, my projects are tending toward short-fuse direct responses to ongoing events, so it's a little hard to say what exactly you can expect to see on this feed if you subscribe to my Patreon... BUT, these are some of the ongoing projects my donors have been supporting over the last few years, to give you some context:
Scout's Artillery 
[yelp]

 

[facebook]
a marble-run art installation activated by toy slingshots, "for all your catharsis needs" prioritizing trans & poc folks — located in the back of my art studio in downtown SF, check yelp or facebook for open hours 
the Degenderettes
degenderettes.com
an international art crew that makes feminist-genderqueer agit-prop for a better world, notorious for our queer color guard and gender-neutral restroom campaigns, but our strong suit is our mutual self-care tbh
Musics
! recordings at 
bogprincess.bandcamp.com
and various live shows around town
art motorcycles & workshoppy stuff

besides keeping my babies running i try to make artistic modifications — watch these posts for basic fabrication walkthroughs that can be applied to all sorts of situations
Failing Sky
failingsky.com
— Graphic novel, free to read online as a work-in-progress, nominated for Eisner Awards in 2014 and 2015 and a Prism Award in 2017
[all donors can activate their Failing Sky reading perks at this link:
failingsky.com/bouncy
]
[on hiatus since 45's inauguration to prioritize short-fuse projects]
Villainette
strip.villainette.com
— weekly comic strip about dangerous genders, rendered in frivolous watercolor every Monday, first-ever winner of a Prism Award for webcomics in 2017
[intermittent as of 2018]
Scoutsplains
failingsky.com/scoutsplains
illustration tutorial video series, no-holds-barred
[on hiatus since 2017]

and some giant puppets and stuff
i used to be a puppeteer and sometimes i still make giant puppets for street theater and lgbt marches, give free stilt lessons and whatnot
Milestone goals are a little N/A for me because I've already made that great leap of abandoning all commission jobs to spend 200% of my time on patreon-related projects, so I can't physically offer you any more pages or songs than I already do :\ Which isn't to say I'm fully funded by any means: I'm always harrowingly scraping by financially, and every project on the table is mournfully underproduced.

Any amount of patreon subscription, wishlist purchase or in-kind donation helps me become less anxiously-dependent on sporadic merch sales and allows me to invest in better materials and equipment that helps me expand these art & community projects. Because of this Patreon I was able to double the size of my studio space last year, which directly created the Scout's Artillery therapy & self-defense community space, built all those 2017 SF Pride parade pieces, etc, and gave me room to get back into music.

I still relied this year on non-Patreon donations to pay for the self-defense training membership for the entire NorCal Degenderettes chapter, replace a fried laptop, buy groceries, clothes and so so much training equipment. If I could double my Patreon donations I could stop spending so much energy hitting up my already-strapped community for extra cash to keep this all running, and I could focus just on producing work. Someday I hope to have a strong enough Patreon that I could hire an intern or even support staff, outsource some production and help support the other artists in my community — realistically that's at least 6x what I earn now.

My great goal is to make as much as when i was a student-funded drawing professor in 2005 before I broke free to pursue community-funded artwork. I would love to buy my own health insurance, buy a vehicle, start saving for retirement, maybe settle down in a real house or something — it seems like such an unrealistic dream at this point, but other artists have done it so I know it's possible. Let's make it happen! <3 <3
1 of 1
By becoming a patron, you'll instantly unlock access to 141 exclusive posts
By becoming a patron, you'll instantly unlock access to 141 exclusive posts
Recent posts by Scout Tran
How it works
Get started in 2 minutes