Vivid Vision
is creating Cosplay, Photography, Art
Select a membership level
$1 Tier Novice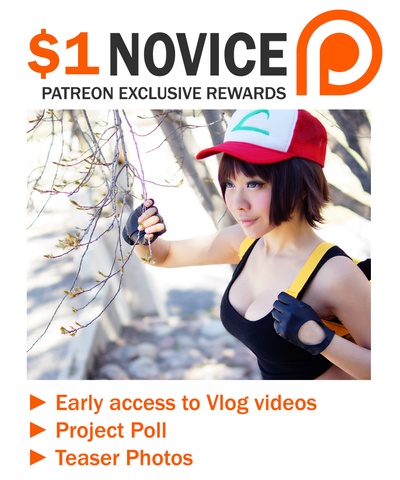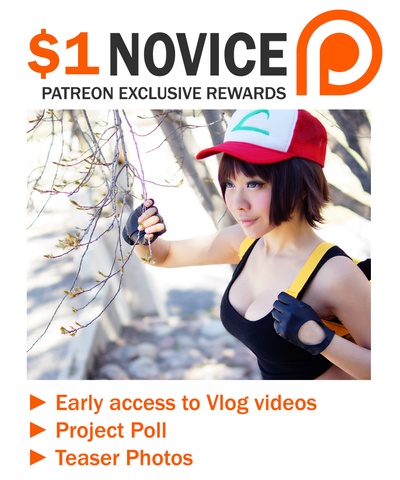 Thank you for supporting me in my journey to create art! This tier may not seem like alot, but it shows that you love my work! It also helps me with sustaining my projects! Every dollar counts! Let's go on this adventure together!  <3
$5 Tier Adventurer
Check out all my work in progress and see how the magic is made behind the scenes!
About Vivid Vision
Hi my kawaii little pandas!! I'm Vicky from Vivid Vision! I am a cosplayer and photographer born in Hong Kong, and now living in Canada! I have been cosplaying for over 10 years, and doing photography for over 4 years now!
I grew up in a household of otakus! My dad was a huge gamer, and my two sisters absolutely love anime and video games! WE LIVE AND BREATHE IT!!! >w< As we got older, all three sisters took on their own passion from the anime and video game world, and that's how cosplay became my burning passion in life!!! 
I love the entire process of the cosplay journey, starting with the creation of costumes from scratch, getting ready, being in character, and having my cosplay captured in photos! At the end of the day, it feels rewarding after all your hard work to bring something 2D to life! I started to pick up photography because it always fascinates me how people can create amazing art out of photographs, it's something I would love to indulge in.
Outside of cosplay, I am also heavily involved in my local anime community. My sister and I founded the anime club in our highschool, as well as started our highschool anime festival! Since then, I have been volunteering with my local convention for over 6 years now! I want to help create a supportive environment for my peers to also grow their hobbies, passion, and to have a welcoming place to meet like-minded friends
Of course I pick two really expensive hobbies, cosplay AND photography >o< As you all know, professional photography equipment can get quite expensive. It was a very difficult decision to make, but I had to set aside growing my artistic photography for now. It was really difficult with time and financially to manage both cosplay and photography at the same time. ;_; 
People often get surprised at how much money I spend creating each costume! It ranges between $200 to $800 depending on the type and amount of materials used. But I continue to cosplay because this has been my life long passion!
Your support will help me continue to create new cosplays, grow and improve my creative output, and also my workspace and equipment! I want to share with the world how the magic happens behind the scenes for all my creations! As many others have motivated me to keep following my passion, I want to also inspire others to never give up on their passion!
Thank you for supporting me and my journey to bring creative art into the world!!! It is my pleasure to share this adventure with you and I truly appreciate all your support and encouragement! <3
Patreon rewards will be released after payment has been received. They will be sent out in a batch at the end of every month.
If I'm able to reach this goal of 200 patron subscribers by June 1, 2019, I will send out a bonus free set of Milm Nava photos from "That Time I Reincarnated a a Slime" to ALL PATRONS!!! <3

When goal is reached by Feb 28, 2019, rewards will be released in first week of March once Patreon has processed the payment. Thank you!


1 of 2
By becoming a patron, you'll instantly unlock access to 100 exclusive posts
By becoming a patron, you'll instantly unlock access to 100 exclusive posts
Recent posts by Vivid Vision
How it works
Get started in 2 minutes