I am Viznut, a low-bit demoscene artist and writer from Finland. A summary of what I've created so far can be found 
on my website
.
I am also a freelance software developer, but the projects I participate in for money often feel unimportant compared to the creations I have not been able to monetize so far. I am now testing whether Patreon could fix this problem.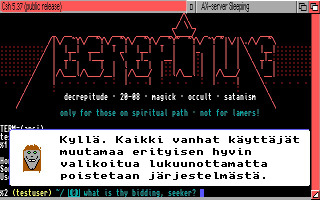 My most time-consuming creative project since November 2015 has been 
PC-lamerit
, a pixel-animated very-low-budget "tv series" very loosely based on my own history in the creative computer culture of the nineties (demoscene, BBSes, etc). The animation may be simplistic, but the technology and culture are represented accurately (although with some humorous exaggeration). There are now 
about 100 episodes on Youtube 
averaging six minutes each. 176 episodes in total are planned (including epilogue and prequel seasons). The videos are currently with Finnish texts and English Youtube subtitles, but at some point of time I will probably release an English version of each season, hoping that it would make the series far less cumbersome for non-Finns to watch. I might also release an executable (real-time rendered) version of the story with an option to tune text speeds and other watcher preferences, and even an interactive version (game) might be a possibility at some point.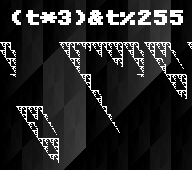 The projects featured in primary blog 
Countercomplex
include hardcore low-bit technological experimentation, 8-bit demoscene art, philosophy etc. 
Bytebeat
is one of my major technological discoveries so far. However, I have been regrettably inactive in this area in the last few years (and even at my most active, I brought my ideas to the public far less often than I would have liked to). By supporting me you would also motivate me to concentrate on this type of activity.
I also have great ideas about games, society/humanity hacks, serious fiction, "truth videos" and the like, but I am not going into more detail in public until I have concrete plans to show.
Due to the diversity of my work, I would like the patrons interested in specific projects to mention what they would like to support.
I am not a fan of exclusive or paid content, so my patrons will probably mostly get "pre-release" type of benefits (see my new work before anyone else).