VoidRealm Minis
is creating 3D printable Cosmic Horror & monster miniatures
Select a membership level
Supporter
For those who want to support at a lower price point - THANK YOU. Every dollar helps me spend more time and energy on the VoidRealms.

You will receive 1 file of your choice from the Welcome Pack, as well as early access to free DnD Monsters, and the ability to vote on future models.



Early access to free models

Welcome Model of your Choice
Cosmic Voyager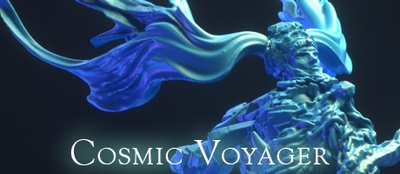 With this tier you receive:

- Welcome Pack (Celestial Sphinx, Arachnant, Sentinel, Cosmic Gate, Voidgate)
- Monthly Release (DECEMBER: Mulugoth, TiaCat, Jaelmon, Eldritch Totems, Mulu-larva)
- Ability to vote in Polls
- Patron only chat in Discord Server
Discord Server - Weekly Chat

Cosmic Explorer Welcome Pack

Early access to free models
Interdimensional Explorer (Merchant)
Limited (3 of 25 remaining)
In addition to all rewards of lower tiers, this tier adds a seller license. You are allowed to sell the physical prints of my models, but never the links or files.

You must be actively in this tier during the months in which you are selling prints.

Early access to free models

Discord Server - Weekly Chat

Cosmic Explorer Welcome Pack
About
December is "Patron Appreciation Month" ($5 and up tiers get all these monsters - presupported too! More photos below!)

 ---> 
Free monsters from the DND Monster Manual
<---
Welcome to the VoidRealms! I'm Kent - former Cirque du Soleil acrobat who is out of a job during this pandemic (and no idea when we might start up again..) I've also been a sculptor all my life. I like bizarre, cosmic monsters that blend fantasy and mythology with a psychedelic / surreal aesthetic. I make a new bundle of crazy monsters every month and release digital STLs for you to 3D print at home for your tabletop games like Dungeons & Dragons, Pathfinder, etc.
PRE-SUPPORTED FILES are now an added benefit of your pledge!
What you get by signing up today:
Welcome Pack (all pledge levels):
-
Cosmic Explorer Welcome Pack
(Celestial Sphinx, Sentinel, Arachnant, Cosmic Gate, and the Voidgate... the welcome pack will expand with additional models at 100 and 500 patrons.) These files are for personal, non-commercial use only (unless you are subscribed to Merchant Tier.)
STANDARD TIER ($5):
- You receive the
Monthly Monster Release
. This is typically 3-4 models (Cosmic Horror and / or a Psychedelic Titan, bundled with a few smaller models.)
DECEMBER LINEUP:
-Files are for your personal, non commercial use ONLY!
-Access to Discord Server, where I'll be available weekly to chat upcoming releases, sculpting techniques, or anything else you'd like to know!
-All models have at least 1 variation of them that comes
pre-supported
. I design the supports with extreme care to cause the least model damage and save tons of time on cleanup / setup!
MERCHANT TIER ($10):
- All previous benefits, plus the ability to sell physical prints (but never the files / links) of the VoidRealm models.
*You must remain in this tier in order to sell the prints. If you are in the merchant tier, you can sell ANY physical prints that I release under the VoidRealm Minis line (including free DND monster manual files.)
*Q:
Which prints can I sell if I'm in the Merchant Tier?
You can sell physical prints of
any VoidRealms models
, including the monthly releases, monster manual releases, loyalty reward models, etc etc. Contact me if you ever have questions!
*Q:
What if no Merchant Slots are available?
Go ahead and sign up for the
Standard Tier
and keep an eye out for open slots. You can get the good value on the monthly bundles and build your VoidRealms collection up while you wait, and then begin selling if / when you see a space open in the Merchant Tier.
SUMMONER TIER ($100 / mo):
- All previous benefits, plus a custom commission at a steeply discounted rate. There's only 5 spots per month for this. For $100, I'll spend about 2-3 hours sculpting a monster to your specifications. This includes 1 round of small revision. You get a link to the model once complete, and a video of the creation process. For an extra $50, I will print and mail you a copy of your monster. For another $50, I'll paint that miniature to your specifications (total $200 for a commissioned, printed, painted & shipped mini!) *NB: I retain the rights to distribute a link to this monster, to include it in future monthly releases, or to resell the file on websites.
Thanks for the support!.
Every pledge helps support my efforts as a small, independent artist as I strive to bring the community unique, original monsters.
I will always release at least 1 FREE monster per month on my social media channels (Patrons will have early access to these free models!)
Happy journey into the VoidRealms, and thanks again for your support!
-Kent
At 100 Patrons, I will permanently add 1 monster to the monthly release.
2 of 3
By becoming a patron, you'll instantly unlock access to 19 exclusive posts
By becoming a patron, you'll instantly unlock access to 19 exclusive posts
Recent posts by VoidRealm Minis
How it works
Get started in 2 minutes