Hello, I'm Sid Quade and an artist working towards a career in an art-related field or in comics. I have been doing comics for quite some time and am now trying to pursue more serious aspirations with the current project I am working on- a little comic called "Wanderlust Blues".
-Site-
Wanderlust Blues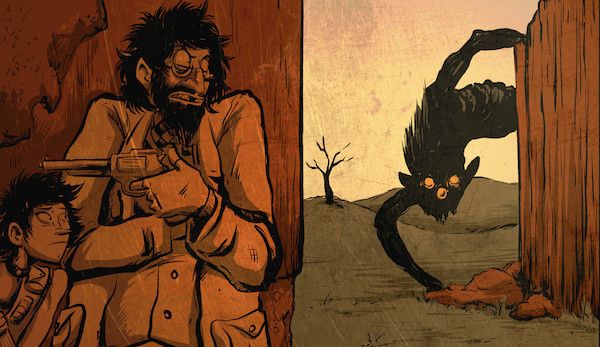 -So what's this comic about?
"Wanderlust Blues" is a horror/post-apocalypse, vaguely-Western inspired comic with heavy emphasis on story through characters.
In the year 2,143, the world is cursed by an other-worldly, eldritch energy only known as "The Corruption". What "The Corruption" is or how to came to be is lost to history. All people know is that it is an insidious force to be reckoned with. Since the arrival of "The Corruption" various pockets of civilizations have appeared and technology in those societies is on the rebound. Outside the protection of these insular cities roams a population of vicious creatures called Chimeras. They pose a danger to anyone with the gall to roam outside of the civilized populations. In the midst of these trying times, a traveling merchant and half-monster named Raleigh and his adopted daughter Lavinia fight to survive in this harsh, unforgiving environment.
"Wanderlust Blues" updates every Tuesday and Friday. Currently comic is very young (I'm pretty much wrapping up the first story-arc), but I'm looking forward to seeing where I can go with this project.

-Why use Patreon?
I'll just put it simply, I love this comic. It is my brain child and I want to try and do everything to make is succeed. Contributions to my Patreon will go to personal financial support, as well as different ways to help out the promotion of the comic. Hopefully, if all goes well, I can also start contributing a fair portion of the money to various charities down the road, as well.
By contributing to my Patreon, not only will you help me out financially, but you will also be helping in the production of creative internet content possible. Even if you don't want to financially contribute, you can always support the comic by possibly spreading the word about it to anyone you think might like it. Really, any support is always appreciated.
Thanks for reading!