Warp Miniatures
is creating 3D Printable Fantasy Miniatures (Heroic 28mm scale)
Select a membership level
Early-Bird
Limited (0 remaining)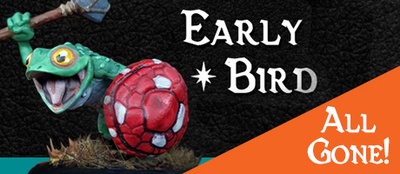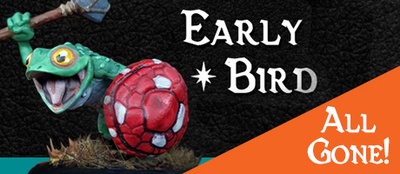 Thank you for being the first to join us at the Digital Workshop.
Includes everything in the Collector Tier, but at a lower price.
Includes Discord benefits
Collector
Thank you so much for supporting the Patreon! 
With this tier you get access to:
A set of unique Heroic 28mm/32mm scale 3D-printable miniatures released every month (pre-supported), sculpted by Alex Huntley.
50% Discount on previous releases on MyMinifactory and Gumroad.
10% Discount on my hand-sculpted range from the Warp Miniatures webstore.
The Welcome Pack (see below).
Access to the Discord Server, Polls, Painting Contests and other events.
Includes Discord benefits
Merchant
This tier allows you to sell prints of each month's releases to your customers.

With this tier you get access to:
All benefits of the "Collector" tier.
You can sell the prints but not the files or links to the files.
You can sell the prints as long as you stay in this tier, and only of the miniatures released whilst you were a Patron at this tier.
You do not have the right to make moulds for mass production or use models for crowd-funding campaigns.
Credit must be given to Warp Miniatures.
You must place the name Warp Miniatures as the original creator somewhere within the  description of the figurine and when any pictures are posted.
All designs and miniatures remain the sole property of Warp Miniatures.
Includes Discord benefits
About Warp Miniatures
For December 2021, and the final release of the year, the Dark Dwarves are back by popular demand!
A fitting end to one of my most popular ranges, this modular kit will contain everything you need to build heinous Characters for your Dark Dwarf force. A mighty warlord, a tricksy Sorcerer and even a Champion for your Boar Centaurs. What's even better is that all of the parts can be swapped, so you can get multiple combinations to suit your tastes.
In addition, I have also included a set of Great Weapon wielding torsos for your troops, as well as arms to give your existing Dark Dwarves some more clout. As before, all of the parts from all three sets are interchangeable, so let your creativity flourish!
This set contains:

1 x Zagreb the Heinous Torso
1 x Dark Dwarf Sorceror Torso
1 x Dark Dwarf Boar Centaur Champion Torso
1 x Cerberus with Harness Body
1 x Cerberus without Harness Body
2 x Cerberus Wings
4 x Dark Dwarf Torsos
4 x Dark Dwarf Great Weapon Arms
1 x Dark Dwarf Character Legs
1 x Dark Dwarf Boar Centaur Champion Legs
2 x Dark Dwarf Legs
2 x Dark Dwarf Empty Arms
And as a gift to all of you, I'm also including a set of festive Warp Miniatures Christmas baubles, featuring some of the most popular characters from the range!

Please note: This bauble set is not subject to the Merchant Tier, and may not be printed and sold. This set is a present for you, and selling copies for profit is not allowed.

Welcome Pack
In addition to the monthly releases, I also have a Welcome Pack included for free to all subscribers of the relevant levels.
Included in this set are:4 x Basic Tents2 x Wooden Fences1 x Campfire1 x Spitroast Pig1 x Multi-Part Goblin1 x Goblin with Spear1 x Goblin with Bow1 x Goblin with Sword and Shield1 x Goblin Wolf Rider1 x Dwarf Warrior
1 x Linnaeus the Firbolg DruidHow Digital Workshop Works - Now Distributed through MyMiniFactory
Each month will see the release of a set of 3D printable Heroic 28mm scale miniatures for use with any of your tabletop games.
If you miss out on a specific month's releases, my back catalogue is available to purchase on my MyMiniFactory store (
https://www.myminifactory.com/users/WarpMiniatures
), and for my10mm scaled minis check out my Gumroad store (
https://gumroad.com/warploqueminiatures
).
About Me:
Hey, folks! My name is Alex, and I am the founder of Warp Miniatures. We make both hand-sculpted and digital fantasy miniatures for collectors, painters and gamers.
I have launched this Patreon to bring you
Digital Workshop
- a range of 3D-printable miniatures perfect for RPG and tabletop games. I am also a traditional sculptor, who has pushed putty to create pieces for my tabletop fantasy game 
ArcWorlde: Second Edition
, and I strive to recreate the hand-made, characterful feel with my digitally sculpted miniatures too.
IMPORTANT: Terms and Conditions of use

All files downloaded from Patreon are meant for you as a Patron only. If someone asks for a copy of a miniature, please direct them here and ask them to subscribe, or to my MyMiniFactory store linked above to purchase it. The more Patrons that join us, the more minis I'll be able to sculpt per month and the better value you will all get for your money!
By downloading the content from this page you accept this Agreement and agree to be bound by its provisions. If you do not accept or agree with these terms, please do not download the files.
Terms of use are as follows:
STL files and library components are for personal use only. Print as many as you want for your own use, but please do not sell or otherwise distribute them.
You may modify the STL files for your own personal use, but you may not upload the modified file to any platform to allow others to download it.
All models are sculpted to Heroic 28mm (32mm) unless otherwise stated. You may print at larger scales if you wish but please note when publishing images that the original sculpt is a Heroic 28mm (32mm) mini.
All miniatures produced by Warp Miniatures are not to be redistributed on in any digital format on any platform (including Kickstarter, other Patreon Accounts, MyMiniFactory, Thingiverse etc).
Physical prints of miniatures may be sold if you are a current subscriber to the Merchant tier. This tier does not allow you to cast and reproduce the physical copies of these miniatures for sale, only prints. Sales are only permitted whilst a current subscription is held - if the subscription is cancelled, your permission to sell them is immediately withdrawn.
If you publish any images of our miniatures, please take the time to put a link back to my website, Patreon, Facebook etc so that others can find us - the more Patrons that join us, the better value for money you get!
All copyrights belong to Alex Huntley and Warp Miniatures. NO rights are assigned or transferred to the end-user in the act of subscribing. All of my designs are protected by intellectual property laws.
An extra character will be added in to every month's release!
3 of 4
Become a patron to
Unlock 67 exclusive posts
Connect via private message
Recent posts by Warp Miniatures
How it works
Get started in 2 minutes