Wayne Blackhurst
is creating black and white illustrations
Select a membership level
Mrs Edith Pickering's Special Guest Deal
Mrs Edith Pickering, owner of the B&B, offers a special guest deal. With this you will receive subscriber's only access to:
Exclusive blog content: art work in progress, sneak peeks at finished illustrations, in-depth articles explaining the creative process, early snippets of the Still Water lore.
Exclusive video content: occasional time lapses, animations and featurettes.
Exclusive polls and questions: help decide the outcome of parts of the project.
About Wayne Blackhurst

Hi there! My name is Wayne Blackhurst. I'm an artist living in a small town in the heart of rural England. I produce hand inked illustrations exploring the quirky locations and characters of an imaginary coastal town called Still Water. My work is currently exhibited in an Oxfordshire gallery, which is fantastic, but I'd like to expand the world I'm creating with enough content to fill a book. Or several books. Each filled with detailed illustrations, stories and background information.


Imagine a seaside town steeped in mystery and legend where a stroll through cobbled streets for a morning paper evokes atmosphere. Is there really a secret passage beneath the gallery and where does it lead? Is it true the ghost of a woman walks the pier on misty mornings? Are the townsfolk descendents of pirates, smugglers and fishermen? Are they aware of the fascinating lore upon which the town is built?
Miss Adeline Hemingway, proprietor of the local book shop and local historian, spends more time on her own appearance than that of her store. She's won the Lushest Lashes competition five years running but the optician is encroaching on her Highest Hair achievement.
Warrick Igoe, the optician, has his practice perched precariously at the edge of a cliff. Every day he navigates the rickety stairway to his examination room. Judging by his quiff, it's literally hair-raising.
At Baggott's Bric-a-Brac, the old man shuffles around his warehouse guarding junk he prizes as though it's pirate treasure. Maybe his basement really does hold gold ingots?
Pivitol Point Press has its premises inside a disused lighthouse. The site has always had a history of sending out a beacon. Nowadays it's in the form of gossip via the local newspaper.
There are many, many characters and locations to discover. Let me be your guide and together we'll explore Still Water.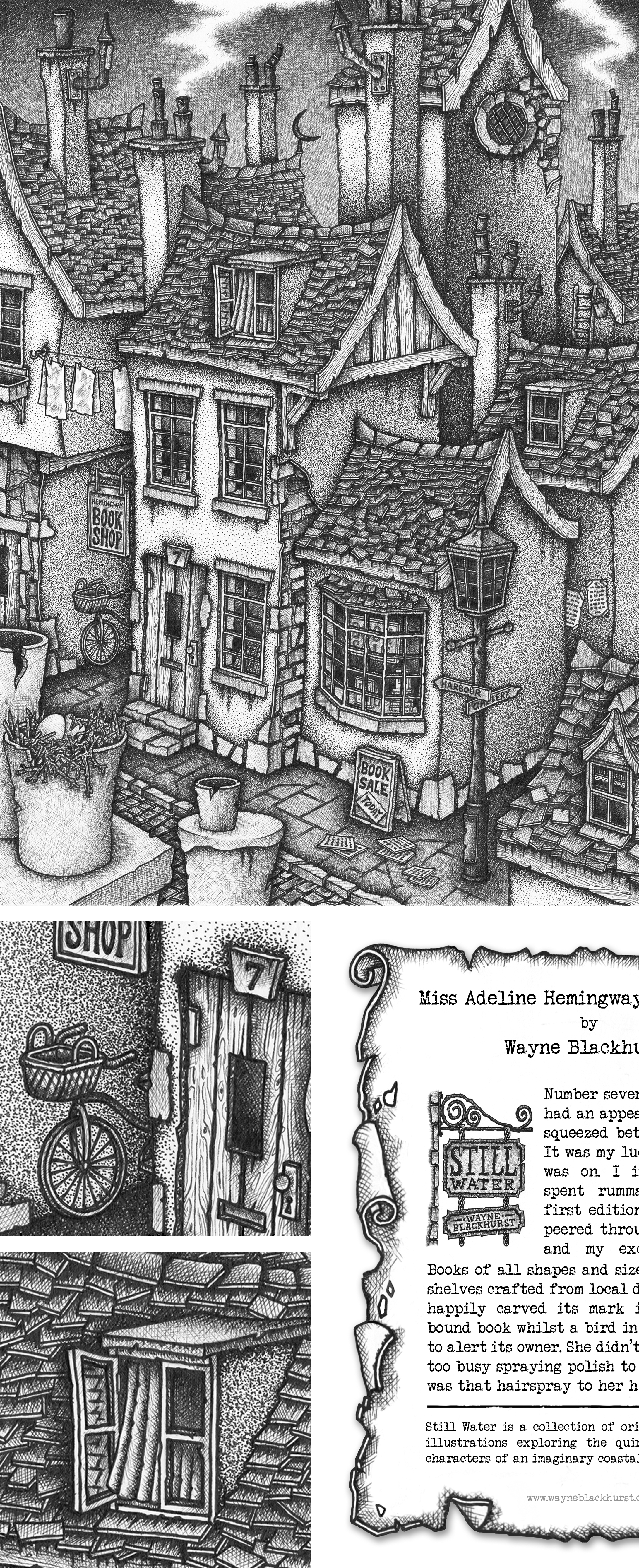 Currently the Still Water project is a growing collection of framed original works of art. Each has its own flavour text on the reverse to provide additional atmosphere. The body of work comprises illustrations, short works of fiction, maps and diagrams, which will be compiled into a beautiful art book to form an insightful experience of Still Water. This is where Patreon comes in.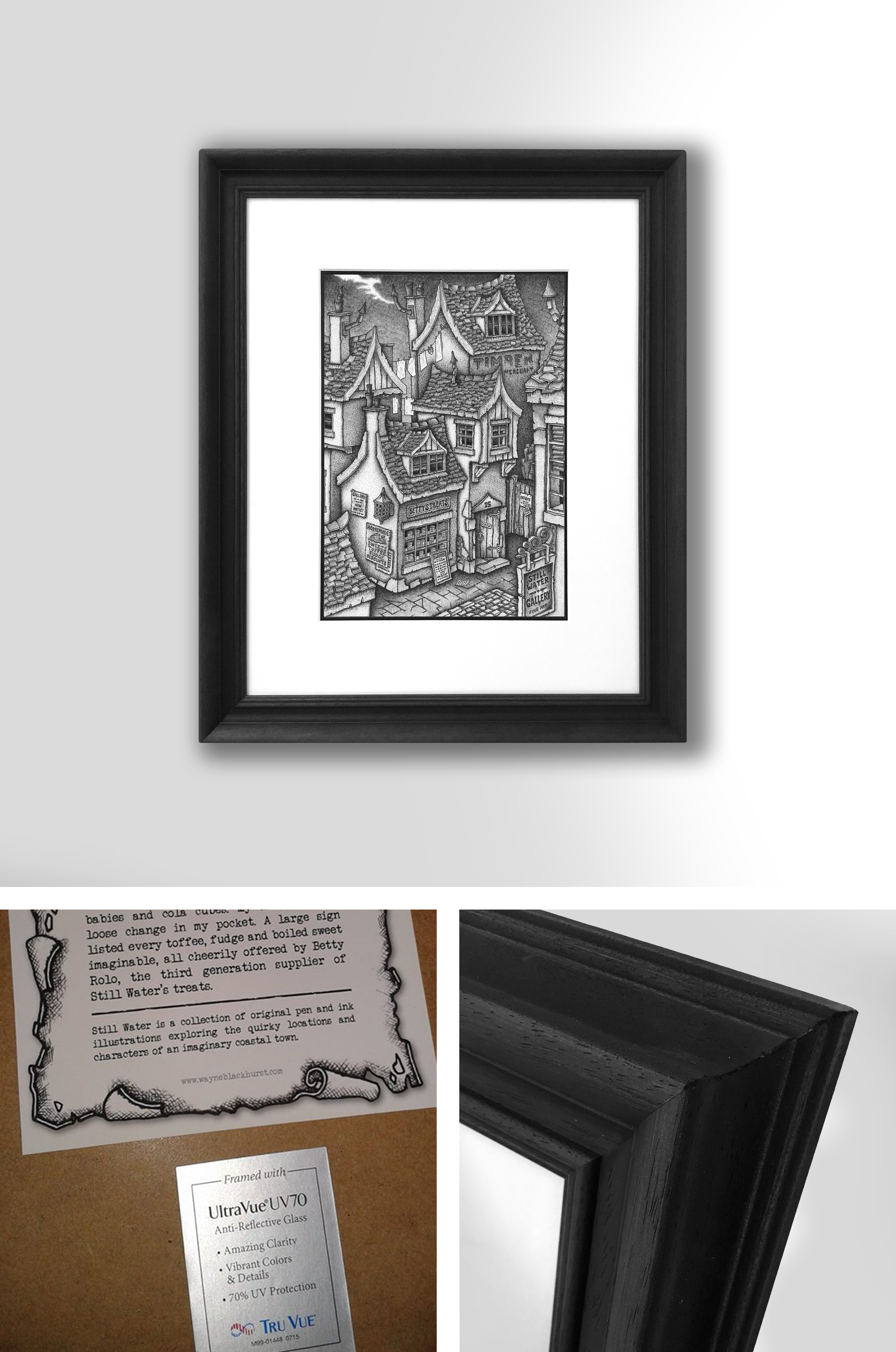 Patreon is a platform for creative people everywhere to share their work and for those who appreciate what they do to become a patron of the arts. If you like my work and would like to see it grow from strength to strength, please consider becoming a patron. You'll get to see exactly what goes into my work. This can be in the form of step-by-step details on particular techniques, time lapse videos and in-depth blog posts about my creative process. The widening lore of Still Water will become available here first for you to read. Help decide upon location and character names, and assist in other creative decisions. Your input will be valued.
Simply pledge any amount you like above $2. This gives you access to content available exclusively through Patreon. See it as a subscription service. Or a membership to a club. You'll be charged as soon as you pledge, then the first of the month thereafter. You can cancel at any time and still get to see any post made freely available to the public.

Gaining access to the first reward tier is just the beginning. Tiers will be improved and new tiers will be added. The more you pledge the more you'll gain access to, unlocking more fun stuff the higher up the tiers you rise. Additional surprises may also be sprinkled into the mix, including loyalty bonuses for being a patron for a long time. As the project moves towards being compiled into a book, you'll be there to see it happen. And of course you'll receive a discount.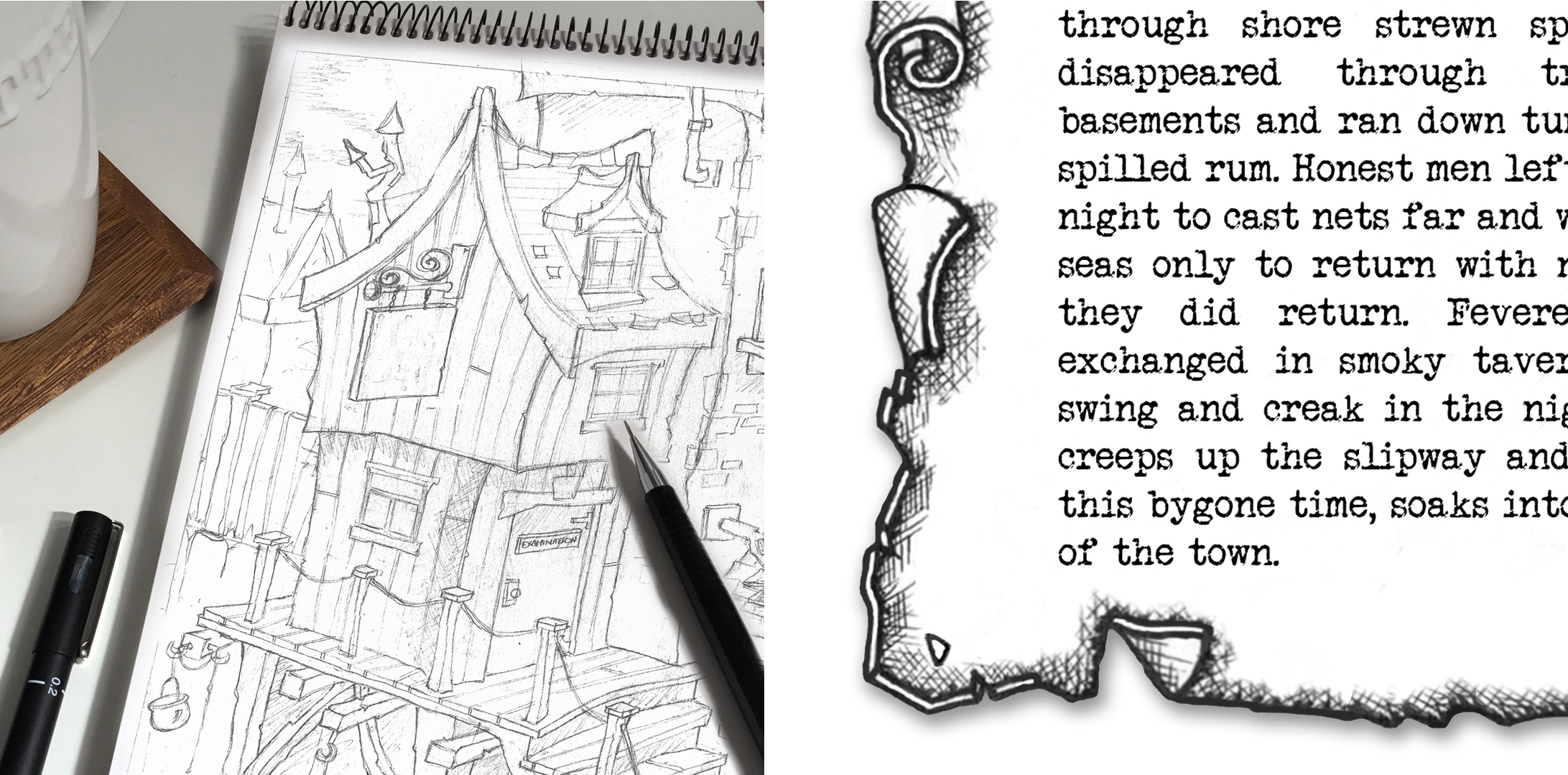 Your pledge is really appreciated. It means I can spend less time chasing freelance work or part-time jobs just to pay for specialist materials. It buys paper, pens, mount boards, glazing and frames. With sufficient pledges it even enables me to edge towards working full time on my creations. That means more time at my home studio with my also artist wife and my baby son. Together raising him infused with creativity.
Reaching this goal will enable me to complete my website with an integrated shop. 25 patrons will also unlock another reward tier: Tier 2, 'Betty Rolo's Special Fudge Brownie'. This will include everything from the initial tier with the addition of a 10% discount for my online shop.

1 of 1
By becoming a patron, you'll instantly unlock access to 18 exclusive posts
By becoming a patron, you'll instantly unlock access to 18 exclusive posts
Recent posts by Wayne Blackhurst
How it works
Get started in 2 minutes