industria
is creating an artist-run network, seeking to re-politicise the 'art world'
Select a membership level
Winter Bookmark Dovilė Šimonytė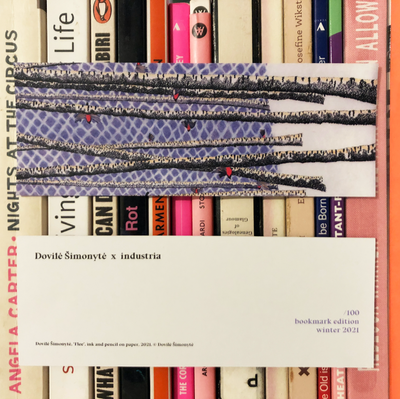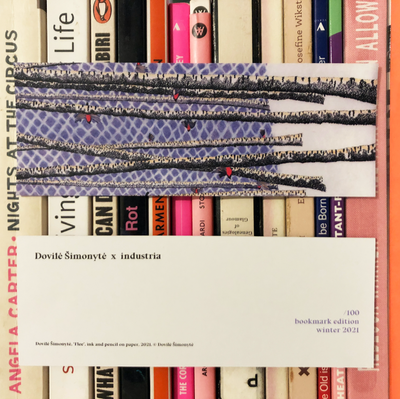 The winter bookmark is by Dovilė Šimonytė. The imagery draws on the Lithuanuan landscape and Šimonytė's wider practice, using superstition and a vague knowledge of occult practices to tell stories about everyday life.

Bookmark Subscription
You'll get a subscription to the full 2021 bookmark collection, receiving all 4 commissioned limited edition bookmarks. Spring: Jade Montserrat, Summer: Jamila Prowse. Autumn: Industria. Winter: Dovilė Šimonytė

Super Supporter
Sign up to be an Industria Super Supporter to pay us the equivalent of
1 hours wage a month- You will receive a bookmark subscription and lots and lots of our gratitude! 

About industria
Industria (formally GIRLFORUM*) is an artist-run network, seeking to re-politicise the 'art world' through working groups that scrutinise institutions and infrastructures in order to imagine and build towards new social universes.

Over the last couple of years, we have carried out a flexible and ever-changing programme of work, including a series of 6 publications distributed for free as PDFs to our mailing list, and (most recently) working behind the scenes as part of a small group to directly challenge the ethics of a major art institution.

This challenge is an ongoing and painstaking process and our activity is largely unfunded apart from the generous donations here, which mean we can cover our basic running costs and occasionally commission contributors to add their voices to the project. Our current goal is to work towards a half day's wage for each of us per week. This amounts to £480/ month. On average, we do industria work 2 days a week amongst our paid work and own artistic practices.

We massively appreciate any donations you're able to give.

Many thanks,
industria xx

Recent posts by industria
How it works
Get started in 2 minutes