Weasels on Easels
is creating Fursuits, Cosplay, Tutorials and Fine Art
Select a membership level
Copper Weasel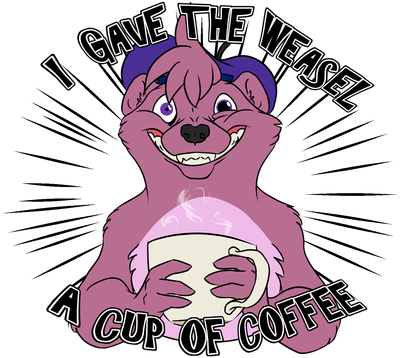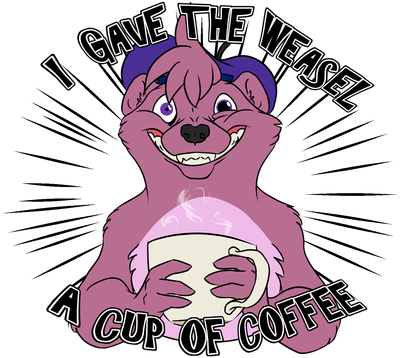 Access to Patron Discount!
   Patrons get access to special product discounts in our webstore (if applicable)!
Early Bird Gets the Worm!
   Just for subscribing to our Patreon,  you get priority on commission slots for all work (vs non subscribed)!
The higher your tier, the higher the priority and higher tiers get free quotes for suits (when we are accepting them!)
  At this tier, you'll be able to see awesome patreon-subscriber only content that can include free tutorials, patterns, digital downloads, coloring pages, early bird discounts in my etsy shop and art work updates before anybody else!  
Private Patron Group Chats!
  This is where the heart of the action happens! Live updates on projects and stream notifications! Connect with our other patrons and share projects in a fun chill environment from the comfort of home in our Facebook Messenger and Telegram Chats!
  The Telegram chat even has an exclusive, ever growing sticker pack for patrons!
Access  To Private Patron Only Live Streams
  These may include digital art streams, Patreon exclusive project builds, tutorials and more!
 Monthly Patreon Exclusives Updates 
  You get to enjoy project updates for Patreon exclusive builds! 
Patreon Loyalty Rewards Membership
  Collect points to apply to future purchases. 1 point earned for every dollar subscribed to the Patreon plus 5% of purchase value of any Weasels on Easels Merchandise will be added to your point total. (Does Not Include Shipping) [ more information and complete terms of service here:
http://www.weaselsoneasels.com/terms-of-service
]  
I'm Just Here for the Darss Edar
You can submit as much as you want to this tier by editing the amount as long as it is at least $5.

At request at some of the members of the Darss Edar community, we had discussed making a Patreon to help support the making of the Darss Edar compendium. While I am not yet ready to make a run another Patreon by myself for this purpose, for now, I am adding a tier for this exclusively. 

This tier is for videos, streams, and namely downloadable files of the pages from the Darss Edar compendium. Anyone who supports this tier for at least 12 months will get a free download of the 50ish page compendium when it is done. If this goes well, I plan to also make a darss edar homebrew D&D species book, as well as other excerpts down the road to be voted on by active patrons. You may donate as much as you would like to this tier, however, it will not get other Patron perks outside monthly stickers (it will have its own exclusive stickers) and in exchange will receive its own exclusive content as well as shared digital content. You just wont get the monthly physical mailings of any other tiers. 

Doing it this way will let us track interest in the project as a whole. Maybe someday we can get hard copies published?

If your an existing patron who wants this tier AND the weasel boxes, you'll need to make a second Patreon account to subscribe at least $5 to this Tier. We will do our best to combine mailings.

I'd like to start with 1-2 compendium pages a month and 1 sticker, but as support for this builds, I'll make more time for it.

Silver Weasel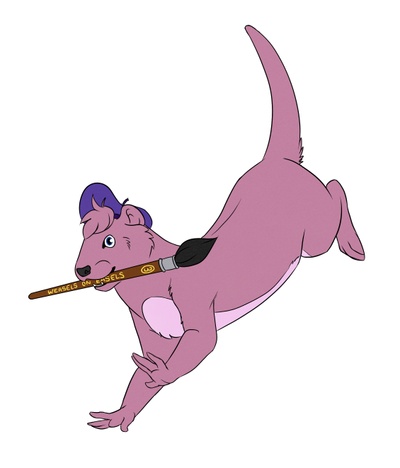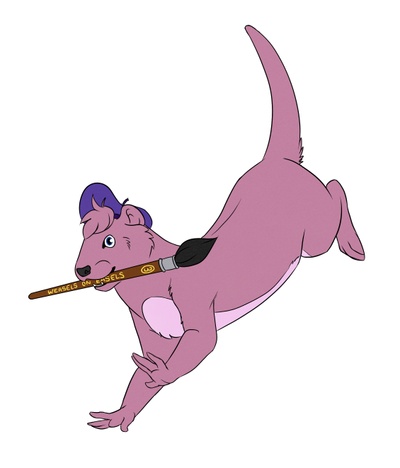 All Previous Tiers (except darss edar tier)
Patreon Loyalty Rewards Membership (silver tier)
10% of purchase value of any Weasels on Easels Merchandise will be added to your point total instead of 5%. (Does Not Include Shipping) 
Custom Flat Color Resin Parts Orders!
This tier unlocks the ability to select custom flat colors when ordering fursuit making parts! (We will try to make your pieces the best we can but keep in mind that some patterns and colors may not be possible with available materials) Nifty!
(Discounts cannot be applied to custom orders at this tier)
Custom Fursuit Spray Scent Orders !
This tier unlocks the ability to select custom scents when ordering fursuit sprays. (We'll try our best to make the scent you want but be warned that not all scents are available to us and batches may vary.) Make your suit smell how you want!
(Discounts cannot be applied to custom orders)
Patrons of this tier and above can preorder select Weasels on Easels products.
Can Purchase Fursuit Makers Small Box!
This small box of random parts for making fursuits is only available for purchase by patrons of this tier and above. It includes a mix of leftover and miscast resin parts made by Weasels on Easels as well as some other odds and ends at a considerably discounted price.
About Weasels on Easels
Looking for reasons to support our patreon?


How about our Patron Loyalty Rewards?
Can't afford one of our short term payment plans? Can you only do $5 to $100 a month? Join and gain acess to our exclusive patron loyalty rewards program! All of our supporters get a point for every dollar pledged to the Patreon and percentage back in points from purchases! These can be saved and used directly, fully or partially, on any artwork from us including fursuit parts or even a full fursuit allowing you to effectively save for a suit over a couple of years!
Just save up points, get a quote when your ready, apply for one of our slot when one opens. Patrons also have access to patron only bonus slots for a higher likely hood of getting one! Sign up and let us handle the rest!
Best parts? There is no maximum and there is no fee if you miss a month. Change your support each month to what you can afford. Couldn't do as much or had to cancel this month? Just come back and keep saving when you can, and have peace of mind that your points wont expire.
Need a last minute birthday or holiday gift?
They can be traded in for gift cetificates too!**
With tiers starting as low as just $5 a month, our patrons also enjoy the following:
🐾First dibs and priority when ordering work!

🐾Patron exclusive artwork slots!

🐾Special bonus points for referrals and other things!**

🐾Our monthly swag bag we call the Weasel Box with vinyl stickers and more goodies the higher your tier!

🐾Step by step video and picture tutorials!

🐾Free monthly digital content including but not limited to: patterns, telegram stickers, special projects, coloring pages etc.

🐾Weekly, private, supporter only live streams via Picarto!

🐾Access to patron only telegram and facebook messenger chats!

🐾Ability to see, vote on and participate in Patron exclusive project builds

🐾And More!
Supporting our work gives us long term stability to promote growth, community and expands the kind of content we can provide for you! It helps my husband and I, make new things and inspiration for people just like you and increase our ability to give back to the community that has so strongly stood behind us every step of the way.

From volunteering in local events and charities with children on our weekends to the amusing and fun shenanigans, online tutorials and general furry chaos documented for all to enjoy, know that you get to be apart of, and support, something as unique and as special as everyone that makes up the community as a whole!
** Bonus points as described here, are any points that are earned from non-purchase methods such as referrals or bonus events. Bonus points earned this way are non-transferrable and cannot be used for gift certificates or transferred to other uses.

At this goal I'll be able to really focus on my supporters! Higher income means I can depend less on commissions! More videos, more streams and more patreon projects just for my supporters! 
At this point, we will probably do some kind of fun, long term project that patrons get to vote on with full tutorial!
3 of 3
By becoming a patron, you'll instantly unlock access to 555 exclusive posts
By becoming a patron, you'll instantly unlock access to 555 exclusive posts
Recent posts by Weasels on Easels
How it works
Get started in 2 minutes