We Bleed Ink
is creating Artwork
Select a membership level
The Newbie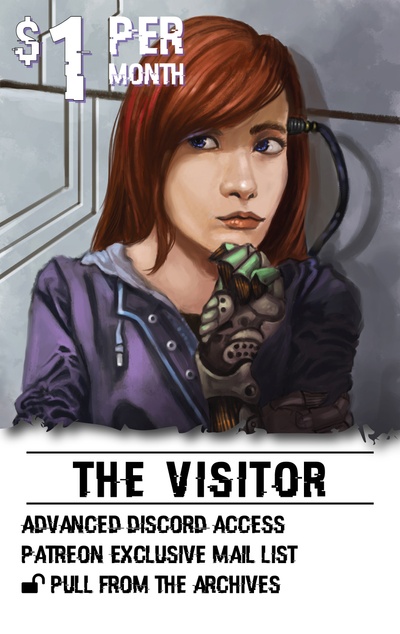 "Oi, chum. Everyone wants a taste of the action.
Sometimes, though, you just want to get in, get out."
-- Meghan O'Keely, hacker extraordinaire.
You'll get enhanced access to the discord, which includes areas like reference material, open critiques, etc.
You'll also get special access to every behind-the-scenes post we make. This includes, but is certainly not limited to, all
#OFFTOPIC
threads and all
#WIPs
.
[UNLOCKED] Pull From the Archives
Every month members get access to a
#PULLFROMTHEARCHIVES
or a 5"x7" ink original that will be sent completely randomly. The last stream on Twitch every month will have the reveal! So tune in!
The Sleuth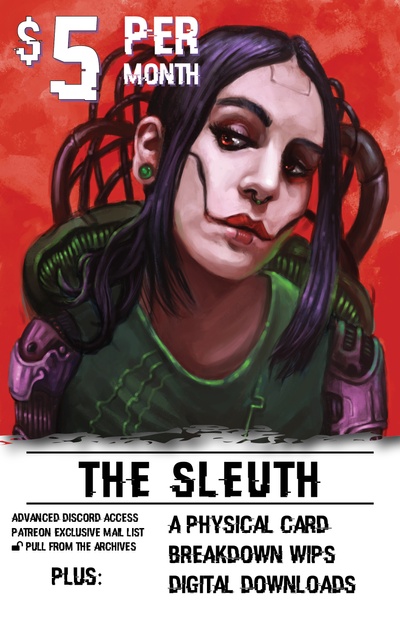 "I've been roaming this beat for far too long. Data Theft, Data Mining, Digital Warfare. Nothing surprises me anymore."
-- Blix, international data procurer.

ALL OF THE ABOVE BENEFITS, PLUS:


Bi-monthly a
PATREON EXCLUSIVE
bookmark and sticker will come out that is hinting towards the next piece in development. It will be sent to everyone at this tier, and above, as a physical piece! I repeat: this is only available via Patreon!
Available in All Sizes and Flavors
You'll also get any pieces created this month as high-resolution, digital downloadable, JPEGs. They make for great desktops, phone backgrounds, you name it!
The Domineer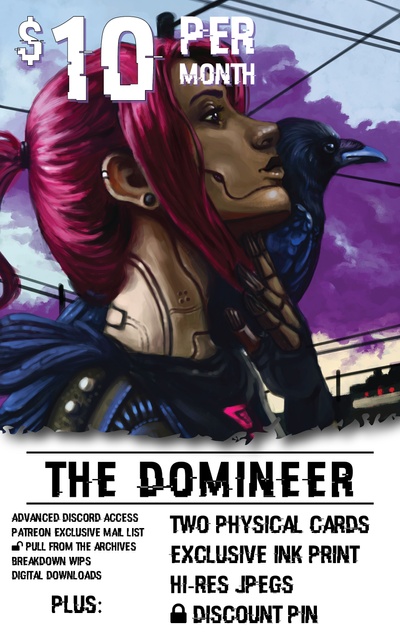 "People assume we're all machines. I wish it were that simple..."
-- Marrin, the Mechanized Vocalist.

ALL OF THE ABOVE BENEFITS, PLUS:
A marionette's postcard. The marionette depicted in the piece is writing a letter to
YOU
! Along with the bookmark and sticker, you'll also get a 5"x7" postcard sent directly to you!
Receive a print of one of the ink pieces that was done recently for you to color as you choose. Digital paint on it, toss some physical paint around, cut some paper and just decorate the page.
It's yours to choose what to do with.
Afterwards,
submit them to your favorite social media page and tag us in them and we'll feature every single one
!
And here it is, a big kahuna! You get the original PSDs! At
FULL RESOLUTION
, no less. You get to see every stroke, every layer, all in it's full glory! The files are shared via drive and they'll change out monthly.
Upon reaching the $250 mark, everyone up to this point will receive a FREE permanent discount pin to flash at conventions for a no-frills, no-questions-asked, 20% discount on all merchandise. Also includes a permanent discount code for the website that rotates every month.
EVEN LIMITED / UNIQUES!
About
Connecting……….
Connection Successful
.
Negotiating Host……… Connecting to subsection…..
Connection Successful
.
Initializing UI…. Initializing 3D environment….
SUCCESS
Last login: Fri Jul 12 14:49:21 2086
Uptime: 00:01:24 up 4396 days, 1934222 active users, average: 823027.
You are currently logged in to a
Public Portal
, restricted access.
Welcome, , to
//the_library
.
Accessing
//the_library/archives
……
Opening File
:
//the_library/archives/videos/History_has_a_Lesson_by_The_Librarian
"I know what you're all thinking: 'Who has time anymore for a history lesson?' what with the constant gunfire that most likely rings out every night and all, unless you are fortunate enough to be one of the selected few of the Queen's court. Well as I can tell you, as my father did before me, history is always doomed to repeat itself. So I take it upon myself to attempt to educate those that come after me, maybe make some sort of attempt to stop the inevitable.

Who am I you might ask? I am The Librarian, and like my father before me, and his father, we are part of a long line of Librarians. Some people reading might ask, what's the importance of being a Librarian? Well, we have always been interested in trading the only commodity actually worth anything on this rock: Information. Even back in the war, my great-great-grandfather was a radio engineer, trading secrets to the alliance military for the safety afforded of being out in the middle of nowhere on that huge ice cube known as Antarctica. Well, friends, gather round. Heat up your coffee pots, grab a snack, because have I got a story for you…"
---------------- ABOUT THE CREATIVES ---------------
When I was young, I always remembered looking at video games (especially the 2D games that were popular when I was a kid) and seeing the sprites move with amazing fluidity and saying to myself,
"I WANT TO DO THAT!"
As time went on, my passion came and went, but it was always there. Around the end of high-school, I met my fiancee and being the creative power-house that she is, pushed me to pursue my passions for creativity. Over time, wanting to do it became simply,
DOING IT
.
I started to research what it would take to get from dreaming to doing. It started simply as doodling, but quickly became sketching and then eventually painting. I decided that school was going to be fastest way to get to my end goal, so I got a degree in Graphic Design, first, then loved school so much that I ended up getting a degree in multimedia, and finally pushed into my final degree that I use the most to date. The latter being from
Memphis College of Art
with a focus in Illustration.
From there I've been doing freelance illustration and personal artwork for both me and my fiancee (whom is a writer). We are currently collaborating on a multitude of projects, from coloring books, to illustrative stories.
Reading is something that has always come naturally to me. When I was young, I would remember going to the library to get a stack taller than I was to read by the due date, and then upon returning said books, going for another stack just as high! Words, to me, have been something that I've been naturally drawn to for as long as I could remember.
Through my desire to read more, I found my passion to lie in writing as well. I'm typically pulled into works of fiction that include the macabre and fantastical. The works of authors such as Chuck Palahniuk and Neil Gaiman have had a dramatic influence on the writing that I produce; lately the influence of the comic world has also seeped into my work, with me diving headfirst into writing for comics as well.
---------------------------------------------

To learn more about us, visit: 
www.webleed.ink
Exclusive 5"x7" Print:

The takeover has begun!

Upon reaching the $50 mark, everyone will get an exclusive 5"x7" print, FREE!
2 of 8
By becoming a patron, you'll instantly unlock access to 73 exclusive posts
By becoming a patron, you'll instantly unlock access to 73 exclusive posts
Recent posts by We Bleed Ink
How it works
Get started in 2 minutes