Friends of Black and Pink Chicago
is creating a loving community
Select a membership level
Official Patron
You will get messages/writings/audio notes from Strawberry.
MESSAGES/SHOUT OUTS FROM BERRY
Official Patron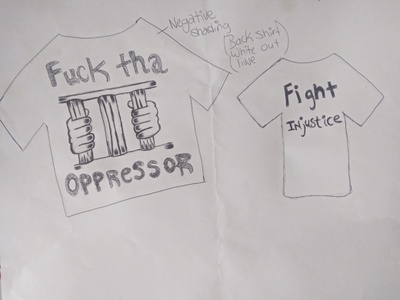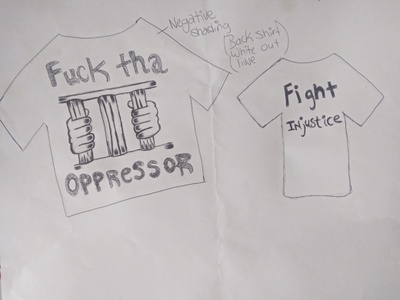 This T-shirt says FUCK THA OPPRESSOR on the front with bars behind text and FIGHT INJUSTICE on back. Made by Strawberry Hampton.
MULTIPLE T-SHIRTS
Strawberry has ~200 t-shirt designs. You can choose 2 to 3 designs for 2 to 3 shirts. More shirt designs will be displayed shortly.
MESSAGES/SHOUT OUTS FROM BERRY
About Friends of Black and Pink Chicago
Our beloved friend and community member
Strawberry Hampton
is currently being held in pretrial incarceration in the men's division of Dupage County Jail. She was recently released from Vermillion County Jail and they revoked her bond in Dupage immediately- on some straight bullshit.
Strawberry Hampton is a Black transgender woman who has been fighting tirelessly for her rights, and the rights of all trans people, while incarcerated in the so-called state of Illinois. At the beginning of last year she won a landmark court case for trans rights in Illinois and became the first trans woman in Illinois to be housed in a women's facility! The precedent she set in this case has since helped other trans people fight for their rights as well.
Let's be clear though - the state continues to target Strawberry, retaliate against her and put her behind bars for raising her voice against the violence, exploitation and brutality of trans women within the prison industrial complex. Even when she was incarcerated at a women's prison, she still faced queerphobic and racist harassment. In an aggressively patriarchal system, Strawberry continues to show the world what is possible. We must continue to fight with her to get her free and to #FreeThemAll.
What we are fundraising for:
Strawberry needs funds for overpriced commissary, phone calls, medical treatment/medication and ongoing legal support. Her immediate need is for us to fundraise $1,000, which will begin to pay for vital medication, surgery, commissary items nd a gender-affirming lawyer. ALL funds will go directly to Strawberry.
Why?
WE MUST SUPPORT BLACK TRANS WOMEN.
Strawberry needs our community to support her due to the transphobia she faces daily as a Black trans woman trying to nail down a job and access housing that feels safe to her. Strawberry needs financial support with her severe medical issues amidst COVID-19 so she can thrive and get free from those hell holes.
Thank you for showing up for Black trans women like Strawberry who fight for EVERYONE's liberation!
https://www.blackandpink.org/chapters/chicago/
$1,099.96 of $4,000
per month
Jails and prisons are ludicrously expensive. $4,000 will help pay for vital medication, surgery, and a gender-affirming lawyer.
1 of 1
How it works
Get started in 2 minutes