Wendi Strang-Frost
is creating Comics!
About Wendi Strang-Frost
2019 is the year we GET SERIOUS!
Your support has meant the world to me over the last year, and this year I have set a hard
goal of 4 issues
,
that's 88 pages
, of
Natalie Unseen!
 I've even started pressuring the writer for scripts, which is saying something since I'm married to (and have to live with) him...
You guys have made this possible! Thanks to you I am paying for my software subscriptions and I purchased an iPad Pro to increase the number of hours that I can comfortably work on comics.
THANK YOU SO MUCH!
I can not wait to see what this year holds for Natalie Unseen!
Currently working on: 
Natalie Unseen No. 4 | Into the Parlor
Artwork for this issue is done! I'm working on word balloons and narration boxes. The .pdf will be available for my $1+ patrons next week!
AVAILABLE NOW
Natalie Unseen No. 3
| 
The Elsewhere House
As part of her interview process with the School of Unseen Research, Natalie heads to Maine to investigate the disappearances along US-201.
Natalie Unseen No. 2 | 
Interview With a Changeling
The Mouse Princess was raised by humans in their strange ways. They named her Natalie Close and taught her that she was not a mouse. She became fascinated by her new home and absorbed its stories.
Natalie Unseen No. 1 | 
The Mouse Queen's Bargain
Once upon a time... A queen strives to secure the future of her realm and her infant daughter. A killer plans to fulfill his contract. When their goals cross in the woods, one life will take a path neither expected.

ALSO AVAILABLE
Wild Women of the Kitty-Kat Galaxy!
and 
Dope Fiends of the Zombie Cafe!
on comiXology!
Select a membership level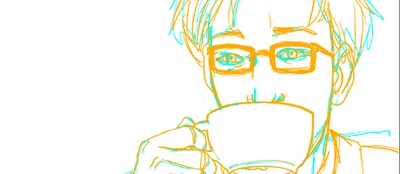 Become A Patron
Watch me create Natalie Unseen! AND get a .pdf copy of each issue as I get it done!
Digital Goodies!
At this level you'll not only get behind-the-scenes looks at Natalie Unseen, but other goodies like:
high resolution jpegs of character designs
high resolution jpegs of my favorite interior panels/pages from each issue
Homebrew D&D 5e goodies, 'cause I'm a happy nerd
Digital Goodies PLUS!
At this level you'll not only get all the other tier goodies, but I'll post high resolution jpegs of everything else I draw. Everything. This is likely to be animals, food, and plants. Very likely.
It's beginning to get real! If I can reach this monthly goal, we'll have a fighting chance of seeing a print copy of the first Natalie Unseen story arc. Natalie! In your hands! Spread the word...
3 of 3
Recent posts by Wendi Strang-Frost