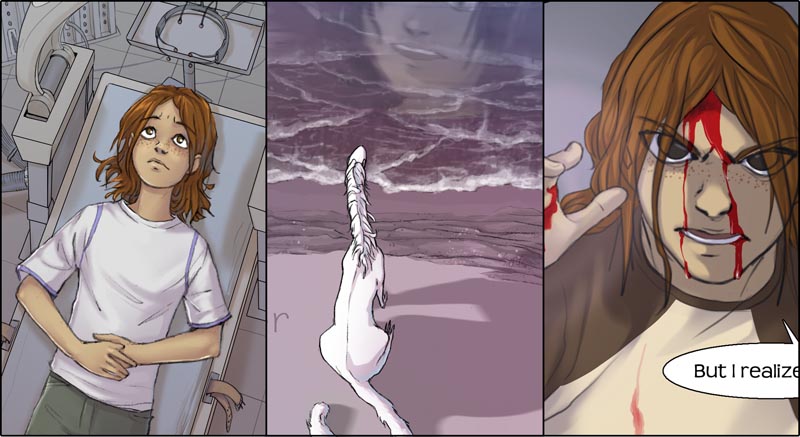 White Noise
is a science fiction webcomic that has been running for 11 years (yup, that long).  
The Story
130 years after the alien invasion, humanity is still divided between the genetically pure and those descended from the invaders' experiments. An organization calling itself GECOW has taken upon itself to continue these experiments with the intention of creating super soldiers to protect the planet should the aliens return. For now though, humanity is content fighting itself. And these super soldiers have only poured fuel on the fire.
White Noise follows several of these transgenics as they navigate the minefield that is their world.
What You Get

1$
Patrons pledging $1 will get access to the Patreon-exclusive Livestream of the pages in progress, monthly wallpapers, and access to the sketch request blog, where all ships are welcome and the requests don't have to be limited to White Noise.
3$
At this level you get all the same access to extras as the first level and in addition you get to see one page a week early.  Also, pages will be posted here at your request at the full 300 dpi.
5$
At this level you get all the same stuff as the previous two, but instead of seeing one buffer you see all that's available!  That will be at least two and up to four extra pages!  That's a whole scene ahead.  On top of this I will share with you backstage stuff like sketches and scripts, and also my custom photoshop brushes (which will be an ongoing thing).
Milestones

$50
Once this first one is reached, I will start hosting Livestreams every week, as well as posting wallpapers every month for you to enjoy.  In addition, I will open up the White Noise ask blog, where I will take requests for sketches from patrons only.
$150
At this milestone, the White Noise printed books will become available to buy online.  I currently get both books 1 and 2 from a print-on-demand provider for several conventions each year, but if this milestone is reached I will open up the option for you guys to get copies delivered to you.
Future milestones will be added for such things as getting three updates a week, minicomics, and more.
Thanks for reading!
~Mindy