Hello~
I'm Joh-Lize. Joh for short. But I'm known around most websites as JohJoh or AbnormallyNice.
What is 'White Space'?
It's an action-adventure graphic novel about two brothers that live in a  totalitarian, absolute monarchy. This government has set up a Protocol that weeds out weak in an attempt to create a genetically pure society. This is done by sending children out into the world and waiting to see if they survive.  Sick of living under this Protocol, the boys chase after a Legend that tells of a place where children like them can live safely and free from the constraints of their government.
The comic follows their adventure, where they meet new friends, make enemies and escape danger while trying to find this 'paradise'. Along the way, they start to figure out that they are a little more 'destined to greatness' that they were led to believe.

So how did this comic come to be?
Back in 2009, I started the comic, posting perhaps one page a month. The more I worked on the story and characters, the more I realized I loved drawing and telling stories. Comics had become a happy compromise between the two mediums.
Over the years I fleshed out the plot and tried to update more frequently. I really started to feel I was working on something great here. It brought (or still brings) me great joy every time I posted a page and saw that others were actually really interested in what I was doing.
Why Patreon?
It's a stepping stone that I hope over time will help 'White Space' grow from a 'hobby' into a full-time commitment. One that is supported by it's beloved readers! Which, I think is pretty cool~

The plan is to get enough support to be able to dedicate myself full-time to creating an epic tale filled with secrets and adventure, while telling the stories of the characters and exploring the White Space world.
The comic is completely free to read!
But every bit you give will help me keep making pages and updating regularly, moving the story along at a quicker pace.
You can choose how much you are willing to give per month, and even set a cap if you don't want to go over your budget.
For more info on how Patreon works, check out
this handy li'l video
~
Only $1 rewards are available, and works like a 'tip jar' to give me a little extra support.
But you are free to pledge more or whatever you feel is fair. You will receive the content promised whether you pledge $20 or $2.
As I reach my goals, I will post 1 page a week (upgrading to more pages later on), work on the comic behind-the-scenes, fulfill pledges, post updates, create merch and other digital 'White Space' content.
The Goal
My ultimate goal for this comic has always been to get it printed and get physical novels to those who enjoy reading my little story. If I can make a living off of pledges and work on my comic full-time, that would be wonderful too~
Every little bit you give will go to fulfilling that dream!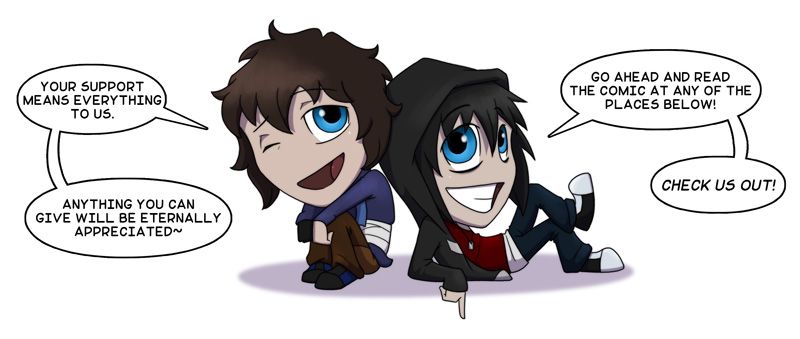 Questions?
Please give the F.A.Q. a read
!