Steve Bhaerman
is creating a Podcast
Select a membership level
$2 a month donation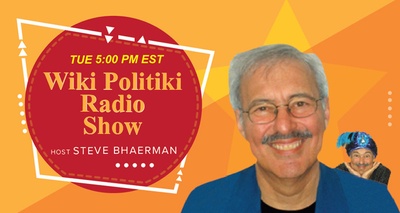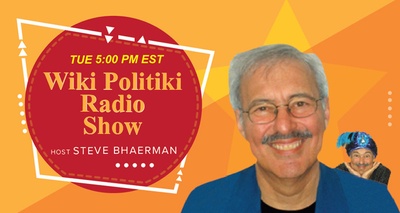 √ Reuniting America
√ Swami digital videos
√ Signs of the Upwising weekly report, written
$5 a month donation
√ Reuniting America
√ Swami digital videos
√ Signs of the Upwising weekly report, written
√ Monthly Karma Talk, plus recording
√ Bi-Monthly Zoom call 
$10 a month donation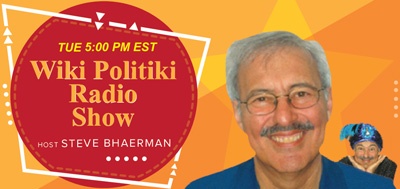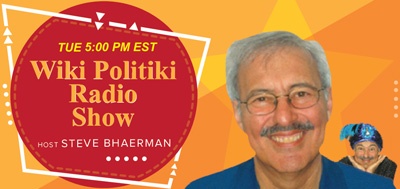 √ Reuniting America
√ Swami digital videos
√ Signs of the Upwising weekly report, written
√ Monthly Karma Talk, plus recording
√ Bi-Monthly Zoom call
√ Fool's Journey
√ Fool Enchilada Special
√ Special gifts from guests 
About Steve Bhaerman
Hello, I'm Steve Bhaerman.
And THANK YOU for supporting Wiki Politiki Radio.
Crisis precipitates opportunity, and given the burgeoning crises, in our country and in the world, there is a great opportunity to awaken the body politic so we become the leaders we have been waiting for.
My cosmic comic sidekick Swami Beyondananda calls this mass-awakening (a more functional alternative to mass-extinction) the Great Upwising ... where we
wake up
to the illusion of separation,
wise up
to the power of love and community,
grow up
to be the individuals (and species) we were meant to be, and
show up
ready to play a new game on a new playing field -- the World Game, where we create thrival for each and all. In contrast to the "end-of-the-world" game of dominate or be dominated.
To change the conversation, we need to ... change the conversation!
At a time when political polarization, dysfunction, and confusion seem to be at an all-time high, and when noise and static seem to be drowning out sane discourse … the Wiki Politiki Radio Show offers a heartening alternative:
Fun, laughter, constructive conversation, and insight.
As both a comedian (I have written and performed as the cosmic comic Swami Beyondananda for the past 30 years) and a serious author (my book Spontaneous Evolution written with cellular biologist Bruce Lipton is now in over 25 languages), I intend to entertain and inform, encourage and inspire, and hopefully spark an "evolutionary upwising" to awaken a dormant body politic.
A bit of background. A lifelong political scientist (and no, I never actually got to dissect a politician in poly sci lab), and a proponent of holistic health, I have come to see calling as "healer of the body politic." I've looked in the "want ads" and have never found an actual job with that title -- so, I have "gone out on a whim" and launched my own podcast "to bring left and right front and center to face the music and dance together."
If you agree that we need "political climate change" and proliferation of functional -- and fun -- ideas, thank you for "patronizing me" through Patreon. Check out the Wiki Politiki 
website here
.
$177.58 of $1,000
per month
When my monthly Patreon earnings reach $1,000 I will create a monthly video interview series via Zoom called Heartland Security: Discovering and Cultivating Our Sane and Sacred Center
1 of 1
Recent posts by Steve Bhaerman
How it works
Get started in 2 minutes