Jason Morgan - Painting & Drawing Animals & Nature
is creating Art Videos, tutorials, reference photos & more.
About Jason Morgan - Painting & Drawing Animals & Nature
My Patreon Art Channel and what it's all about ....
Hi My name is Jason Morgan and I have been a wildlife artist for over 20 years
If you are interested in painting or drawing animals, wildlife, nature with a few other subjects thrown in occasionally, then I honestly think there is no better place to learn online than with me, as I love teaching my techniques almost as much as I love creating art myself.
By sharing my knowledge and techniques I have found my students can bypass years worth of trial and error and reach a much higher level in a fraction of the time it would have taken them. saving a LOT of money on wasted supplies too.
Patreon gives people the opportunity to not only learn, but at the same time directly support the artist (by becoming a patron / supporter) - it really is a win, win situation
So when you join my Patreon channel what do you get as a reward each month?
$4 (approx £3.50) per month Level (NOTE YOU CAN CANCEL AT ANY TIME)
* On this level you get a brand new tutorial video every month.These are usually 1-3 hours long and sometimes even longer.
*You also get 4 reference photos and line art every month too, you can create art from these and sell it with no copyright worries at all.
*PLUS access to the Secret Facebook group - the friendliest / most supportive art group on Facebook, just for patreon members ONLY.
*PLUS access to the companion website where you can not only find all the patreon videos with just 1 click, but you can also enter monthly art challenges if you want to.
YOU ALSO GET ACCESS TO ALL THE PREVIOUS VIDEOS ON LEVEL $4 - LITERALLY HUNDREDS OF HOURS WORTH OF VIDEO.
$9 (approx £7) per month Level
* on this level you get
EVERYTHING
already on the $4 level PLUS and additional NEW full length art tutorial video
*PLUS another 4 reference photos and line art.
YOU ALSO GET ACCESS TO ALL THE PREVIOUS VIDEOS ON LEVEL $4 and $9 - LITERALLY HUNDREDS OF HOURS WORTH OF VIDEO.
--------------------------------------------------------------------------------------------------
Watch the intro video above and I explain it all, its VERY easy, I promise  :) 

It if you ever decide you want to stop supporting then that is super easy too  :)




***** ALREADY A MEMBER *****

*- THE VIDEOS LINKS CAN BE EASILY FOUND HERE ON PC / MAC / Mobile - REMEMBER YOU WILL ONLY BE ABLE TO VIEW THE ONES ON YOUR PAYMENT LEVEL. *****
This is a link to the companion patreon site that makes finding all the older videos etc super easy

https://www.wildlife-art-lessons.com/


Select a membership level
Rewards Level 1
Painting / Drawing video - packed with tips and techniques including voice over. Every Month you will get a brand new video, normally an hour or more in length.

Reference photos + Line Art - Every month you will get 4 brand new / copyright free reference photos plus line art. Plenty of inspiration to keep you going until the next set arrives.
Rewards level 2
All the rewards above ($4 dollar reward level) PLUS +
An Extra Video - An extra video per month which could be another painting / drawing video, or a new art product or book review - not seen on YouTube etc

MORE Reference Photos - You get an extra 4 reference photos + line art (that's 8 total per month!)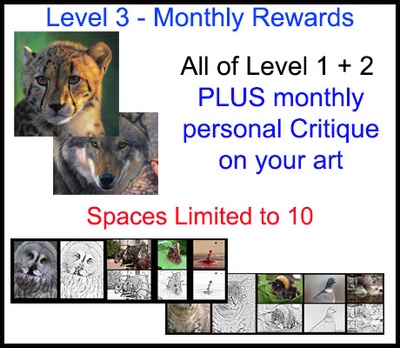 Personal art critique +
Limited (0 remaining)
All the above rewards plus

Artwork Critique - Push your art to the next level! You can submit one piece of artwork to me per month for me to give constructive advice on. My crtitique can be in the form of an email with photoshop adjustments or a video etc whichever I think will give the best result.
Recent posts by Jason Morgan - Painting & Drawing Animals & Nature