Will McDaniel
is creating Creepy Meaty Videos
Select a membership level
Level 1: Little Lumpy Bois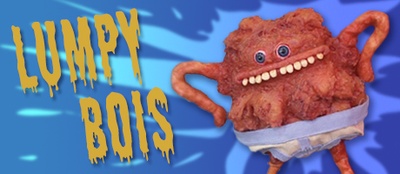 Thank you! You are lumpy & awesome!


You get:
Patreon Vlog Access to a monthly behind the scenes vlog I've started making for Patreon's eyes only!
Patreon feed Access to the wonderful fantastic patreon feed where I'll post scripts, concept images, rough cuts and edits.
Mention Every Patron will get a mention at the end of the next sketch video I make following their pledge (If video is coming out in next day or so it'll be the one after that)
Early viewing You'll get access to my new finished videos ahead of everyone else. How early will be different for each video but could be anything from a couple of hours to a day or so... Maybe even a whole weekend! 
Patron discord Every Patron gets access to a private discord group where I can chat easier with you guys and keep you updated on everything!
Gratitude You can be safe in the knowledge that you have just made my day by supporting my future endeavours!
Includes Discord benefits
Level 2: Big load of flaps
Thank you a little bit more! You are just a big ol' pile of flaps and therefore even more awesome!
You get:
Everything in the previous rewards
Copy of the Script You'll get a PDF copy of the final script (covered in doodles scribbles and notes made during the filming and editing process) for each new video
Video Thumbnail I'll send you a full resolution copy of the thumbnail for each video. 
Includes Discord benefits
Level 3: Dubiously meaty
Thank you even more! You're just so dubiously meaty! I mean you look like some kind of meat based product but I wouldn't like to guess what exactly.  
You get:  
Everything in the previous rewards
Name in the (meat) jar for giveaways I will put your name in a jar for occasional prop giveaways from previous videos
Director's Commentary With every new sketch video I'll post a separate copy of the video with my Director's commentary that will discuss behind the scenes stuff, inspiration and other such gubbins
Includes Discord benefits
About
Hello there! So if my name is Will and I make weird meaty puppet videos on YouTube. I absolutely adore filmmaking but espeically when it involves a good amount of squelchy physical props and monsters! However because of this my films are expensive for me to make and take a long time to finsih. Liquid latex and fake teeth don't just grow on trees you know? I wish they did... Oh what a world that would be... Also as you may have noticed my videos can be on the weirder or darker side,and as you'd probably imagine YouTube has a habit of running limited ads alongside them or demonitising them fullstop. It's tricky enough enough pay the bills on YouTube if you're not releasing videos every few days, but even more so when you release infrequent short films full of entire casts of meaty co-stars with full sets and props (not to mention evey film leaves me with a new puppet mouth to feed). I am proud of the videos I make and I have no intention of cutting corners or changing what I make to be able to satisfy the YouTube algorythm.

That's where Patreon and you guys come in! I'm not too big to admit I need help. With support from Patreon I can keep creating the weird stuff I make and not worry as much if it's advertiser or algorythm friendly. Also just think, the more Patreon support my channel recieves the more ambitious my videos and monsters can become. With more support I could afford to try more expensive puppetry techniques, such as animatronics, or use more expensive modelling materials. And when you get beyond that there's also the fact that if I got enough support from Patreon I could be able to pay for a camera operator, editing help etc. All of which would help me increase the quality and frequency of videos I can upload.

So If you don't know, the way Patreon works is that you donate to one project at a time. So you would specify an amount and every time I release a video that amount is donated. You can also put a monthly cap on spending, so if I were to release too many videos a month (unlikely) then you'd reach your donation limit and you wouldn't spend more than you wanted to. Now that's only a donation when a video on my main channel is released, not anything else on my second channel. Also you don't have to live in the USA to donate in dollars.

I'll stuff my Patreon feed full of saucy little extra bits and bobs that I won't upload anywhere else and will be exclusively for your eyes. Things like behind the scenes images and production shots, concept sketches/doodles, pre-release videos, updates on my comings and goings and new projects on the way as well as draft scripts to gain your feedback and input. I'll also endeavour to pop my finished videos up ahead of public viewing so you guys will get early peeking rights (they could be up anywhere between a few hours to a couple of days, but they'll be early!).

Donating as little as $1 per video gives you access to my Patreon feed, a mention at the end of my next video, my monthly Patreon only vlog and access to a private little discord chat group where I can keep you updated on all things video, but there are also those extra little incentives for varying levels of pledges that I've put together.

If you don't have the money to donate then that's obviously fine, I'm grateful for anyone who just watches one of my videos, but if you are able to then you will make a nerdy film making loser very happy. Every little extra helps me out!!

All my camera rigs I have built from various Film Riot tutorials so they're definetly budget. A stedicam would allow me to include more dynamic shots and more ambitious action sequences etc.
5 of 8
Become a patron to
Unlock 140 exclusive posts
Connect via private message
Recent posts by Will McDaniel