Derek Timm-Brock
is creating Wizard Town and other interactive comics
Select a membership level
Visitor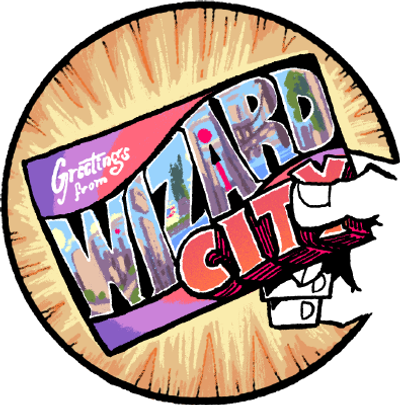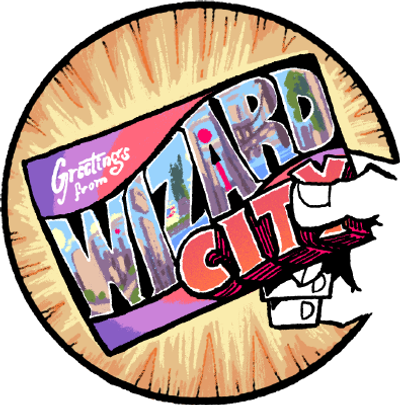 - Thanks for your support!  You will receive A Thank-You Credit in finished Wizard Town comics.  
Broeklynd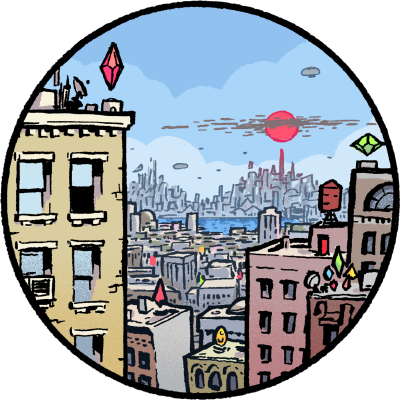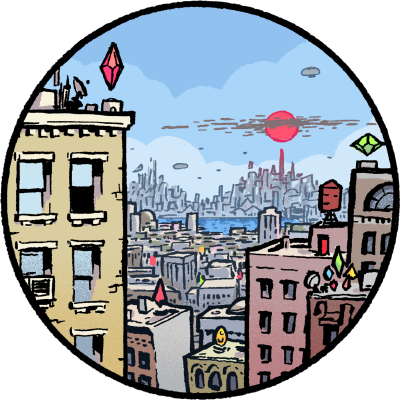 - Post-Release Art Packet - after a full comic is released, you'll get a PDF of sketches, interim stages, pre-inked drawings, unused ideas, the works. 

Manhaddon
- The Manhaddon Gazette, a weekly report of what's going on in with Wizard Town development.  This is full transparency into the production details—what's getting done, what's coming up, and what's going on with me.  You'll see spoilery shots of in-progress comics or features, and sometimes get access to exclusive beta versions and experiments.

About Derek Timm-Brock
Hello.
My name is Derek, and I make interactive comics on
Wizard Town
. I also develop
Jinx
, a
Twine
story format for developing interactive comics.
What is Wizard Town?
Wizard Town is an anthology of interactive comics about people living in a magical world.
Friends reunite after college. People have job interviews. Someone has a secret boyfriend. A colossal eye bathes the streets in dim magenta light, cars on vertical highways snake between skyscrapers, and that secret boyfriend I mentioned is also a ghost. It's a mundane world with regular people in it, going to work on the train that passes through dimensions.
Interactive Comics
In Wizard Town, interactivity isn't quite like an ordinary Choose-Your-Own-Adventure: instead of changing the story, you choose how you experience it. I like to think of you, the player, as a psychic time-traveling ghost. You're not a character who can affect events as they happen—instead, you meander through the events as they ripple out of a situation, witness things as they appeared to one or the other people involved, or tumble back into the past to discover how someone could make such terrible decisions. Interactivity in Wizard Town is inspired by traditional narrative-focused games like Kentucky Route Zero, the footnote-rich stories and story-rich footnotes of ergodic literature, and the myriad joys of ambling through wikis.
Wizard Town is mainly Wizard Town, the comic about Wizard Town. But I also like to include the one-off interactive comix and e-zines unrelated to the residents of Wizard City, as well as the framework I'm using to make everything. Wizard Town is built with Twine, a free tool for creating web-based interactive fiction. But Twine isn't intended to make interactive comics by default, so I've developed a custom format which I use to author and run them. I hope to eventually make this framework publicly available, so anyone can build their own interactive comics in Twine.
Why Patreon?
A full length Wizard Town comic is comparable in workload to an animated short film. Every step of making Wizard Town comics is hard and time consuming; the writing, the sketching, the inking, the coloring, the coding, the animating, the adding of features to the framework—you get it. It's a long arduous process, easily sidelined by life, exhaustion, or despair.
I've worked on interactive comics off and on for a few years. It's my hope that by allowing interested folks an opportunity to directly fund Wizard Town, I can foster the dedication to work on these comics regularly for you, my beloved patrons—my friends.
Why should I support Wizard Town?
Do you like my work? Do you want to see me make more interactive comics? Do you want to be my boss, sort of? If you answer yes to any of those, I invite you to become a patron!
This Patreon is, at present, purely for support and accountability. If you like my work and want to support me making it (and are financially able to do so), please by all means become a patron! Your support will do more than fund my rent and groceries—it will also make me accountable to you, yes,
you
, to continually work on interactive comics. Knowing I have people who care about it both personally and financially will keep me working on it for you whenever I can.
Thanks for reading. I hope to see you again.
APRIL 2019
$334.90 of $630
per month
ASPIRENS
This is equivalent to supporting one day of comics work every week!
3 of 5
By becoming a patron, you'll instantly unlock access to 34 exclusive posts
By becoming a patron, you'll instantly unlock access to 34 exclusive posts
Recent posts by Derek Timm-Brock
How it works
Get started in 2 minutes