Woniya Thibeault, Buckskin Revolution
is creating Courses, Videos, Talks, Writing, about land based living skills
Select a membership level
Buckskin Believer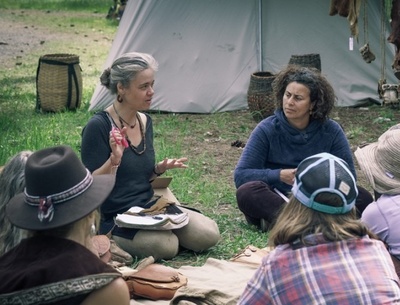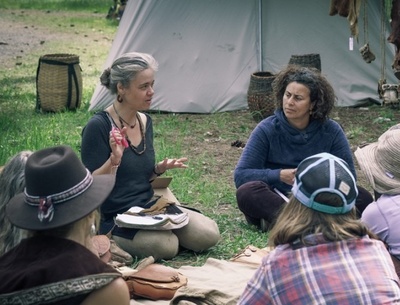 Small monthly contributions add up and can help support me in creating more content in the form of videos, talks, writings, classes and on-line courses. 


Benefits of being a "Buckskin Believer" level patron include:


-Personal Satisfaction in knowing what a great thing you are supporting 😉

-Ability to purchase my writings, tools and other merchandise not currently available to the general public

-exclusive videos and posts

-participation in Zoom Conference calls with Woniya and the rest of the Buckskin Revolution patreon team





Buckskin Supporter

Buckskin Supporters will make a substantial difference in what I am able to put out into world, helping fund video and audio equipment, a more capable computer, editing software, and more.

As a Buckskin Supporter you'll receive all of the benefits of the "Buckskin Believer" level, plus:


-A Patron only Buckskin Revolution sticker

-Articles I've written or chapters from my book in progress several times a year

-Discounted prices for my on-line courses and private classes

-Your name entered into occasional special offers and give away raffles




Buckskin Revolutionary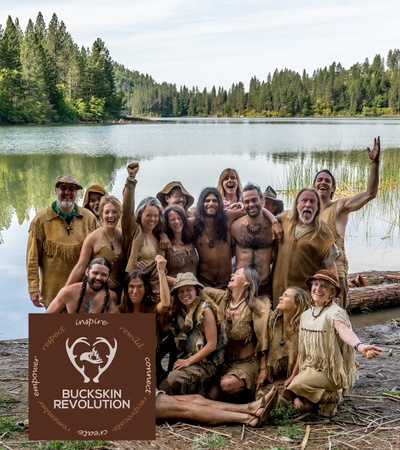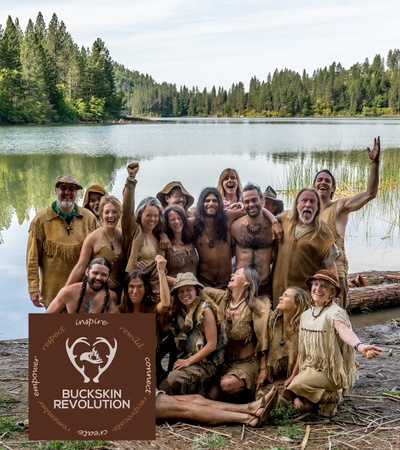 Wow, supporting me at this level will really help my dreams come true and multiply my efforts! It will help me hire editors for my videos and writing, and much more. I will be able to produce more and higher quality content
 
As a Buckskin Revolutionary you will receive the benefits of the other tiers plus

-Significant discounts to my classes, online courses and gatherings and the Buckskin Revolution Academy, once developed (in process Fall 2020)

 -A reduced rate for a one on one video conferencing session with me. 

-A PDF copy of the rough draft of my nearly complete book on buckskin sewing, titled of course, Buckskin Revolution.








About Woniya Thibeault, Buckskin Revolution
Buckskin Revolution is about making the world a better place by inspiring people to live a wilder, more sustainable, more connected life. It strives to foster connection to our deeper selves, our human community, and the greater than human world. Its mission is to remind people what it is to be human within the context of the wild world, and how to bring more of that awareness and wildness into our lives even within a more modern lifestyle. To foster empowerment and resiliency through sharing land based living skills and the skills our ancestors used to thrive; and inspire the sense of connection that humans evolved to have over the course of millennia of living in deep relationship with the natural world and each other.
My name is Woniya Thibeault, and I am the woman behind Buckskin Revolution. I have been studying ancestral and primitive skills since the mid 1990's and teaching them for over 20 years.  I have lived a lot of my adult life off grid and without refrigeration. I work to incorporate wild, hunted, gathered and home grown foods into my diet, I tan deer hides for clothing, I weave willow baskets, I spin and knit my own yarn, and practice natural building and other similar land based skills. With a higher education in biology and botany and a Master's in Environmental Science, I work to incorporate a love for and understanding of the natural world into my practices and teaching.
In 2018 I had the opportunity to put my skills to the ultimate test when I participated in Season 6 of "Alone" on the History Channel. I was dropped by myself into the wilderness just below the arctic circle with minimal gear and almost no food. I survived by myself for 73 days hunting and gathering from the land, and filmed the whole experience myself. I was the "runner up", stayong longer than anyone besides the first man to take a large game animal n the history of the show. While I have a strong background in the skills of wilderness survival, I believe that my success was more due to my love of the experience, my naturalist mindset and my connection to the place itself than to my physical skills
The combination of the public attention that came with my journey being televised and the Corona Pandemic have changed my world tremendously. Thousands of people have reached out to me about how inspired they were by watching me. Not just by because of what I achieved with so little, but more importantly, how the positivity, joy, and gratitude that I brought to it demonstrated an entirely different way of being than your typical "suffering your way through in spite of it all" survival show experience.
It felt important to me not just to inspire people through the show, but to give them somewhere to go with this inspiration, and to help them feel more capable and more connected as well. I intended to continue my in person teaching, but wanted to reach a much wider audience. Because my Alone experience involved camera training, I decided video would be a good way to do so, and started a youtube channel in Spring of 2019, in addition to my other teaching and writing projects. After pouring my heart and soul into these projects, it became clear that cresting and running what was essentially my own television studio, with myself as writer, talent, videographer, editor and promoter was way beyond what I could sustainably continue while making a meager living through my teaching and crafting projects, so I started my Patreon team fall of that year. The Corona virus crisis in the spring on 2020 cancelled my entire teaching schedule and sent me a while new direction with my videos- online courses. It has been a tremendous learning curve, but I have touched the lives of hundred of people through my classes, and though it has meant a more modern lifestyle than I have ever lived and more hours behind a computer than feels tolerable at times, the feedback I have gotten about how life changing it has been for my students has strengthened my resolve to carry on. The support of my Patreon team has been critical to this work. Membership has slowly grown from a handful of patrons and a tiny supplement to help my savings last longer as I lived on them, to over 100 supporters and enough funding to cover my film and computer equipment, platform fees, a studio space, some technical support for my projects, and some basic living expenses.
My hope is that the team will grow to the point than I can hire help with filming and editing so I can create more and better content, focus more on my writing projects, and have more time to spend living the wilder life that is so important to me and is the foundation for it all.
While my work online these days has me living a more modern lifestyle that ever before, maintaining a connection with that way of living is still of vital importance to me, as is demonstrating to others the way we can bring the wild into our lives, however and wherever we choose to live them.
I believe that what I am doing matters to the world. I believe that remembering where we come from as humans and practicing ancestral skills heals something inside us as well as something in the greater world. It serves us as individuals, a people, and a planet.
Learning these skills and connecting with the wild inside us and around us in these modern times is a revolutionary act. Your support helps further the Buckskin Revolution!
Viva la revolution!
This membership goal will help me purchase audio equipment to make my speaking engagements available to patrons as MP3 files

1 of 4
Become a patron to
Unlock 173 exclusive posts
Get discounts to an online store
Connect via private message
Recent posts by Woniya Thibeault, Buckskin Revolution
How it works
Get started in 2 minutes