Woniya Thibeault, Buckskin Revolution
is creating Videos and writings, talks and eventually, on-line courses
Select a membership level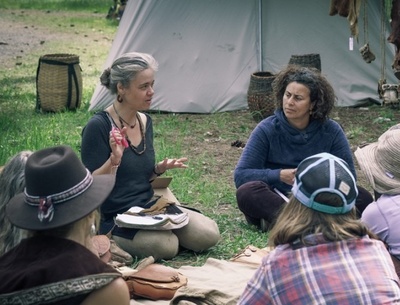 Buckskin Believer
Small monthly contributions add up and can help support me in creating more content in the form of videos, talks, writings, classes and on-line courses. 
Benefits of being a "Buckskin Believer" level patron include:
-Personal Satisfaction in knowing what a great thing you are supporting 😉
-Early access to Youtube videos
-Patron only videos
-Patron only posts and newsletters
-Eventually, pending funding for recording equipment, Access to my talks through audio files from my speaking engagements

Buckskin Supporter
Buckskin Supporters will make a substantial difference in what I am able to put out into world, helping fund video and audio equipment, a more capable computer, editing software, and more.
As a Buckskin Supporter you'll receive all of the benefits of the "Buckskin Believer" level: personal satisfaction ;), early access to Youtube videos, patron only videos, posts and newsletters, and audio of my speaking engagements.
Additionally you'll receive:
 
-A Patron only Buckskin Revolution sticker
-A photo of me holding a sign thanking you by name, or the name of a loved one, sent to you via e-mail (after 6 months of support)
-An article I've written or a chapter from my book in progress once a season by e-mail (until you've got them all!)

-Discounted prices for my on-line courses and private classes
-Your name entered into occasional special offers and give away raffles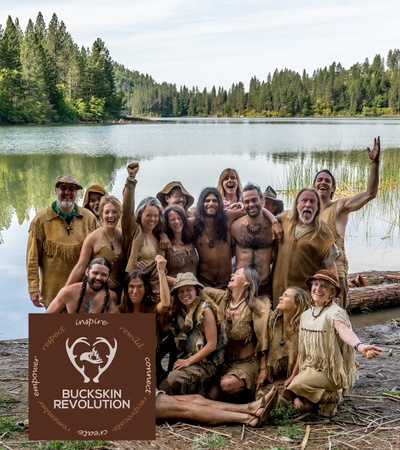 Buckskin Revolutionary
Wow, supporting me at this level will really help my dreams come true and multiply my efforts! It will help me hire editors for my videos and writing, and much more. I will be able to produce more and higher quality content
 
As a Buckskin Revolutionary you will receive the benefits of the other tiers: 
Early access to my videos and writings, Patron only videos with more in depth and personal content, Patron only posts and newsletters, a Buckskin Revolution sticker, a thank you photo, entrance into occasional special offers and give away raffles, and discounts on my developing on-line courses, as well as:
-One of my home made buckskin sewing awls. (After 4 months of patronage)
 -A small buckskin neck bag made by me holding mementos of my time on Alone: A piece of fur from a snowshoe hare I trapped and a piece of birch bark from my site with a quote and my signature (after 8 months of patronage)

 -A reduced rate for a one on one video conferencing session with me. 
-A PDF copy of the rough draft of my nearly complete book on buckskin sewing, titled of course, Buckskin Revolution.

About Woniya Thibeault, Buckskin Revolution
Buckskin Revolution is about making the world a better place by inspiring people to live a wilder, more sustainable, more connected life. It's about connecting to our humanness and fostering empowerment and resiliency through practicing the skills our ancestors developed over the course of millennia of hunting, gathering, and living in deep relationship with the natural world.
I have been studying ancestral and primitive skills since the mid 1990's and teaching them for over 20 years.  I have lived a lot of my adult life off grid and without refrigeration. I work to incorporate wild, hunted, gathered and home grown foods into my diet, tan deer hides for clothing, weave willow baskets, spin and knit my own yarn, and practice natural building and other similar land based skills. I am also a trained biologist and botanist with a master's in Environmental Science. I work to incorporate a love for an understanding of the natural world into my practices and teaching.
In 2018 I had the opportunity to put my skills to the ultimate test when I was invited to participate on Season 6 of "Alone" on the History Channel. I was one of 10 people dropped individually into the arctic wilderness with minimal gear and almost no food. I survived by myself for 73 days hunting and gathering from the land, and filmed the whole experience myself.
Since the show, hundreds of people have written me expressing the inspiration they've felt through witnessing my journey. It seems clear that this inspiration came as much from my approach and sense of connection as from the other skills I displayed. While many other participants were experiencing similar conditions and suffering, I was loving every minute, and outlasted all but one other participant, largely because of the deeper skills of connection and gratitude.
Hearing how much my story touches people has prompted me to continue with that momentum and offer the world more. As someone who has always been motivated to teach and empower people, I asked myself, "Now that I have self-filming experience and a larger audience, how can I continue inspiring and sharing with that audience?" Thus began my film making ventures and Youtube channel. My videos focus on skills and practices for sustainable and wilderness living, a sense of connection and deep resiliency, as well as more details about my Alone journey and the way I live my life.
I love creating content, but it is a tremendous amount of time and work and requires significant investment. Since starting my Youtube channel, it has become clear that earning enough to cover the costs of equipment, software, and other expenses involved, much less earning a living through Youtube, is very challenging. Supporting oneself through Youtube seems mostly limited to those willing to work behind a computer full time. As someone who strives to live a wilder, freer life and to help others do the same, a full-time computer job is not for me. That is where you and Patreon come in!
Your support will help fund video and editing equipment, software and training. It will support me in putting out more and higher quality content and branching into other mediums. I am currently working to edit and release Volume 1 of my first book (nearly complete!), finish writing Vol. 2, and on other writing projects. It will greatly help these projects by allowing me to hire professional editors, and will help fund the development of on-line courses to provide more in-depth instruction than my shorter videos can offer and support the books contents by offering visuals.
Thank you for considering becoming a patron. I believe that what I am doing matters to the world. I believe that remembering where we come from as humans and practicing ancestral skills heals something inside us as well as something in the greater world. It serves us as individuals, a people, and a planet. Learning these skills and connecting with the wild inside us and around us in these modern times is a revolutionary act. Your support helps further the Buckskin Revolution!
Viva la revolution!
Building a mobile tiny workshop/classroom would give me a permanent base for my business that goes where I go, so I can bring equipment and raw materials with me, which would greatly facilitate my ability to teach in more places and would make my life a lot less chaotic and more productive.  This membership goal will allow me to begin work on this project

4 of 4
Recent posts by Woniya Thibeault, Buckskin Revolution
By becoming a patron, you'll instantly unlock access to 13 exclusive posts
By becoming a patron, you'll instantly unlock access to 13 exclusive posts