Pedro Galicia
is creating the World Walkers Universe through podcasts
Select a membership level
Thank You!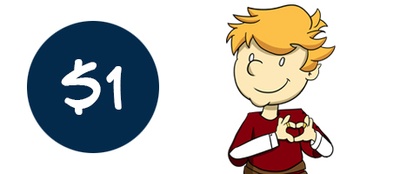 Thanks for becoming a member of the World Walkers Patreon Community! I'm excited to have you join! As a way of saying thanks,  here's what I want to share with you:
Monthly Updates: You'll receive monthly updates where I'll share upcoming news and updates on what's happening across the World Walkers Universe. If you want to know what's happening across the different games that I run, this is the best way to find out!
Patron-Exclusive Discord Channels: You'll gain access to the Patron-Exclusive channels on our World Walkers server on Discord. 
Includes Discord benefits
Early And Exclusive
This tier is for people who can't wait to find out what happens next, or who want more than you can find out there in the wilds. In addition to support World Walkers, you'll unlock:
Early Episodes: You'll have access to episodes before anyone else. That means first dibs on World Walkers, Cog and The Other Ones!
Side Adventures: Sometimes, someone will go off on an adventure separate from the rest of the group. These are known as Side Adventures, and members of this tier gain access!
LiveDraws: Hang with us as we answer questions and take requests each month during our livedraw sessions!
Includes Discord benefits
Behind The Screen
When you become a member of this tier, not only are you getting everything in the previous tiers, you'll also unlock:

Monthly Q&A Livestream: Every month, I'll answer questions submitted by members of this Tier through a one-hour Q&A livestream. Whether it's encounter design, character creation, help with a situation in your game, we'll talk it out each month.

The World Walkers Campaign Guide: You'll be able to download the rules the players in the World Walkers Universe use. That means my custom races, new feats and even my new class, the Summoner.
Includes Discord benefits
About
What's up everyone. My name's Pedro, and I'm GM and Creator of the World Walkers Universe. Whether you found us through World Walkers, our weekly world-hopping podcast, or World Walkers: Cog, our steam-powered podcast, thank you for taking the time to check us out.

What Is the World Walkers Universe?

The World Walkers Universe is an original series of worlds set in a tabletop roleplaying game. For over twenty years I've been telling stories in these settings, and now I'm able to share these adventures with everyone. What sets the World Walkers Universe apart is its focus on worldbuilding, from the Shattered Timelines of Obrimos to the airship-filled skies of the Steam-Powered World of Cog, all the way to the demon-infested Broken World of Pazmos.

World Walkers focuses on a group of world-lost travelers struggling to discover where they are and why, while World Walkers: Cog follows the exploits of a mismatched group of adventurers on a planet of airships, gunslingers, ex-slave wargolems and a shattered kingdom of magic.

Right On! But Why Patreon?
Through our members' support, I've been able to cover website costs, purchase and upgrade equipment, keep ads completely off the podcast, and turn this into my full-time job. By becoming a member of the World Walkers Patreon Community you can help keep all of this happening.

Besides that, you'll gain access to all kinds of rewards. Anything from custom rules to use in your Dungeons and Dragons game, early and exclusive episodes of the podcasts, and more.

However! If you aren't able to help through Patreon, but you want to help, telling others about the podcasts is a HUGE help. Spread the word on Twitter, Facebook, leave reviews on iTunes, anything you can do is amazing.

$800
-
reached!
per month
#GREILA SIDE ADVENTURE

If we hit this goal, we'll put together a very special Side Adventure starring two of our favorite World Walkers:

Callie and Callie.

For those that don't know, Callie is currently playing two characters, Leila and Greg, as she transitions characters. If we hit this goal, she's agreed to play in a special Side Adventure starring her. And her.
4 of 4
Become a patron to
Unlock 498 exclusive posts
Connect via private message
Recent posts by Pedro Galicia