Wrestling Soup
is creating Wrestling Soup
Select a membership level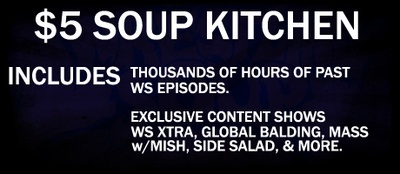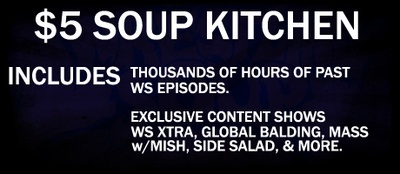 Your $5 support includes:
Thousands of hours of past Wrestling Soup episodes and exclusive content shows like WS Xtra, Global Balding, Side Salads, Remastered WS, Mass w/ Mish, Solo shows, & more.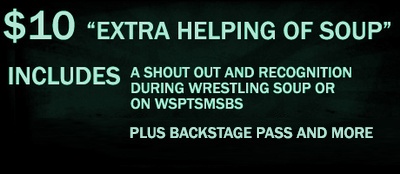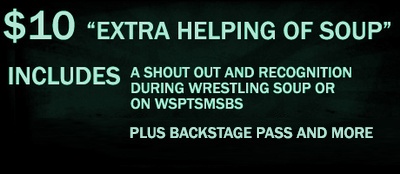 Your $10 support includes:
A shout out and recognition during Wrestling Soup or on WSPTSMSBS.
Your name will also be recognized on
WRESTLINGSOUP.com
on our "Wall of Soupporters".
This also includes the $5 Soup Kitchen rewards.
Your $25 support includes:
A random Wrestling Soup article of propaganda. This includes everything from pins, postcards, stickers, beer koozies, posters, & even Wrestling Soup t-shirts.

Your support also comes with the rewards from the $5 AND $10 tiers. 

*shipping charges may apply
About Wrestling Soup
Hey folks.
This is the part of Patreon where I'm supposed to describe what Wrestling Soup is and what it is we'll be doing with your hard earned donation, but I'm a bit at a loss for "what is Wrestling Soup"? 
I guess in the clear cut definition, "Wrestling Soup" is a talk show that is based around professional wrestling but we have never let professional wrestling define what we talk about, or for those familiar with the show "Wrestling Soup isn't a wrestling talk show, it's a show that HAPPENS to talk about wrestling".
But what Wrestling Soup really is; is Joe Numbas and Anthony "Missionary" Thomas talking about everything and anything else. Music, comedians, viral videos, political topics, theology, football, hockey, etc. etc. whatever comes up. Whatever we find important to talk about.
Why? 
Because Wrestling Soup dares to step outside of the lines of what is deemed a professional sports show and go against "comfortable". Because the fans of the show are so much more than just one topic for 2 hours at a time. Because hosting a show like ours isn't going to get us "points" with important people, or special interviews, because we don't pull punches and we like it that way.  
I get the "encyclopedia" analysis shows out there. They serve their purpose. Those are fine.
But if I want an opinion or news, I want to hear the important news and an opentable opinion as the option, not a bunch of fluff topics and yes men all agreeing with each other. 
So I guess that's what Wrestling Soup is. For the last 6+ years it's the show that doesn't really care about whether or not it
impresses somebody in the industry. It's the show that doesn't try to be anything more than entertaining and honest. You can find anywhere from 20-50 thousand people listening each week and hundreds of people chatting with us during the shows hopefully laughing their asses off at joey and myself. 
If so? Then we've done our job. 
Joey Numbas grew up in Boston pretty much all his life and got into wrestling early. He was trained by Killer Kowalski among other greats and wrestled/ref'd locally for over 15 years.
I'm a native born Chicagoan who grew up as a wrestling fan and found his niche working in audio engineering, production, and broadcasting in terrestrial radio.
So why do we need your donations? Because everything costs money, and we would like to know that the hours we give is entertaining enough for some people to want to give back and help out the cost of running the show.
Any amount is humbly appreciated and we look forward to giving the donators something special in return. From The Soup Kitchen (archive shows) to paraphernalia and much more. We're working on plenty of new ideas in order to help the show thrive and grow. 
So that's it. 
Like when Tommy got whacked on Goodfellas. 
If you have any questions or w/e get ahold of us on the twitter, the facebook, etc. 
We look forward to hearing from you and most of all thank you. 
Thank you for listening to "Wrestling Soup" Motherf*ckers.
- Mish
Become a patron to
Unlock 572 exclusive posts
Connect via private message
Recent posts by Wrestling Soup
How it works
Get started in 2 minutes