Xena Zeit-Geist
is creating Burlesque & Cosplay
Select a membership level
Muggle
A peek inside the dressing room & the studio—get a patron-only perspective on my work.
Includes
Behind-the-scenes pics & videos
Join the patron community
Patron-only content feed
Patron-only polls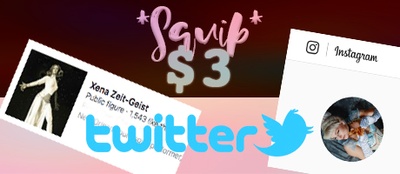 Squib
Homies helping homies! Become my Internet friend on whatever social media platforms you're on.
Includes
Behind-the-scenes pics & videos
Join the patron community
Patron-only content feed
Patron-only polls
Follow you on social media
Thank you shout-out on my social media pages as well as The Society of Sin's
First-Year
See all of the shows you've always wanted with a discount code for 20% off tickets to any/all of The Society of Sin's shows where tickets are pre-sold online via Eventbrite (so pretty much all of them). Plus all previous rewards!

Includes
Behind-the-scenes pics & videos
Join the patron community
Patron-only content feed
Patron-only polls
Follow you on social media
Thank you shout-out on my social media
20% off Eventbrite tickets to Society of Sin shows
About Xena Zeit-Geist
I'm 
Xena Zeit-Geist,
and nudity, nerdiness, and satire are my full-time job. Oh, and glitter. Glitter is also my job.
I live in the magical world where cosplay and burlesque meet, also known as nerdlesque. I create a TON of cosplays every year— at least one per month, on average—and I do a lot of photoshoots, but I'm perhaps best known as the Founder, Artistic Director, and all-around Head Bitch in Charge at 
The Society of Sin Burlesque & Variety
, a production company dedicated to creating the sexiest, nerdiest live shows imaginable. Our most popular events are our "live-action fan fiction" shows—burlesque plays that parody our favorite TV shows, comic book series, movies, etc., and that have stripteases interwoven with the plot. (Check out 
this video of The Society of Sin's Gotham City Sirens sultry group number
and 
this fun Adventure Time-rewrite of Wicked's "Popular"
for a better idea of what I do.) 
If you love The Society of Sin and want to throw some money toward our budget for shows, but the monthly thing isn't for you, 
just send us a tip on Paypal
. You can also 
send me a tip to my personal Paypal
, if you'd rather help me buy costumes or save to cover my SAG membership or something just for me that doesn't directly affect the shows I produce.
Here are some other places you can find me and The Society of Sin, if you want to get to know us better: 
Facebook 
/thexenazeitgeist
or 
/thesocietyofsin
Instagram
@xenazeitgeist or @thesocietyofsin
Twitter
@xenazeitgeist or @thesocietyofsin
Youtube.com/xenazeitgeist 



All of the money that I earn from Patreon goes right back into the art. You're not paying for my lifestyle (though it is a glamorous one that involves a lot of sitting on my couch in Batman pajamas gluing rhinestones to things and marathoning Star Trek while high on e6000 fumes); you're paying for the materials, equipment, talent and labor I use to create kickass nerdlesque shows and giving me the ability to try out new ways to reach people with my work.
Your support allows me to create bigger, better, sparklier shows, more breathtaking costumes and extravagant props and set pieces, to help feed NOLA's bevy of hot, nerdy, amazingly talented, starving artists, and to spread the art of risqué entertainment around the world. It's a pretty dope thing to be a part of, I assure you.
You can even already see some pretty awesome improvements in our shows since I've started Patreon, like the fact that we can actually pay a videographer to capture all of our big shows on film now, this awesome Disney castle we had made for our "Once Upon a Tease" show and the badass throne we got to use for "A Thong of Fire & Ice" (also pictured: me dressed as Arya Stark doing some stripper acrobatics for the winner of the show's raffle). Patrons like you helped make that possible!
Patreon allows fans to support creative works with recurring monthly payments in exchange for exclusive content and rewards.
My Patreon is run on a monthly basis, meaning that your pledge will be charged in the first couple days of every month, and you will receive rewards monthly. For example, if you sign up on April 18, you'll be charged around May 1 and start getting your rewards at the beginning of May. Different pledge levels receive different rewards (check out the different reward tiers at the right of the page to figure out which one is best for you). If there's a reward that you don't see listed that you'd like me to consider adding, don't be afraid to ask!
Typically, I produce 1-3 big pop culture-themed shows every month (like "One Tease To Rule Them All: A Lord of the Rings Burlesque Show" or "Harry Potter & the Bedchamber of Secrets: A Burlesque Play"). For me, this means writing the show (if it's a play writing a script or writing jokes for it if I'm hosting), finding the right cast and crew to perform in the show, run lights/sound, run door, stage manage, build a set, film it, etc., creating all of the promotional material and putting them out into the world irl and online, usually creating 1-2 new costumes per show for myself (and usually spending time helping other cast members with theirs), choreographing new routines, coordinating/managing rehearsals, taking behind-the-scenes pics and videos, working with the venue, dealing with ticketing, organizing photoshoots, performing in the show, making sure things are running smoothly the night of and everyone's having a great time, and eventually paying everyone who was a part of the show and thanking them for their work.
I also produce a weekly nerdlesque revue, "Talk Nerdy To Me" every Saturday at 7p at The Dragon's Den (435 Esplanade Ave., NOLA) and a monthly fetish-inspired show, "Stripped Into Submission," at the Hi-Ho Lounge (2239 St. Claude Ave., NOLA), which aren't as high-maintenance as the big shows but are still a good amount of work.
Most of the stuff on this page will be focusing on the big shows, though, since that's what most of my time goes toward. You'll get to see a lot of my costume construction progress, help me choose new characters to cosplay/create nerdlesque acts for and what show themes to pursue, and be the first to know about stuff I'm planning for The Society of Sin. However, even if you're not local to New Orleans and never make it out to see one of my live shows, I want to provide plenty of photos, videos, and content for you to interact with to keep you entertained. 
Though a lot of my content will stem from my live productions, I also do a lot of modelling and will share stuff from those shoots here that I may not share other places (or you'll at least be likely to see it first). I'm also getting into vlogging and getting back into sketch comedy and will post things from that from time-to-time. I'm dipping my toes in the water of photography, also. I started just playing with an Instax Mini and liked that so much that I bought a Holga, a Polaroid 600, and a DSLR that I use to photograph performers, models, and for self-portraits. You'll probably be seeing a lot of that. 
I do a lot of boudoir shoots, and obviously, since my shows involve the art of the striptease, a lot of my content could definitely be considered risqué, but I try to keep it pretty tasteful. I don't really do full nudity and try to stay away from doing sex appeal just for the sake of sex appeal without some greater significance or tie-in to something I'm passionate about. 
Thank you for supporting the naked, nerdy, sparkly arts! Your support means the world to me! We're going to make some damn cool things happen together!
XOXO, 
Xena 
I'll do a special Q&A live stream just for my Patrons in whatever cosplay/costume you select for me via poll!
2 of 7
Recent posts by Xena Zeit-Geist