yosry sallal
is creating Applications and software that facilitate the rules of Arabic gr
Select a membership level
داعم سادس لشبكة نحو دوت كوم
ادعمونا رجاء .. وأعفونا ممَّا نعانيه من عذاب في سبيل استمرار مواقعنا وإصداراتنا في خدمة النحو واللغة العربية

Patron-only posts and messages
داعم خامس لشبكة نحو دوت كوم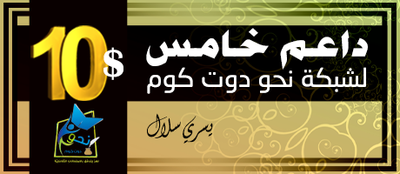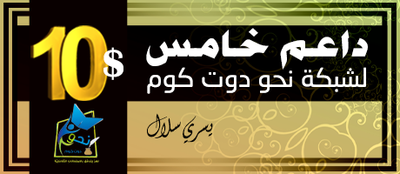 ادعمونا رجاء .. وأعفونا ممَّا نعانيه من عذاب في سبيل استمرار مواقعنا وإصداراتنا في خدمة النحو واللغة العربية
Patron-only posts and messages
داعم رابع لشبكة نحو دوت كوم
ادعمونا رجاء .. وأعفونا ممَّا نعانيه من عذاب في سبيل استمرار مواقعنا وإصداراتنا في خدمة النحو واللغة العربية
Patron-only posts and messages
About yosry sallal
أخوكم يسري سلال مؤسس ومدير شبكة نحو دوت كوم
https://www.alnahw.com/
التي تعمل في خدمة دارسي اللغة العربية والنحو العربي منذ 11 عامًا والمؤسِّس والمنسِّق العامُّ لمبادرة نَحْوَ نَحْوٍ جَدِيدٍ
http://newnahw.com/
والملقب بأيوب النحو والمعلمين ورائد النحو التفاعلي في العالم العربي .. أصدرنا عشرات التطبيقات والمواقع والكتب والإصدارات المجانية والتي تدور جميعا في قلك تيسير النحو على المتعلمين .. بدعمكم نستمر.
[email protected]
- هاتف وواتس آب 00201096263877
حمِّلوا أغلب تطبيقاتنا في النَّحو والإملاء والعروض والبلاغة وغيرها من هنا:
https://play.google.com/store/apps/developer?id=yo...
Your brother, Yosry Sallal, is the founder and director of https://www.alnahw.com/ network, which has been serving Arabic language and grammar students for 11 years. He is nicknamed Ayoub Grammar, teachers, and the pioneer of interactive grammar in the Arab world. We have released dozens of applications, websites, books and free publications, all of which revolve around facilitating grammar for learners. With your support we continue.
Recent posts by yosry sallal
How it works
Get started in 2 minutes