Zack Soto
is creating Sci-Fi/Fantasy Comics (The Secret Voice & more), Zines, & Art!
Select a membership level
The Good People of Earth
You feel good, I feel good! Let's be friends. Internet friends.
I really appreciate your support! There will be occasional blogging.

Webcomics On Main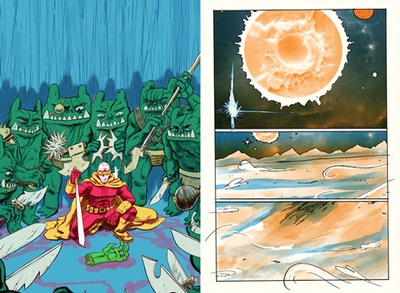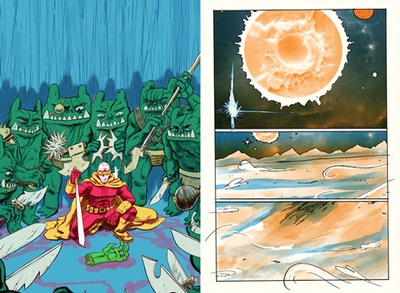 $3 a month gets you access to *two exclusive new webcomics* — The Secret Voice Volume 2 & Maps of The Unknown World. PLUS: There will be process videos, tutorials, animation experiments, and a monthly podcast component (TBA).
Family Way
Pick this level to read the two main webcomics PLUS Patreon-exclusive autobio/journal comics. The schedule on these will likely be erratic for a while, but there will be at least one a month.
About Zack Soto
Hi! I'm Zack Soto and I like to draw monsters, weirdos and more. Some recent life changes mean I'm able to really dedicate myself to my art for the first time in years. To say I'm excited about that would be an understatement. It's also sort of scary! Your Patronage not only gets you realtime access to my creative output, but it also could allow me to extend this fertile period indefinitely—your interest in my work and my survival as a creative being is humbling and much appreciated.
I've been a professional cartoonist and small press publisher for about 18 years (under the 
Study Group
banner) and while I've done a bunch of short stories and anthology comics,
The Secret Voice
is probably the work most people know me for.
The
Secret Voice
is my version of an "epic fantasy-adventure comic," though there are elements of metaphysics, art comics, super hero fiction and science fiction to round it out. In The Secret Voice, warrior-monk Dr. Galapagos races against time to stop a war, save himself, his world and everyone he holds dear. There's action, mysticism, kung fu, trolls, epic battles, conspiracies, hand-to-hand mayhem, secret societies, romance, psychic showdowns, bloody battlefields, and dark forces!
(Reviews: 
goodreads
/broken frontier)
The Secret Voice Volume 1
is out now
from Floating World Comics
. It's for sale there, at 
your local book/comic store
, and all the 
usual
online outlets
. You can actually read the bulk of Volume 1 for free on
Study Group Comics
right now. Get caught up there and sign up for the Patreon to read what comes next. There will be 3 books in the series before it is done. If you just discovered SV through the book, you don't have to wait a year or two before you find out what happens next. I'm going to serialize
The Secret Voice Volume 2
here on Patreon, exclusively for backers—with a brand new page
every other week
, starting in May 2019.
On alternating weeks from The Secret Voice updates, we will have 1-2 page updates of my Weird Sci-Fi comic,
Maps Of The Unknown World
. It's a bit of a shaggy dog inter-dimensional caper/thriller. I'm excited to get to revisit this other world(s) of MoTUW (The first two episodes of MoTUW were originally published in the Secret Voice comic series #2 & 3) and get further into both the story and the mode of making of comics this way. I think of MoTUW as a place for me to stretch out and get weird, and not just on a narrative level.
PLUS: There will be process videos, tutorials, animation experiments, and a monthly podcast component (TBA). 
Both of these exclusive webcomics and all the additional content noted above are available to anyone backing at the $3/month level or above.

---------
Additionally! I've been working on autobio/diary stuff lately and while I won't be producing these on any set schedule, there should be at least one of these posts a month.
These posts are available to the $5/month backers.
---------
My other major project for the foreseeable future is a science fiction project that's a Middle Grade readers book series. Unfortunately, I can't really talk about it or post detailed process pics until it's actually announced, but I'm working on that full steam ahead. I'll likely post thoughts, impressions, and eventually some teasers for that work when I am able.
----------
Do you want some original art?!
Can't afford to 
commission some all at once
? There's a tier for you! Actually, there's TWO tiers!
Commission Level 1
is for relatively simple portrait/bust type paintings of a character or subject of your choosing. Your painting will be done on 8"x10" hot press watercolor paper. Here's some recent examples:
Commission Level 2
is for a more full-fledged painted scene. Again, you get to pick a character of your choice, or alternately pick a few words to base the piece on and see what happens. Your painting will be done on 9"x12" hot press watercolor paper.
If you sign up for either of the two Commission Levels, you get a high resolution PDF download of The Secret Voice vol 1!

*** Both Commission levels require 12 months of continuous backing at the $10 & $15 a month level, respectively. Sign up period for commissions is April 1-May 30, at which point the list will be locked for the year. ***

---------
Thanks for reading!
- Zack
$127.68 of $200
per month
Launch Omens: I just re-launched this thing, let's make it to $200!
1 of 3
By becoming a patron, you'll instantly unlock access to 94 exclusive posts
By becoming a patron, you'll instantly unlock access to 94 exclusive posts
Recent posts by Zack Soto
How it works
Get started in 2 minutes