Zebrana Bastard
is creating art in every way she's driven
Select a membership level
100 Pennies for my Thoughts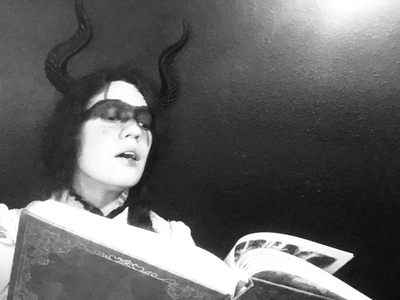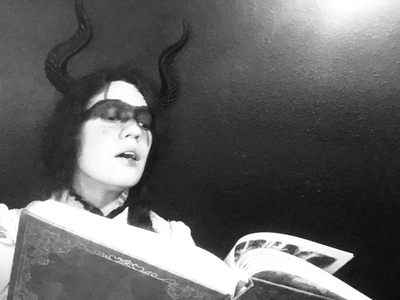 Perhaps you enjoy music, performance, writing, or anything I've done, and would like to support the continuation of my creative outlets, then this is the tier for you! Maybe you have no idea who I am at all, but you're curious, then welcome to a small investment that won't kill you or break the bank while you decide if you'd like to join me for the long haul! You also get early access to Podcast episodes.
Patreon only blog updated weekly
Early Access to Podcasts
Eternal Thanks and Gratitude
300 Pennies for my Poems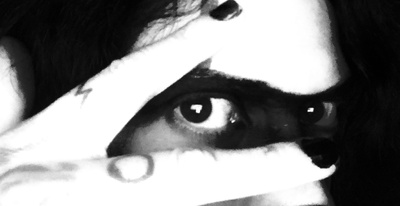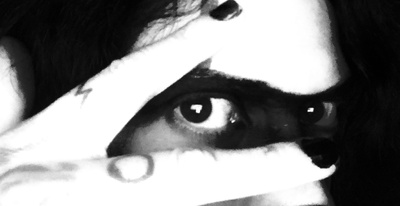 Poems, Lyrics, Stories and other Writings beyond journal entries, plus links to download music when it's available.
Everything available from the 100 Pennies tier, plus...
Digital downloads for music, when available.
Lyrics, Poems, any writing that isn't normal blogging/journaling.
15% Off Jewelry and Art in my Etsy Store.
 Sneak peaks on book chapters and invites to youtube q&a hangouts.
500 Pennies for my Buttons
Limited (39 remaining)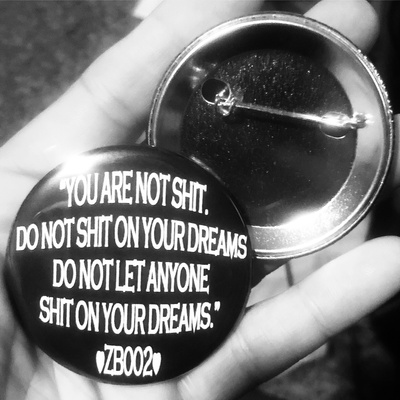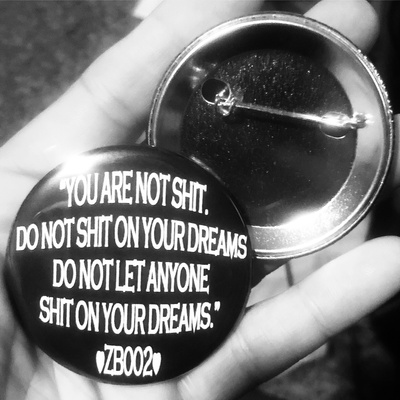 I have been making custom buttons since 2011. Every month, I will make a special button that is only available to Patrons who support me at this level. 
Everything from the 100 Pennies and 300 Pennies tier, plus...
Collectible button, wearable piece of art that is hand made with love by yours truly and mailed directly to you.
Different design featured every month, representing me and any of my projects and a description of why that design was featured.
Button size and style may vary month to month
About Zebrana Bastard
To Those Who Know Me:
Were you around when I used to blog about everything? Do you remember the first time you ever heard me play or saw me perform? Did you enjoy reading when I poured the truth of my heart out into written word? Full speed ahead, no stops, no breaks...that's how life works. The good, the bad the everything. I took it all to Patreon. It's a platform for artists to gain support from their friends and fans directly.
Think of Patreon like crowdfunding, but with constant input open to all involved with a chance to evolve and grow together. It is all things
Zebrana Bastard
, with blurred lines from where she ends and I begin because she's always been an extension of myself, rather than an alter ego. The supporters I currently have is how I'm able to pay for the bandwith to host the podcast. Both the live episodes that everyone gets, and the complete unedited versions, before anything hits the cutting floor.
When I post new music, I do it here first. Over 25 years of poetry, much which no one has ever seen...it's in here and building...snippets for the book I've been working on...it's in here and building...new ideas...it's in here...discounts to my art, my etsy and shit...it's in here and building. Early access to podcasts soon as I finish them, also in here. If you've ever been a fan of mine and you want to see the story unfold in real time...it's in here. It takes a buck to access it...your buck for the whole of my life...a buck a month, 12 bucks a year. I'm picking up where I left off before I decided that being a cog in the wheel was what I needed for a time. It's deep, it's dark, it's joyous, it's as real as it's ever been before my journey took an unexpected turn in 2014.
This is where I'm building my community, to filter through the people who just add me on social media because we have x-amount of friends in common or because they saw a pretty face. If it's not your cup of tea, I'm not upset. But if you missed the way I shared my heart...it exists here in it's entirety...hugs and loves. This is my online house show, the core of my world, and I miss my people.
To Those Who Want To Know Me:
I have been a creative child for as long as I can remember and was blessed with many gifts and talents for a variety of art mediums. First, I became a writer. Second, I became a seamstress. Third, a musician. I also have a passion for decoupage and creating art from found objects. As I've grown, I've decided to try whatever interests me and build upon my ever growing skill set. 
All the years I've been creating, I was often leery of the kindness of others and their willingness to jump aboard whatever train of ideas was coming down the tracks, but still I managed to do some small successful tours and sell my art. Self-esteem was hard to come by for many years of my life, and yet there always seemed to be someone who felt my ideas were worthy of encouragement and investing in.
For a couple of years I have toyed with the idea of joining Patreon and talking myself out of it. What if no one will support me...what if I hit a dry spell...what if I have nothing to contribute?
Within my first twenty-four hours of joining Patreon, I had four supporters. Four people to hold me accountable to what I said I would do, and so I do. 
I have been putting myself out there for years and I do have fans who feel more like friends that I've collected over a time, the community will build as we grow. I've always been a very candid writer and fairly open about my life as I navigate my way through the minefields of trauma and damage, always striving for a better day and a better me. So I will use my Patreon as a platform to let people get to know the inner workings of the creature that is me, and if that seems like something you'd be into, then I highly encourage you to climb aboard this creative train of mine.
To celebrate reaching 500 patrons, I will start doing live video readings once a month, open to all level Patrons.
2 of 4
By becoming a patron, you'll instantly unlock access to 165 exclusive posts
By becoming a patron, you'll instantly unlock access to 165 exclusive posts
Recent posts by Zebrana Bastard
How it works
Get started in 2 minutes