Zero-G Nexus
is creating Battlemaps, Worldmaps, and Scenic Views
Select a membership level
Cavalry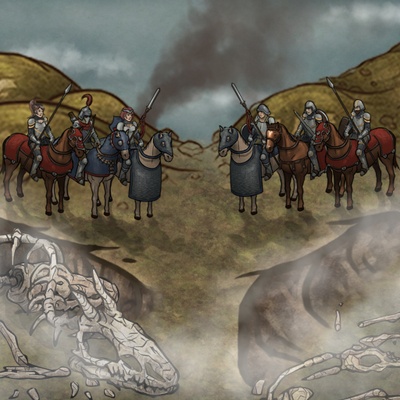 Our soldiers learned quickly to depend upon the rapid and brutal efficiency of our Cavalry in the thick of battle. Striding into battle atop armored warhorses and adorned in the finest gear, you emerge at the enemies flank and throw their ranks into chaos. Always on the move, striking with lightning precision and vanishing into the skirmish like a phantom, you are the vital backbone of our army.
The
benefits
of this Tier include:
My deepest appreciation and gratitude
Access to Patron-only Polls
Exclusive Battlemaps in the form of Air Strikes and Supply Drops
Access to all previously released content.
High Quality JPEGs and VTTs. Grided, Gridless and No Canopy (when applicable), as well as a printer friendly versions of each map.
Night (or otherwise altered) versions of each map/scene
Commission Discount:: You receive 10% off the price of any commission you order. Please email me at [email protected] instead of using the Ko-Fi link, otherwise it will charge you in full.
Includes Discord benefits
Air Support
Only the finest engineers, pilots and fighters are ultimately recruited as Air Support. Piloting the best airships our people can create, you patrol the skies and provide rapid support and intel. When danger inevitably rears its head, you descend from the clouds with weapons at the ready and spells hurtling towards our foes. Not to be outdone by the opening salvo, the boarding party that follows never fails to finish the job.
The
benefits
of this Tier include:
 All Cavalry-Tier benefits
 Once per month you may request an Airstrike. When requesting an airstrike battlemap you can either give me a brief description, even as simple as a couple of words, or you can go into further detail. Each side can be a minimum of 5 squares and a maximum of 20, with the two sides totaling no more than 30 squares. Your submission will be placed into a pool with any other Air Support members submissions, and I will select one or two at random each month. If a previous winner is drawn again, they will be skipped until all other Air Support members have had their submission created, so that everyone gets a turn. Patron requested airstrikes will only be shared with Patrons.
Includes Discord benefits
Summoner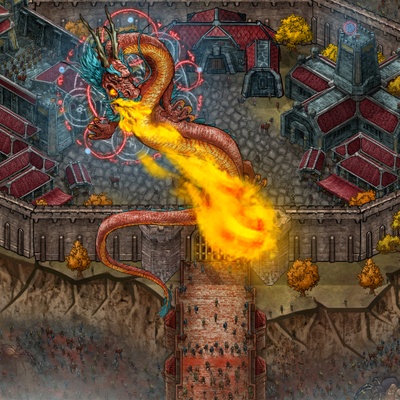 When the tides turn against us and hope has faded from view, you join the fight with a thunderous beckoning, calling forth mighty beasts and terrible elements, laying waste to our enemies and keeping our people safe. Masters of ancient magics and wielders of Eldritch artifacts, Summoners provide sanctuary and wrath alike.
The
benefits
of this Tier include:
All Air Support-Tier benefits
Access to Summoning Circles which contain the DungeonDraft files for all of the battlemaps that I publish. Learn from my process, make specific adjustments for your game, whatever you'd like. NOTE: I have a large list of asset packs loaded with every project. This could make it difficult to use these files without also downloading all of the same packs. I am working on an updated list of used asset packs, though even that will only help so much. Please keep this in mind if you're signing up specifically for this benefit
Includes Discord benefits
About
Welcome to the Nexus!
Hello there, I'm Zach and I make Battlemaps and Scenic views for TTRPGs. Please feel free to send any questions or concerns to my email,
[email protected]
-- FREE ARCHIVE --
-- PATRON'S ARCHIVE --
I've been drawing up world maps and dungeons since pretty much the moment I discovered D&D at the local gaming shop when I was thirteen. I just had a pencil and paper back then, but now thanks to incredible programs like DungeonDraft and Inkarnate, I've been able to make the jump to digital. I've never really considered myself an artist and generally kept sketches to myself or my close friends, but this has really given me a boost in confidence and enjoyment.
Choosing to back me is a great way to show your support, but you are always welcome to the free map packs and scenes that I post here as well.
For now I'm making approximately one
Map Pack
a month, which can consist of a large multi-level map, or three individual maps of a given theme. Each map not only comes with variations, but most will also have matching scene that I make beforehand with Inkarnate. I also create random scenes from time to time and share them here first. In addition, I release smaller random / Patron requested maps as
Airstrikes
, and larger random / commissioned maps as
Supply Drops
. Some of these will be free, others are only for Patrons.
Thank you so much for you interest, encouragement and continued support, it means the world to me.
Attributions
I use assets from each of these amazing creators who either have assets licenses as
CC-BY
or
CAL-NR/CAL-BY 
in addition to purchased licenses or those granted through written permissions. If you like -any- of the work that I produce, please, please go and give them some love. I would be nothing without them.
- Essendi -
- Tyger_purr -
- Gnome Factory -
- Synecdoche -
- ApprenticeOfAule -
- Nexoness -
- Geordi__LaForge_ -
- Magicspook -
- vevedere -
-
- Elven Tower -

- Jasparagus -
- Cannyjacks -

CONTENT WARNING
Some of my maps don't shy away from blood and darker themes through environmental storytelling. These may or may not be upsetting to some people, so I would like to offer you the chance to turn back now if these topics may offend you in any way. Please stay safe and well out there.
Discord
If you'd like to follow along closer or just say hi, please feel free to swing by the discord
https://discord.gg/8spzZHs
Licensing
All content shared here is licensed under
CAL-BY-NC
license unless otherwise specified. Feel free to share them around, but please provide credit (Mention ZeroGNexus, and provide this link
https://www.patreon.com/zerognexus
)
Summoner Tier Patrons may use any of my maps if they were licensed as
CAL-BY-NCR
Map Shop
If you'd like to just support me by grabbing a particular map pack, please check out my Ko-Fi shop
https://ko-fi.com/zgn/shop
Donations
If you would simply like to make a donation, you are more than welcome to check out my Ko-Fi, and thank you so much :D
https://ko-fi.com/zerognexus
Commissions
If you just have a specific map that you'd like made, you're welcome to commission me.. All prices are subject to change
.
For a more streamlined experience, please visit
http://ko-fi.com/zgn/commissions


Patrons should contact me via email to receive their discount.
Payments are to be made
50%
upfront,
50%
upon completion and are non-refundable unless the product has not been delivered within
30 day
s, after which time you may request and will receive your money back. Please note that Ko-fi commissions work differently and will take the full amount up-front.
When you commission a map, you will receive a
256 PPI JPG
with
Grid
and
No Grid
file, a
70
and
140 PPI No Grid UVTT
file, and a
256 PPI Printer Friendly
file. Larger maps may need to be exported at slightly lower resolutions. If you need something more specific, please inform me.
When placing your Commission, please inform me if you would like this piece to be kept
Private
between us, shared with just my
Patrons
as a
Supply Drop,
or shared with the
Public
as a
Free Supply Drop
.
You may commission maps licensed under CC BY 4.0. [NOTE: If you wish to use a map commercially, please let me know so that we can discuss which assets to use]
[15 x 15] $20 / $18
for
Patrons

[25 x 25] $40 / $36
for
Patrons

[24 x 36] $70 / $63
for
Patrons

[50 x 50] $100 / $90
for
Patrons


If you require something larger, please email me with the details at
[email protected]
and we can work out a price.
I will make Youtube tutorials for Dungeondraft, as well as create a large 50x50 Patrons-only battlemap for the first set of videos. There will be a patrons only poll to decide what this map should be.

2 of 4
Become a patron to
Unlock 38 exclusive posts
Connect via private message
Recent posts by Zero-G Nexus
How it works
Get started in 2 minutes